Asus Zephyrus G14 Review: Best Mid-range Gaming Laptop
Asus Zephyrus G14 Review. The best gaming laptops are usually the top-performing gaming devices, that include top-range hardware and unique features, but not everyone can afford to experience the luxuries and satisfaction because of the high price tag. 
Nowadays, mid-range gaming laptops are less expensive but come with compromises in hopes of gaining customers in a gaming market. 
One such is the Asus Zephyrus G14, a mid-range gaming laptop that is challenging the gaming market and is in line to be one of the best gaming laptops this year. But is it worth the investment? Here's the Asus Zephyrus G14 Review.          
Asus Zephyrus G14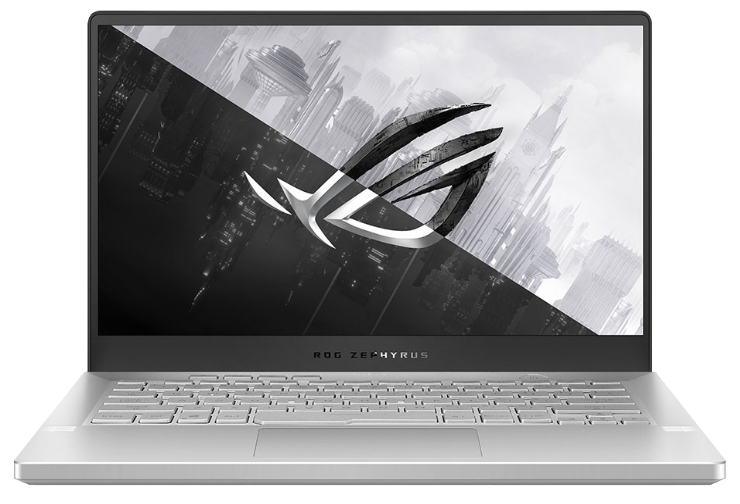 14-inch FHD 120Hz (1920×1080)  |  AMD Ryzen 9 4900HS 3.0GHz CPU  |  NVIDIA RTX 2060 Max-Q 6GB GDDR6 GPU  |  16/24/40GB DDR4 RAM  |  1/2/4TB PCle NVMe SSD  |  4-Cell 76WHr Battery  |  Windows 10 Home/Pro  |  3.5 lbs (1.6 kg)  |  includes WiFi, Bluetooth, backlit keyboard, input ports include 2xUSB type-C, 1xHDMI, 2xUSB 3, 3.5mm audio jack 
Overview
The Zephyrus G14 is a mid-range gaming laptop that comes with a 14-inch full HD display, with a backlit keyboard, touchpad, and input ports that include 2 USB Type-C, 2 USB 3, HDMI, and a 3.5mm headphone jack.
Under the hood, the Zephyrus G14 is equipped for gaming with the latest hardware including an AMD Ryzen 9 CPU, an NVIDIA RTX 2060 GPU, 16GB of RAM and a 1TB SSD internal storage (entry-level). 
Display and Design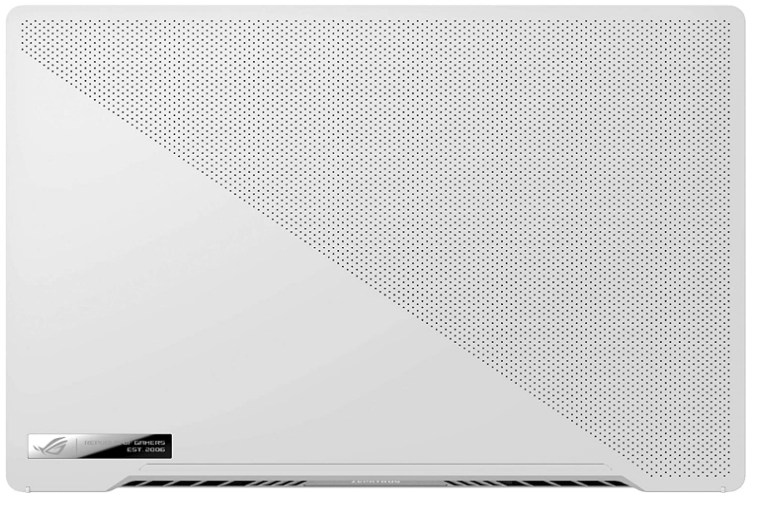 The Zephyrus G14 comes in two models, the 14-inch with a 1080p resolution and a refresh rate of 120Hz, and the 1440p resolution with a refresh rate of 60Hz.
others prefer the Zephyrus G14 with a 1080p 120Hz, the 1440p has a high refresh rate that translates to a better, clearer, and nicer display than the latter, the 1080p has good display quality but there is a slight delay in response time, however, it's rare to find a gaming laptop with a high resolution in a 14-inch display that has that great detail.
The design looks great. The build material is made of strong magnesium alloy. The two colors available are white/silver and grey/silver. 
The Zephyrus comes with an LED animation panel on the back of the display, that you can use to customize to your liking. It shows animations such as dates, time, memes, short animations, logos, etc., which is a nice feature at first but after a while, it becomes really unnecessary.
In essence, it's a great 14-inch laptop that packs a solid design, unique features, and amazing display quality. 
Keyboard and Touchpad
The keyboard is a standard QWERTY layout, with well-spaced out keys, comfortable to type, very responsive and has unique key layout design.
The drawback here is the back-lighting of the keyboard. It's not very bright. In fact, it's better with it off in a dim room. The touchpad is there. It works well. Nothing special to it.
In short, the keyboard has a great layout. The back-lighting is not great, and the touch-pad is there and works well. 
Performance
The Zephyrus G14 is run by AMD's latest Ryzen 9 4000 series processor that is set to challenge the brands like Intel.
According to CPU performance tests done, this gaming laptop beats the processing performance of the well-known Razer Blade 15 and matches Intel's i9 processing speeds included in top range gaming laptops.
In short, this gaming laptop comes with great system performance that matches even the top-range gaming laptops.
Battery
It's a great surprise to see that the Zephyrus G14 has an impressive battery life, compared to other gaming laptops. With this gaming laptop, you are looking at a 76Whr battery, that's guaranteed to give you up to 12 hours of battery life.
That's nearly double the battery life compared to other gaming laptops as the normal endurance for a gaming laptop is up to 5 hours. 
No need to take your laptop charger anymore whenever you go out because you won't need it. So if you want a gaming laptop with great battery life, then the Zephyrus G14 is it.
Sound
Zephyrus G14 comes with two speakers on the sides of the keyboard and two more at the bottom. They produce good quality audio for a mid-range gaming laptop, not the best but enough to enjoy yourself while playing games.
Other Features
A few things to note about the Zephyrus G14. The heat management is good. The cooling fans do however make a noise but not very loud. There is a manual mode to switch to if you wish to amp up the cooling fans, but it increases the noise. 
There's a fingerprint sensor on the power button as a security feature to quickly log back in from standby mode. it's a pretty convenient feature as it's very responsive, similar to a fingerprint sensor on a smartphone.
Input ports include a 2 USB-C, 2 USB-3, an HDMI, 3.5 mm headphone/microphone jack, and the laptop charger port. Just to note, the charger port is on the middle-left side of the laptop, and there's no Ethernet port and micro SD slot.
The laptop comes with a unique hinged lid that raises the back end of the laptop slightly when opened. It elevates the keyboard at a more comfortable angle and raises up the display just a bit for more comfortable viewing.
Last impression
The Zephyrus G14 isn't just a great gaming laptop; it's the smallest on the market and gets the award for one of the longest-lasting batteries.
The display is great, the audio is rich and robust, and the performance offered by the latest AMD Ryzen 9 processor, together with the powerful NVIDIA GeForce RTX 2060 GPU, is the best that you'll find. The fact that you can get all of this for an unbelievably better price is pretty amazing.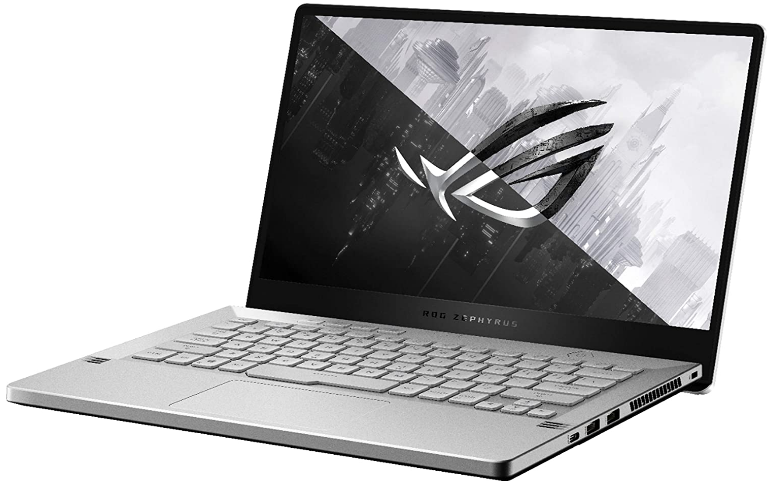 It's not the perfect gaming laptop though and will come with faults, like the missing webcam and the not-sure-bright backlit keyboard.
But aside from these minor matters, the Zephyrus G14 is an astonishingly capable and well-designed gaming laptop. It delivers better performance than any other same-sized gaming laptop.
It matches the performance of even the more expensive Razer Blade Pro, it's less expensive and more portable than the closest rivals.
I love it. I strongly recommend it to all fellow gamers looking for a cheaper alternative. This is by far the best small beast of a gaming laptop ever made.
See other great mid-range or budget gaming laptops
See the best top-range gaming laptops of 2019
Thank you for taking part in this Asus ROG Zephyrus G14 Review. To find out more and to see the latest prices, click here within the article. If you have any comments, concerns, feedback, or just want to give the review good points, please leave them below.  
Asus ROG Zephyrus G14
US$ 1899
Battery Life, Sound & Audio
4.5/5
The Good Stuff
Great gaming and system performance
Long hours of battery
Lightweight
Unique design and choice of colours
Good quality display
Decent quality audio
Good thermal management
The Bad Stuff
No webcam
Below average back-lit keyboard not
Top-tier is pretty expensive