You must feel frustrated all the time when you work on your laptop, knowing that it will take you hours to finish typing a simple 1-page document. Don't get me wrong. Budget laptops tend to perform well at first, but after a while, they tend to get slower and start to freeze most of the time, which affects the performance. If that's your case, you are not alone. Let me introduce to you the Microsoft Surface Laptop Go 2. It's Microsoft's budget-value laptop that can do everything you need without you paying so much. But is it really worth it? Let's see from this review.
Microsoft Surface Laptop Go 2
Laptop specs
| | |
| --- | --- |
| Display | 12.4" PixelSense™ Display | 1536 x 1024 (148 PPI) | Aspect ratio 3:2 | 10-point multi-touch screen |
| Processor | Quad-core 11th Gen Intel® Core™ i5-1135G7 Processor |
| Graphics | Intel® Iris® Xe Graphics |
| Memory (RAM) | 4GB, 8GB or 16GB LPDDR4x RAM |
| Storage | Removable2 drive (SSD) options: 128GB, 256GB |
| Operating System (OS) | Windows 11 Pro or Windows 10 Pro | Preloaded Microsoft 365 Apps| Microsoft 365 Business Standard, Microsoft 365 Business Premium, or Microsoft 365 Apps 1-month trial |
| Battery Life | Up to 13.5 hours on moderate device usage |
| Input ports |  1 x USB-C® | 1x USB-A | 3.5 mm headphone jack | 1 x Surface Connect port |
| Other Features | 720 HD webcam (front-facing) | Dual far-field studio Mics | Omnisonic® Speakers with Dolby® Audio™ Premium | Wi-Fi 6: 802.11ax compatible | Bluetooth® Wireless 5.1 technology | Ambient light sensor | 2.48 lbs (1,127 g) weight |
Reason to Buy
Large and fast storage 
Good performance
Great battery life
Bright touch screen
Other great features
Reason not to Buy
High price
No backlit keyboard
Low memory from entry model
Limit input ports available
Overview
The new Surface Laptop Go 2 from Microsoft is a slim, lightweight, and touchscreen budget laptop that has been improved from its predecessor. It comes with an 11th Gen Intel Core i5 processor with integrated Intel Iris Xe graphics, storage options starting from 128GB to 256 GB, and memory options starting from 4GB up to 16GB of RAM.
On the outside, all models come with a 12.4-inch PixelSense touch screen, with slim display bezels, small keypad buttons, and a touchpad. All this is encased in a combination of an aluminum-plastic body that makes weighs 2,5 pounds (1,1 kg). In the box, you get the Surface Go 2 laptop with a 39W power supply.
What's to Like
Large and fast storage
The entry model starts you off with a better, fast-loading solid-state drive with 128GB of storage rather than the 64GB from the older model. That's awesome because it helps to provide faster loading of Windows and other apps installed in the system.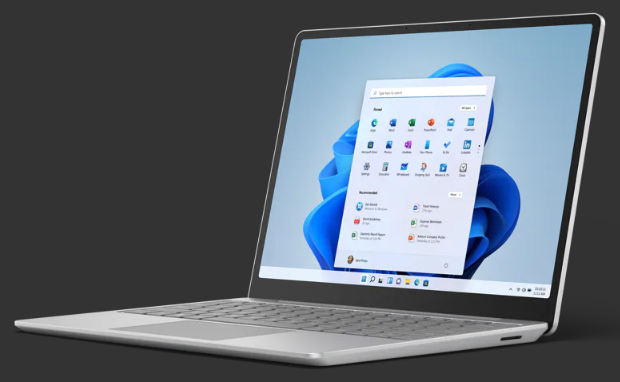 Good performance
The best thing about the Surface Laptop Go 2 is that it comes with an upgraded 11th Gen Intel i5 processor. It's not the best but it provides all the necessary power to perform fast and help you get the job done. I have not experienced any performance problems thus far here.
Between opening tabs, and minimizing apps, the performance remains constant which is a good thing. The Intel Iris graphics also performs well with light casual gaming and video editing. Keep it to the minimum. Open one or two apps, and you'll have no performance issues.     
Great battery life
Another great thing is the battery life. Upon testing, the Surface Laptop Go 2 managed to go up to 15 hours on a single charge. That to me is really amazing. 
Bright touch display
As for the display, the Surface Laptop Go 2 comes with a 12.4-inch touch screen that displays vibrant colors and good brightness. The sad thing is that the screen resolution is 1536 x 1024, which means it's not full HD, so it's not as detailed. But the screen still looks good though and works well.  
Other great features
There are other great features you need to be aware of. Firstly, if you're a freelancer or like working on the go, then this laptop is perfect for you. It's really slim, lightweight and portable so you can carry it where ever you go. With the long battery life, you won't need to carry a power supply with you.
Another feature is the sound quality of the laptop, which is not bad either. You won't see any speaker grilles as they are hidden underneath the keypad, but the sound comes out clear, not great but good enough to hear. If you're not satisfied with the sound, you can always insert headphones as the laptop does include a headphone jack.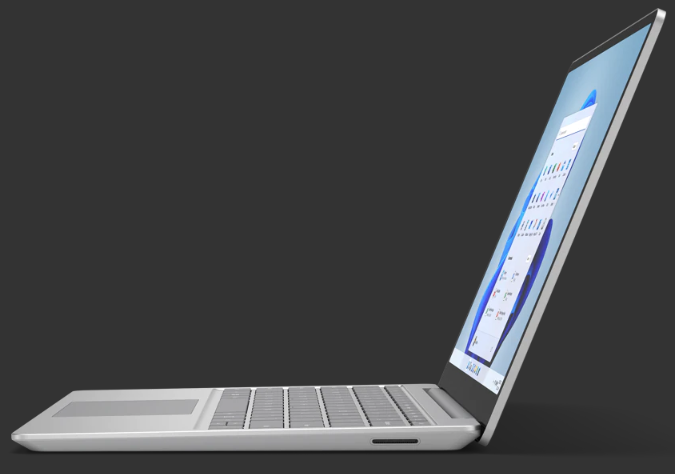 The next feature, for those who work remotely, the laptop comes with a 720p webcam from the previous model but comes with better contrast and color saturation. At least it's better than the older model, and it also works well. 
Another great feature to mention is the system's fan noise has been greatly reduced. On daily moderate use, the Surface Laptop Go 2 works quietly, even for daily tasks such as typing or browsing the internet. But it will start to roar if you decide to do a lot more multitasking.      
What's not to Like
High budget price
The entry model starts at a price range between US$600 and US$700. That's a high price for a budget laptop if you ask me. But with all the great features you're getting, it's worth it.   
No backlit keyboard
The fact that it does not have a backlit keypad is quite disappointing. You're going to need to constantly work inside a well-lit room plus it would look even awesome. Yet budget laptops do come with compromises, and this is one of them.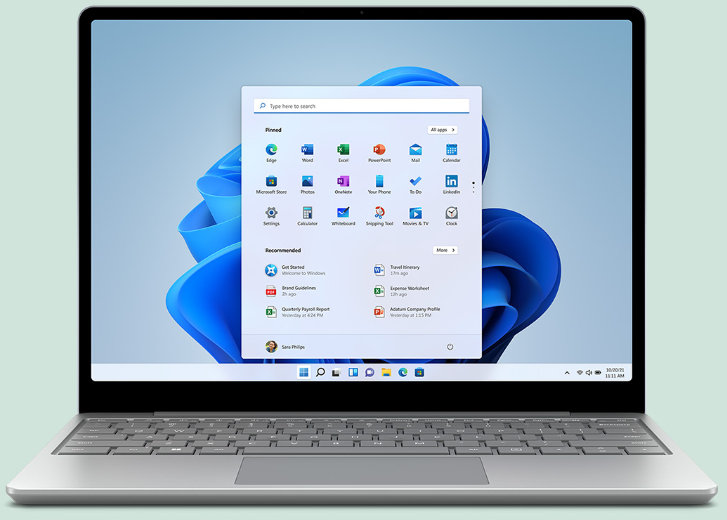 Low 4GB RAM Memory
If it's better performance you're looking for with a budget laptop, I suggest getting the 8GB RAM model. Yes, it will be more expensive but the laptop will perform better for you. So upon purchase, make sure that it's the 8GB RAM Surface Laptop Go 2. 
Limit input ports available
If you're looking for a budget laptop with many input ports, you won't find it here. They may be few but you get the essential input ports here. If it's not enough you can always get a USB hub that provides more input ports.   
Verdict
So, lemme ask this question once more, is the Microsoft Surface Laptop Go 2 worth the price? In my opinion, I think it is worth it. Looking at what you are getting, you're getting a great-performance laptop, with good storage and memory, great battery life, a good-looking HD touch screen, and good looks as well. Fact that it's a budget laptop, there are going to be some compromises but in this instance, the good outweighs the bad. That's why recommend this laptop to you.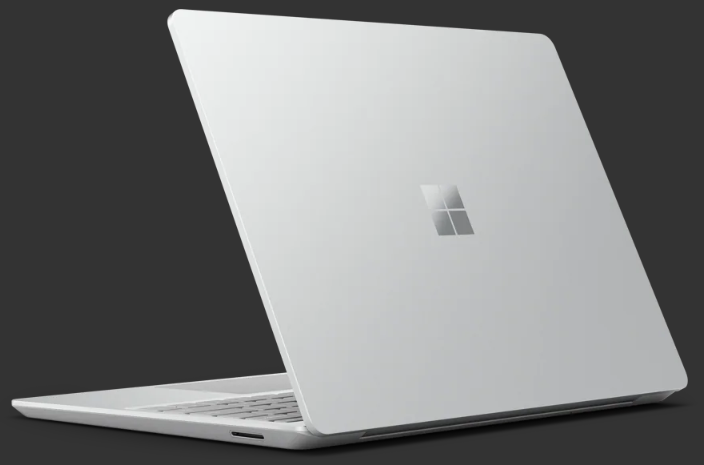 If you're a student, a freelancer, or just like working on the go, then this is the perfect laptop for you. It has all the performance, power, and everything you need to help you meet all your daily needs.
Click here to see the best budget laptops on offer right now! 
Now that you know a lot more about the Surface Laptop Go 2, what's your take on this new laptop? Is it a laptop worth saving for? What other budget laptops are you looking to get? Please comment below with answers or even more questions. I'll get back to you as soon as I can. And if you have a good feeling about this laptop, and want to purchase it, then click here or click on the button on top of the review. 
Microsoft Surface Laptop Go 2
The Good Stuff
Large and fast storage
Good performance
Great battery life
Bright touch screen
Other great features
The Bad Stuff
High budget price
No backlit keyboard
Low memory from entry model
Limit input ports available