New PlayStation 5 Console Review: The Greatest Best-Selling Console
The long-awaited new PlayStation 5 console is finally released. Sony's most loved gaming device comes to us with a totally different design (both console and the 'DualSense' controller), a promise of faster loading of games, better graphic performance, and other amazing features.
Its biggest console rival, the Xbox Series X, was also released this year. So, unless you're a fan of either one, it's going to be a challenge to pick which one to go for. For now, let's focus on this review of the new Playstation 5 console.       
New PlayStation 5 Console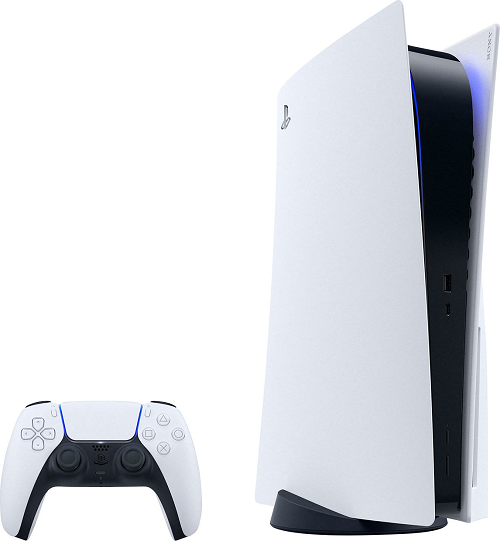 CPU: AMD Zen 2 with 8 cores at 3.5GHz | GPU: Custom AMD RDNA 2 | MEMORY: 16GB GDDR6, bandwidth – 448GB/s | STORAGE: Custom 825GB SSD, usable storage – 667.2GB | EXPANDABLE STORAGE: NVMe SSD slot | EXTERNAL STORAGE: USB HDD support (PS4 games only) | OPTICAL DRIVE: 4K UHD Blu-ray drive | WEIGHT: 4.5kg | DIMENSIONS: 39 x 10.4 x 26cm | RATING: 4.5 out of 5
Overview
For those who don't know, the new PlayStation 5 console is a new gaming device that is used to play 3D video games on an HD/4K television set. It comes with a DualSense controller that lets you control the video game or the user interface onscreen.
There are two types: the Standard Edition (available for $499.99 / £449.99 / AU$749.95) with a 4K Blu-Ray disc slot, and the Digital Edition (available for $399.99 / £359.99 / AU$599.95) without the disc slot. The latter is more for those who prefer downloading PlayStation games from the PSN online. 
From the previous PS4, the new PlayStation 5 console comes with an abundance of improvements. Firstly, faster load times of games thanks to the fast SSD storage.
Secondly, the robust graphics processing unit (GPU) helps to improve graphics overall in gaming, using higher frame rates such as 60fps or 120fps on 4K/UHD TVs, and ray tracing technology to add more detail and realism.
Thirdly is the gorgeous design of the PS5 and the DualSense controller. And lastly, the great features of the new PS5 controller, that include adaptive triggers and a built-in microphone.
The new PlayStation 5 console is an amazing gaming device. With a great design and amazing features, it's making its name as one of the best gaming devices to come out of 2020. Still not convinced? Let's find out more about this review. 
Design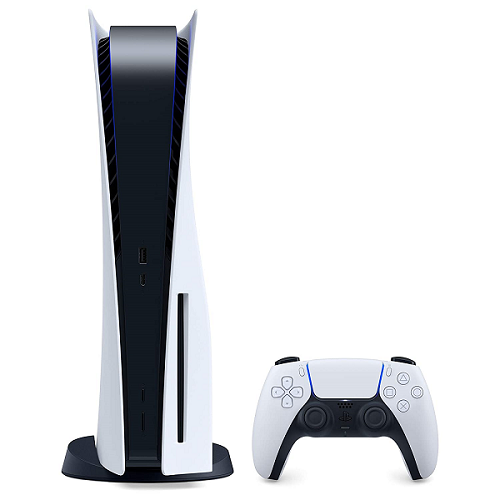 The new PlayStation 5 console is enormous. Its height is 39 cm (15.4″) tall and weighs 4,5 kg. Good luck finding a TV wall unit that it can fit it standing up. It looks awesome standing horizontally than it laying vertically. 
The PS5 comes as a two-tone black and white colour, with the majority colour being white. One likeable feature of the design is the blue lighting effect, that operates similar to the PS4. 
With input ports, in front, there is a USB-A and a USB-C port. A little to the bottom right side in front is the 4K Blu-Ray slot,  At the back are two USB-A ports, an HDMI 2.1, Ethernet port and a power port.
That's it on the design. It's different. It literally stands out from the crowd of other consoles because of its height and its design colours. The DualSense controller has completely been redesigned as well and pretty much stands out as well and maybe the most innovative controller.   
Performance: Gaming & Graphics
The main purpose of a gaming console is to play video games with a TV set. If that purpose is achieved, then the gaming console is worth the investment.
That's precisely what the new PlayStation 5 console does, but it does much much more.
Graphics
Playing games on a 4K/UHD TV is amazing. The graphics are stunning. The gameplay is really smooth, with barely any lag or delay at 60fps/120fps.
All thanks to the impressive hardware spec, that includes a custom AMD RDNS 2 graphics processing unit (GPU) that delivers 4K resolution at up to 120fps, an octa-core AMD Zen 2 processor, 16GB of system memory and the super-fast SSD storage hard drive.
Speaking of the SSD, you can only use 660+GB of instead out of the 825GB. There is the option of expanding storage by either installing another SSD or an external hard drive but those options will be unlocked from an update released later on.
If you still have your full HD TV don't worry because the PS5 is compatible, but it will not look as gorgeous. So, if you can get yourself a 4K/UHD TV. 
Gaming
 There are many games to look forward to at launch. There's even a free game preinstalled in the PS5 so that you can test out the capabilities of the new DualSense controller. It's a fun game, has good graphics, and best of all, it's free with PS5.
The new user interface has been improved with new screens, gorgeous menus and other features. One new feature is the so-called cards system in the Control Center, where you use them to control your gaming activities, install single or multiplayer modes of certain games, see trophies and achievements, and much more. There's a lot more to experience.
The backward compatibility feature is available but has limited functions. You can play all your PS4 games or PS3 games on your PS5, but you need to download them. Those you have purchased on PSN, you can download them into your PS5 and play them at your leisure. Sadly, right now you cannot insert PS4 or PS3 games to play. 
Overall, graphics look outstanding, PS5 games are available to buy. However, you need to download PS4 and other titles. That's the backwards compatibility for you.
Accessories
With the new Playstation 5 console, comes Sony's new DualSense controller. It comes in two colour white and black. It features the original controller layout with the addition of the adaptive trigger L2 and R2 buttons.
either than the adaptive trigger buttons and the new design, there are more features on know. Firstly, it has the same lighting effect as the console. Second, there's a microphone included in the controller.
Third, the internal battery delivers up to 12 hours of battery life for the controller, compared to the 8 hours of battery life for the PS4 DualShock controller.
Other accessories available for the new PlayStation 5 console include the: 
HD Camera
Media remote control
Pulse 3D wireless headset
DualSense charging station  
Overall, the new PlayStation 5 console has lots more instore either than the gaming console and controller.     
Impressions
I have mixed impressions about the new Playstation 5 console. Firstly, I love the new look and the unique design. It's stunning, looks awesome standing up and its really tall, but it's quite heavy.
Secondly, the PS5 has a good collection of games available at launch and a free game preinstalled call Astro Playroom. Great video games like Demon Souls Remake, Spiderman: Miles Morales, Assassins Creed Valhalla, Call of Duty Cold War, and many more, are available to purchase now.
The third feature is the amazing features of the PS5. The ability to play video games on a UHD TV at up to 120 frames per second, the fast loading time of games, the stunning graphics and gameplay, it leaves much to be desired.
The problem is the backwards compatibility feature. Yes, it's available but very limited. You can play most PS4 and some PS3 games on the PS5, but you need to download them or activate them from the retail disc.
The next factor is the hardware. Thanks to that, the gaming performance looks great and gameplay and smooth. Storage is a problem as there are many factors to consider.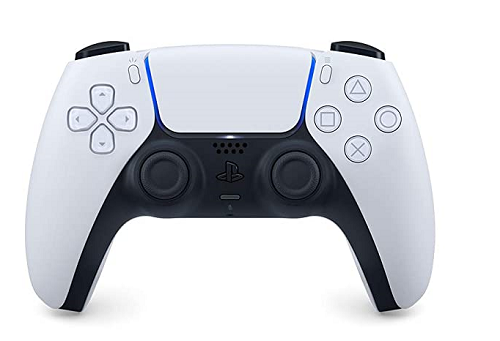 Firstly, the 825GB is smaller than the 1TB from the Xbox Series X. Secondly, you only get 667+GB storage to install games and other entertainment apps.
Thirdly, there is the option to expand storage using an SSD hard drive slot but needs to be physically installed into the console. Upon launch, that option is locked until Sony releases an update.
Another option is the use of an external SSD/HDD hard drive but you won't be able to install PS5 games, only older games. 
The new DualSense controller looks amazing and works pretty well. The adaptive triggers are a great new feature.
To describe it, imagine playing a first-person shooter, and you firing a gun. As you fire, the controller vibrates as you press on the adaptive trigger, almost like you firing a live machine gun. The battery life is longer too than the previous DualShock 4, which is a great improvement. 
Should you buy it?
Yes. If you want to play the best games on a 4K/Ultra HD TV, then get a PS5. If you don't have one, the PS5 can support a Full HD TV but will play games at 60fps running on 1080p.
Yes. If you want to experience the new capabilities of the DualSense, get the PS5. There are many new features to try out especially the adaptive trigger functions.
Yes, If you want to experience the many features such as fast loading times, the new and improved user interface, gaming on a 4K TV, and the overall new entertainment experience.
No. If you expect to play previous PlayStation 4 games or older, it's best to stick to your older PS4 console. Rather get the Xbox Series X to fully appreciate backward compatibility but only for Xbox games.
No. The PS5 does not support Dolby 4K Atmos or Vision. That is if you have a 4K Dolby home entertainment system.
To sum up, the new PlayStation 5 console is a gaming masterpiece. It's an outstanding gaming console but one cannot really say it's a perfect gaming console. You may like it or hate but if it plays video games as great as it does then it's a win.
If you have the money and find stock available, then get the new Playstation 5 console. Alternatively, if you are not happy with the PS5, then check out the review of the Xbox Series X, or you can click here to order the new PlayStation 5 console now whilst stock is available. 
Closing Off
Thank you for reading through my review of the new Playstation 5 console. If you have any questions or comments, please scroll below and leave your comments, praises, criticism, and whatever you want to say.
I really enjoy reviewing this product and hope you will support my website by clicking on the link and purchase the product.
That's all I have for now. Please stay safe until next time.   
New Playstation 5 Console
US$499.99
The Good Stuff
Great innovative design
Great gaming graphics & performance
Adaptive triggers on DualSense controller
Lots of optional accessories
Includes a free games
Stunning & fast UI
Fast game load times
The Bad Stuff
Heaviest console to date
Only 667GB storage usable instead of 825GB
Limited functions on backwards compatibility