ASUS ROG Gaming Phone 3 Review: Best Gaming Masterpiece
The ASUS ROG gaming phone series has brought you gaming to your fingertips.  From design to gaming features, the latest model may be the best gaming phone.
ASUS ROG has released its next best smartphone, the ASUS ROG Gaming Phone 3.  This may be another great release, with hopes to challenge the gaming market.
Will it be the best smartphone in 2020?  Let's find out from this review.
ASUS ROG Gaming Phone 3 Review
6.59-inch AMOLED, 144Hz, 2340 x 1080p, HDR10+  |  Qualcomm SM8250 Snapdragon 865+  |  8/12/16GB RAM  |  128/256/512GB internal storage  |  Android 10 OS, ROG UI  |  Triple-lens cam: 64MP f/1.8 (wide),  13MP f/2.4 (ultra-wide), 5MP f/2.0 (macro)  |  Single-lens selfie cam: 24MP 2.0 (wide)  |  6000mAh battery  |  240g (0.53lbs)
Overview
The ASUS ROG gaming phone 3 is a gaming smartphone. It works as a phone and works as a gaming device.
You get a large 6.6-inch AMOLED display with a small dot single-lens selfie. On both sides of the display are small audio speakers.
Inside the ASUS ROG gaming phone is a Snapdragon 865+ processor with a 6000mAh battery. Choice of model options is from 8GB to 16GB RAM and storage options from 128GB to 512GB. 
Display
The ROG 3 comes with hi-tech display technology, with high refresh rate options. First, the AMOLED screen has a 1080p resolution. Second, the high refresh rate produces vivid colours, good contrasts and brightness.
Third, it looks better with smoother viewing and offers a great gaming experience. And last, it has an on-screen fingerprint sensor for quick unlock. Overall, the screen looks great and produces the best overall screen quality.
Design
The phone's made of glass aluminium with a glossy black colour called 'Black Glare'. Same design as its predecessor, but with more weight and looks bold. No water and dust-resistant.
Performance
The phone's powered by the Snapdragon 865 Plus processor. If you're looking for the fastest in the market, this is the one. 
It runs at a clock speed of 3.1 GHz. It includes an overclocked GPU delivering 10% more graphics performance. Includes a 16 GB of memory that is 600Mhz faster than other top-range phones. I know it's a lot of techs but you get the idea.
To sum it up, the ROG 3 comes with a powerful processor. Better than that, it delivers powerful graphics. This means that this phone delivers top overall performance.
Software
The ROG 3 includes the ROG UI based on the Android 10 OS. The OS works well and responds well to the touch.
To optimize your gaming experience, the phone includes apps to help you manage your gaming profile. Things like video capture, records of gaming sessions, performance management, and key mapping, are here.
There's even a gaming hub to scroll through all your gaming apps, where you can tune and configure more gaming options. They can be overwhelming and complex if you're not familiar with them.
Overall, the OS works well. The gaming enhancement apps needs you to get some knowledge to understand how it works. 
Battery Life
Looking for a mobile gaming device with awesome battery life? The ROG 3 has a massive 6000mAH non-removable Li-on battery, the biggest in the ASUS ROG gaming phone series. Battery life? You're looking at up to 12 hours of battery time.
It supports fast charge as well (thanks to the 30W fast charge adapter) with battery charge speed from 0 – 80% in just an hour. No support for wireless charging. 
With its massive battery, long battery life, and fast charging, this is the ideal gaming phone. 
Camera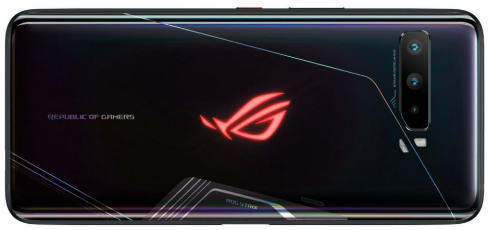 The ASUS ROG 3 comes with a triple-lens camera set at the back, and a single-lens selfie cam in front.  The overall quality is decent. Photos taken using main and wide lens look excellent during the day, with good depth and bright accurate colours.  At low light, photos from the main camera look decent but flat, showing signs of loss of detail from the wide lens.
The selfie cam produces good day photos in portrait mode. At low light, there's a great loss in detail. Video clips are recorded to up to 8K. The detail is good thanks to the video stabilizer, producing good colours and video detail.
Overall, the phone comes with a good camera. It takes excellent day photos, decent low-light photos, and records excellent 8K videos. 
Audio and Other Features
The front-facing stereo speakers are powerful and provide excellent sound quality.  Bass sounds natural, treble is crisp, and no distortions here. The sound is great and awesome for gaming.
There are several software features to enhance sound quality. All installed and made to deliver good sound both through audio speakers and headphones.
The ROG 3 comes with a few accessories, the USB-C adapter and a cooling fan attachment. There are several more accessories available but sold separately. 
Overall Impression
For starters, it comes with a large, high refresh AMOLED screen, a bold and glossy design. Next is the great set of audio speakers, and long battery life. Then there's the excellent performance and amazing apps for a better gaming experience. 
On the downside, the phone has no headphone jack. It's vulnerable to water and dust. No slot for storage expansion. The high price. The gaming enhancement apps will take you a while to get used to.
If you're looking for one of the best gaming smartphones of 2020, then the ASUS ROG gaming phone 3 is it. The price is pretty high but worth the buy. As a fellow gamer myself, I recommend getting it. If you can get this phone, then you will have the best gaming device this year.
Check out 10 more gaming phones here
So what do think, is this the phone you're looking for? What do think of this review? If you have comments, or feedback you're more than welcome to leave a few below.
Thank you for making it this far. You're the best. Feel free to explore other reviews and articles on this website. That's all from me. Stay safe. See you next time.
ASUS ROG Gaming Phone 3
US$ 899
Battery Life, Audio & Other Features
4.0/5
The Good Stuff
5G network
Great AMOLED display
Fast charging
8K video recording
144Hz High refresh rate
USB-C connector included
Cooling fan accessory included
Superior gaming performance
Powerful audio quality
The Bad Stuff
No headphone jack
No expandable storage slot
Average camera set
Expensive