For those of you looking for a great gaming experience, check out the new Razer Blade 14 gaming laptop. It's fast. Got powerful specs. Looks good in black, and comes with the latest graphics card. This one is in line to be one mean gaming machine. With so many other great gaming laptops out there, will it stand out and succeed from the rest or will it fall in this tough gaming industry? Here's my review of the Razer Blade 14 gaming laptop.
Razer Blade 14 Gaming Laptop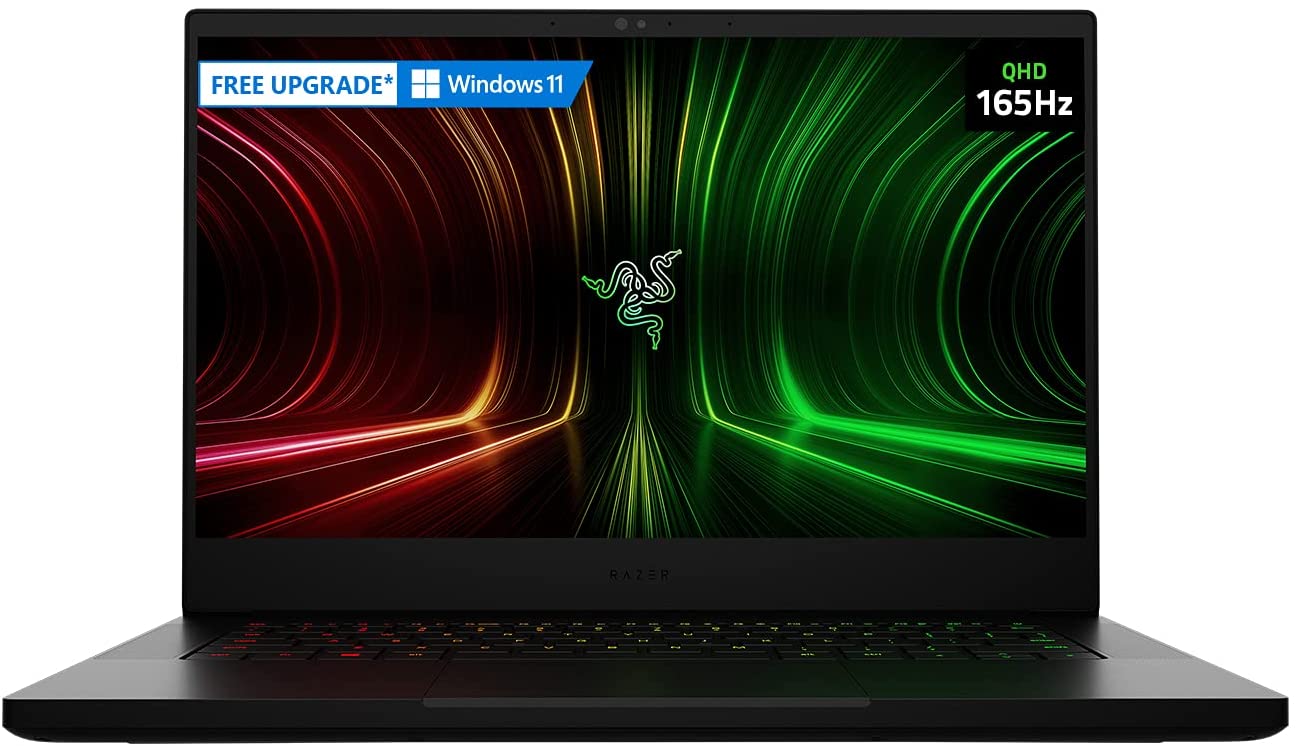 Specifications
Display: 14-inch IPS Full HD, 144Hz, 1920 x 1080 | 14-inch IPS QHD, 165Hz, 2560 x 1440 | Processor: AMD Ryzen 9 5900HX, 8 core, 3.3GHz | Graphics: GeForce RTX 3060, 6GB VRAM | GeForce RTX 3070, 8GB VRAM | GeForce RTX 3080, 8GB VRAM | Memory: 16GB DDR4 RAM | Storage: 1TB SSD, NVMe, PCIe | OS: Windows 10 Home (upgradable to Windows 11) | Other: Bluetooth, Wi-Fi | 3.92lbs (1.78kg) | 0.66 x 12.59 x 8.66 inches | 720p webcam | 2xUSB 3.1 Type-A, 2xUSB Type-C, HDMI
Reason to Buy
Stunning gaming performance
Good quality screen
Good looks & compact design
Large trackpad & colorful RGB keyboard 
[/su_column]
Reason to Avoid
Small screen size
High price for a base model
Similar design to older models
Few input ports
[/su_row]

 
Overview
So what is this Razer Blade 14 anyway?
Well, it's a powerful gaming laptop from the Razer brand, that comes with:
Bright 14-inch Full HD or a QHD display 
AMD Ryzen 9 processor
One of three GeForce RTX 30 series graphics cards starting from the RTX 3060
Fast loading 1TB SSD for storage
16GB of RAM
All this is cased in an all-black svelte-metal build, with its green signature snake-tangled logo, thin screen bezels, and an RGB-backlit keyboard. There are three models to choose from, each with its own set of prices. Yet it comes with the same AMD processor, same RAM, and SSD storage. The difference is in the graphics card and the display.
The Razer Blade 14 is so light.    
It only weighs 3.92 pounds (1.78kg). This thing is so lightweight, you can carry it anywhere you go, and fits nicely in a bag, thanks to its compact size. Regardless, this is the Razer 14 gaming laptop. It has great specs. Looks great, and it's lightweight.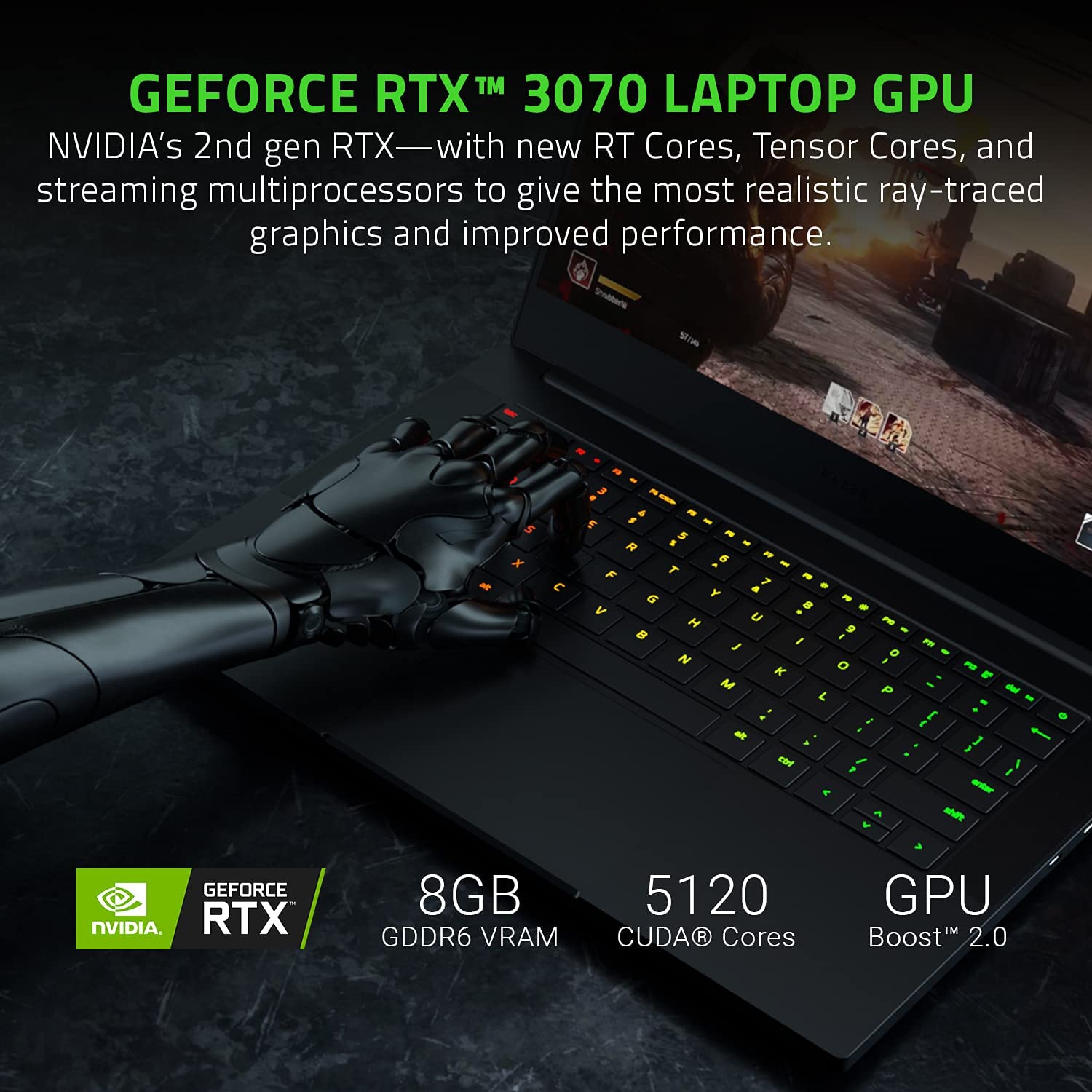 What's to Like 
Good Quality Displays
The Razer 14 comes with two types of 14-inch displays. One with an FHD display with a 1080p screen resolution and a 144Hz refresh rate. The other comes with a QHD display with a 1440p screen resolution and a 165Hz refresh rate. At first glimpse, I was impressed with the screen quality they both have. Even though the 1080p has lesser quality, the detail is still impressive.
The QHD screen is the more impressive of the two, producing better color, brightness, and even smoother Windows navigation. But for me, they both deliver the same great screen quality with good sharpness and accurate detail.  Overall, the two screens both deliver, and they deliver well for a small 14-inch gaming laptop.   
Great Performance
All Razer 14 gaming laptops come with the latest AMD Ryzen 9 processor, with 16GB of memory, and one of the three latest Nvidia GeForce RTX 30 series graphics cards.
From normal usage and web browsing, the Razer 14 performs really well overall. There's literally no slowing it down thanks to the high system RAM. The SSD storage not only provides plenty of storage but helps in loading Windows and other apps fast. With gaming, in normal or medium graphic settings, I managed to get an average of 105 – 120 fps. And on the high settings, I managed to get 90 – 100 fps.
This is from the Razer 14 base model, which includes a 1080p screen, and a GeForce RTX 3060 graphics card. That being said, the frame rates are well over the benchmark 60 fps, which is great for gamers. And for those who want to push it a bit, you can still get a great gaming experience. Overall, the system and gaming performance is impressive. It handles normal tasks well, and gaming even better. 
Design
If there's one thing the Razer brand does and does so well, is maintaining its stunning laptop design, which includes its dark metal build, the green signature logo, the RGB keyboard layout, and the large yet extremely responsive trackpad. To conclude, the design is still the best. Some may argue it's the same design for all their models (even older models), yet it looks good nonetheless.
I give them props for sticking to using something that works. In all honesty, these are some of the best features of the Razer Blade 14 gaming laptop. If you want to find out more, check it out here.  
What's not to Like
Small display
14 inches on a laptop is small. Most of the gaming laptops out there are 15 inches and higher and deliver good screen quality. Not to say that the screen size hinders the quality. The Razer 14 may be small, but thanks to other features, and great screen quality, you will quickly get used to the size. 
Same laptop design
The design of the Razer Blade 14 gaming laptop does look stunning, but it's no different from other great gaming laptops of the same brand. Check out the older Razer Blade gaming laptops, they are all the same. Is it really a bad thing though? I'll let you ponder on that. 
High price
With all the great things that come with this awesome Razer Blade 14 gaming laptop, there's of course, the cost. The base model starts at US$1799, and the top-of-the-range model costs less than US$3000. That's a lot to take in, and it's really pricey for a base-model gaming laptop. But you get what you pay for. All three models offer a great user and gaming experience. Whichever one you choose, whatever budget.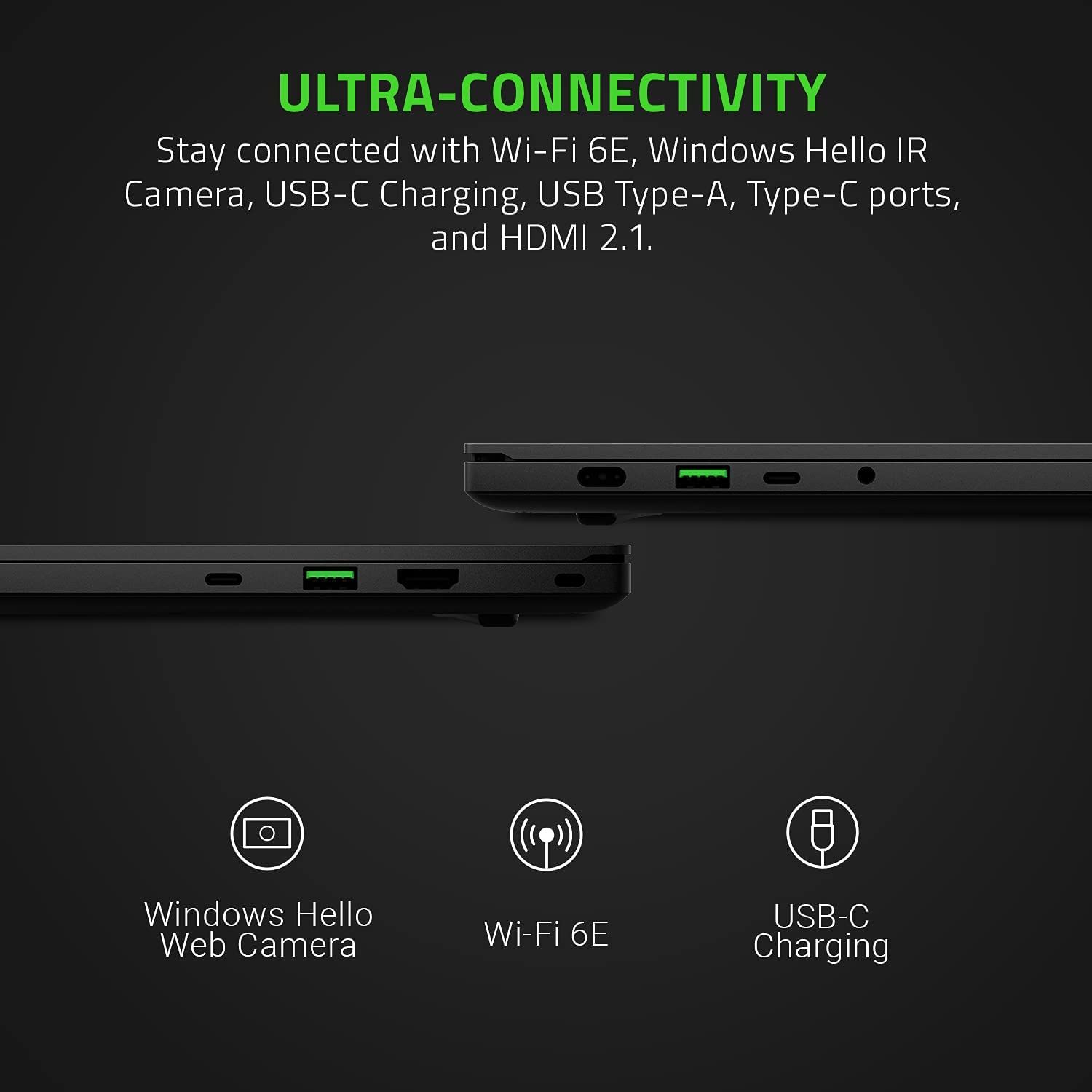 Few input ports
The Razer 14 includes:
2 x USB 3.1 Type-A
2 x USB Type-C
1 x HDMI 
Nowadays laptops come with fewer input ports. Even Apple notebooks are keeping the trend. If you want more input ports, then it's best you get a USB hub. Overall, these are features for you to not before you decide to get the Razer 14 laptop. It's good to know what you getting yourself into. 
Verdict
After messing around and reviewing this gaming laptop, I was impressed by a lot of things. Me, I love to play games so I was more impressed with the gaming performance. For gamers, this is one great laptop to get. Even with the base model, you will get the best gaming experience money cannot buy. 
Knowing that I can get over 60fps, on AAA-type games, on high graphic settings… to me, that's a bonus. Everything else contributes to the overall great user experience for normal everyday usage. My overall verdict is thus: The Razer Blade 14 is a great gaming laptop to buy.
Fine. The screen size is small and it's expensive. But with the great things that come with it, it's definitely worth it. So, I recommend this gaming laptop to all you fellow gamers out there, that want to have a great gaming experience. So if you want a great performance laptop, that can give a great gaming experience, then look no further.
Get yourself the Razer Blade 14 gaming laptop now.
If you have any comments or questions, then use the comments section below and add your opinions about the Razer 14 gaming laptop. Stay safe and take care of yourself. Cheers!
Razer Blade 14 Gaming Laptop
The Good Stuff
Great system performance
Stunning gaming performance
Good quality screen
Good looking and compact design
Large trackpad & colorful RGB keyboard 
The Bad Stuff
Small screen size
High price for base model
Similar design to older models
Few input ports