Ever since the release of Chromebooks they've flooded the tech market by far with affordable, unique features, and best performing models. But now it's time to separate the bulls from the cows, the alphas from men, and inevitably, the best from the rest. 
It's time to see what are the best-ranked Chromebooks of 2019, what's so good about them, and what to expect as they strive to meet your needs.
It's a good idea to read up more on what Chromebooks are to really understand why they're so different from normal laptops. So without further a-do.
Let's finish off this year with taking a look at my list of the best Chromebooks released in 2019.  
Acer Chromebook 15
The Big 15-inch Budget Chromebook
CB315-1HT-C4WQ
15.6-inch Touchscreen HD LCD (1920x1080) | Intel Celeron N3450 Quad-core | 4GB LPDDR4 | 32GB Flash Memory | Chrome OS | Intel HD Graphics 500 | 13 Hour Battery Run Time
This Acer Chromebook is the most affordable with a 15-inch touchscreen. It comes with an Intel Celeron, that's an entry-level processor, with 32GB internal storage, 4GB system memory and a good 13 hours of battery life. 
It's also known to be very durable cause it's made from scratch resistant material and can take shock damage. It all comes together with a preinstalled Chrome OS that gives you access to many of Google's services and apps for you to use. It's perfect for college students to help them get through college.  
It's a standard budget Chromebook, that's lightweight, has a nice silver colour design, and comes with standard specs for day-to-day use. There's really not much else to say here but the fact is that it has great battery life, very durable and you can get it at an affordable price.
However, it does have small internal storage but with google you can get more storage space through the cloud services. So, if you feel like getting a 15-inch budget Chromebook then rest assured you'll be happy with this one.   

Asus Flip C434
The Best Selling Chromebook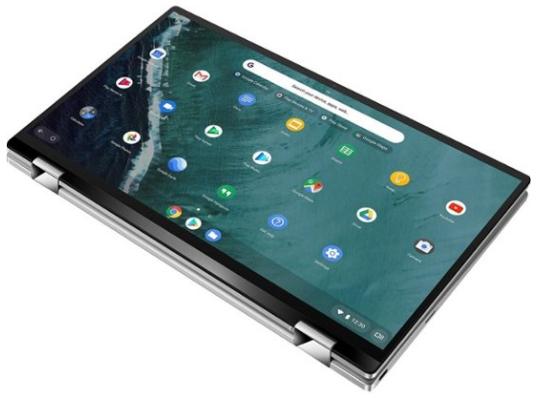 C434TA-DSM4T
14-inch Touchscreen HD LCD (1920x1080) | Intel Core M m3-8100Y Dual-core | 4GB LPDDR3 | 64GB Flash Memory | Chrome OS | Intel UHD Graphics 615 LPDDR3 | Bluetooth | Back-lit Keyboard | Front Camera/Webcam | 10 Hour Battery Run Time
The ASUS Chromebook Flip C434 is the best selling 2-in-1 Chromebook. It's stylish looks, portability and powerful specs are all designed to let you get things done with no fuss, all day, every day.
It features a four-sided NanoEdge 14-inch display, with slim bezel edges around the display, for an impressive viewing experience, and unique hinges that allows opening up the chromebook to 360 degrees comfortably.
The ASUS Flip C434TA Convertible 2-in-1 Chromebook makes light work of standard every tasks. The 4GB system memory helps to support multitasking of apps, the 64GB internal storage lets you saving files, apps and documents and to boost load times, and the dual-core Intel processor packs it all together to optimize system performance.
This 2-in-1 laptop comes with hinges that can easily switch from laptop to tablet, and features a 15-inch touch screen display.  
| | |
| --- | --- |
| | |
Here we have a Chromebook 2-in-1 from Asus that has a standard hardware spec, like system memory, Chrome OS, and an entry-level Intel processor.
What's so different? Well, it's a 2-in-1 so it open up the laptop 360 degrees, it has thin bezels making the screen look wider, it has 10 hours battery life, looks good with the black and white design, and a back-lit keyboard.       
So let's not let this Chromebook offer pass you by. If you're looking for a best-seller, then look no further, click down below and give it a go.    

Google Pixelbook
The Most Expensive Chromebook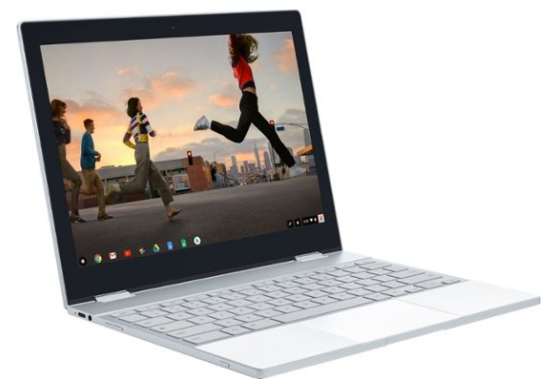 GSRF GA00122-US
Chrome OS | 7th Gen Intel® Core™ i5-7Y57 | 12.3" Touchscreen HD Display (2400x1600) | 8GB memory |  128GB solid-state drive | Bluetooth | Back-lit keyboard | 10 hours battery life | 2.42 lbs (1.1kg) 
Get your work done with Google's 12.3-inch 2-in-1 Chromebook called the Pixelbook. Expect some serious mid-range processing power thanks to the Intel i5 processor, good system memory thanks to 8GB, and the fast loading internal storage of 128GB SSD.  
Let's not forget that it's lightweight, has up to 10 hours long battery life per charge, and comes with Chrome OS that gives you access to apps, software and much more at the Google Play Store. 
This one's one of the most expensive 2-in-1 laptops to date. But comes with decent specs pushing the value above budget level.
So yes, you get what you pay for here. If you're looking for a more powerful 2-in-1 that is expensive but has better performance, then this may be for you.   

Lenovo Yoga C630
The Best 4K Display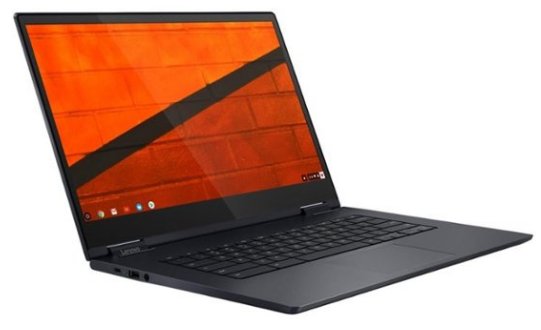 81JX0001UX
Google Chrome OS | 15.6" 4K Ultra HD (3840x2160) Touchscreen Display | 8th Gen Intel® Core™ i5-8250U | 8GB memory | 128GB eMMC Flash Memory | 9 hours battery life | 4.2 lbs (1.9kg) 
Experience smooth performance and great entertainment with the 15.6-inch Lenovo Yoga 2-in-1 Chromebook. It comes with a 15.6-inch Ultra HD touchscreen with sharp gorgeous visuals, and a 360 degree flip-and-fold design.
It delivers impressive system performance thanks to the mid-range Intel i5 processor, and 8GB system memory to handle multitasking of apps and every tasks. 
I have to admit, I'm really impressed with this one, cause it comes with a 4K resolution display. No other Chromebook has it at this price.  The rest is still good, with its powerful mid-range processor, good system memory and good internal storage. Plus the design looks really good. 
Now this is not exactly cheap either but you get what you buy here as well. Its a bit heavier as than the rest here but still portable to carry.
So if you want a Chromebook to experience a whole different display with 4K quality, then this one's for you.    

Samsung Chromebook Pro
The Most Productive Chromebook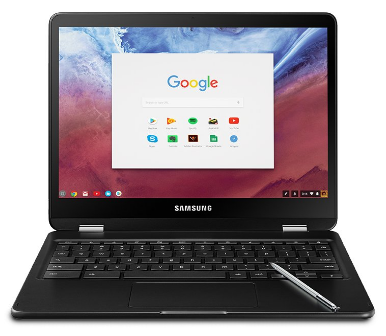 XE510C25-K01US
12.3" Touchscreen LCD (2400x1600) | Intel Core M (6th Gen) m3-6Y30 Dual-core | 4GB system memory | 32GB Flash Memory | Chrome OS | Metallic Black | Intel HD Graphics 515 | Bluetooth | Webcam | includes USB-C adapter and stylus pen | 9 Hour Battery Run Time | 2.4 lbs (1 kg)
Get your work done anywhere, anytime with this 12-inch Samsung 2-in-1 Chromebook. It's a budget laptop with an entry-level Intel processor, 4GB of system memory and a 32GB internal storage, all pre-installed with Google Chrome, and with 9 hours of battery life on a single charge.  
This is yet another budget 2-in-1 Chromebook that comes with standard features of a 2-in-1. Pre-installed with the Chrome OS along with its benefits, it's extremely lightweight and gives you more time to work before the battery runs out.
I like the fact that it comes with a stylus pen, and a USB type-C adapter to have more input ports, cause normally you'd have to buy them separately.    
Even though it comes with a small display, thick bezel edges that making the screen look smaller, and the fact that it's a bit more expensive than any other budget laptop with the same internal hardware specs, I'd say it's not worth getting.
But then again it comes with additional extras you only get with a few 2-in-1s. So with that said, I'd say get it.        

Final Thoughts
A lot of you may agree or disagree with my pick of Chromebooks, but I believe that these are the best, the bulls, and the alphas.
So if you're looking for a Chromebook and want one of the 'alphas' then consider these reviewed here for your next purchase. So go ahead and click on the 'order now' images to find out more, and to order one if you interested.
That's all from for now. Leave comments below. Share the the post to others on social media. Stay safe and take care until next time.