For those who don't know, there's a competitor emerging over the computer and tablet market right now. In my opinion, it may be the greatest thing or the biggest threat. I'm talking about Chromebooks and they are taking over in a big way.
What is that you say?
Well, if you really are curious,  click and check out introduction to Chromebooks. Now that you have an idea, let me share with you 6 of the best budget Chromebooks to buy right now.
Here they are listed:
Acer ChromeBook Spin II | ASUS ChromeBook C523 | HP ChromeBook X2 | Dell ChromeBook 3189 | Lenovo 500e ChromeBook | Dell Inspiron 2-in-1 ChromeBook
Acer Chromebook Spin 11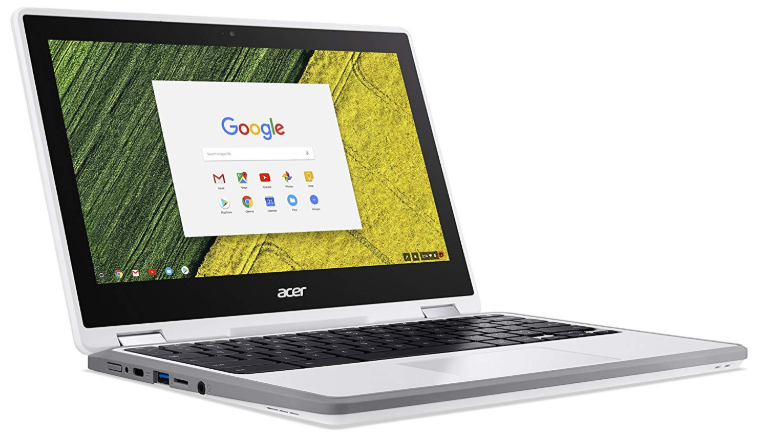 Intel Celeron N3350 (Up to 2.4GHz) processor | 11.6" HD (1366 x 768) Multi-touch widescreen LED-backlit IPS display | 4GB of Onboard DDR4 Memory | 32 GB Flash Memory | Wacom Stylus Pen included | Up to 10-hours Battery Life | Google Chrome OS | 3.09 lbs (1.4 kg) | 2 USB Type-C ports, USB 3.1 Gen 1 (up to 5 Gbps) DisplayPort over USB Type-C | 5MP 1080P Full HD (2592 x 1944) HDR rear-facing camera | 1MP 720P HD (1280 x 720) HDR front-facing camera
The good
Useful for school or college students | Comes with a stylus pen | 2 good quality internal cameras | Well-designed keyboard | Good battery life
The not-so-good
Small screen size and low-resolution display | Stylus pen can easily get lost | Small internal storage
The verdict
The Acer Chromebook Spin 11 guarantees good durability, long hours of battery life, comfort in typing, a responsive touchscreen, and a stylus pen for easy navigation. It runs Chrome OS so you have unlimited access to a wide array of apps from Google Store and the Android Play Store. That sounds to me like a great giveaway!    
The laptop specs are standard with 4 GB of system memory and only a small 32 GB of storage, but that's expected from a budget laptop. The system performance is still top notch.
It is a perfect 2 in 1 laptop for college students and young scholars to do school work and assignments, and let's not forget the fun things and the many convertible features of this Chromebook.
So if you a looking for a standard performing Chromebook with durable features, then get yourself an Acer Chromebook Spin 11 now - it will be the best tool you'll ever need. Click here to buy the Acer Chromebook Spin 11!
Asus Chromebook 2 in 1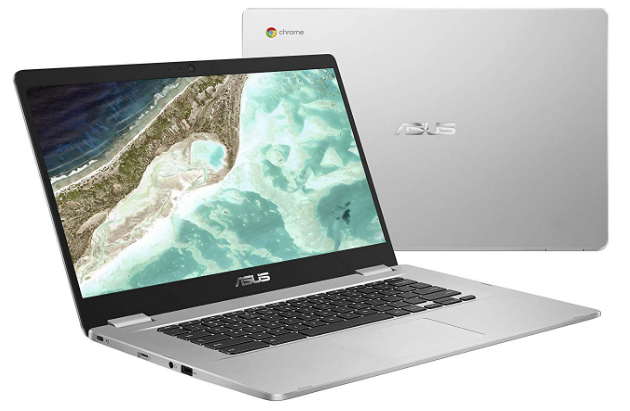 Asus Chromebook C523NA-DH02 | 15.6 inch HD (1366x768) anti-glare NanoEdge Display |  Intel Dual-Core Celeron N3350 Processor (2M Cache, up to 2.4 GHz) | 4 GB LPDDR4 Memory | 32GB eMMC storage | Intel HD Graphics LPDDR4 | USB Type-C, USB Type-A | Google Chrome OS | 3.7 lbs (1.7 kg) 
The good stuff
Budget price for a 15.6-inch | Part sleek, part-aluminium design | Good-looking 1080p panel | Comfortable keyboard and touchpad | Durable 180-degree hinge | Good battery life
The not-so-good stuff
Glossy screen coat is a glare magnet | No keyboard lighting | Not so good sound output
The verdict
The ASUS Chromebook is a simple 2 in 1 laptop that will help boost your productivity and have more fun on the move — with long battery life, you can use it all day and every day, with worrying about the battery.
The ultra-portable and lightweight 15.6-inch Chromebook, is powered by a dual-core Intel processor, that also includes a standard 4 GB of system memory and 32 GB storage. 
It also features a NanoEdge design, which gives you a big screen in a compact chassis for easier multitasking and more immersive entertainment. Preinstalled with the best of Google, the Chromebook also gives you access to an immense variety of apps on the Google Play Store for work or play.
So what more can you ask for? Get yourself the ASUS Chromebook. With its speedy performance, robust security and convenient features, it's not only perfect for students — it's ideal for anyone who's always on the go. So give this one a go - you won't go wrong. Click here to buy the ASUS 2 in 1 Chromebook!
HP Chromebook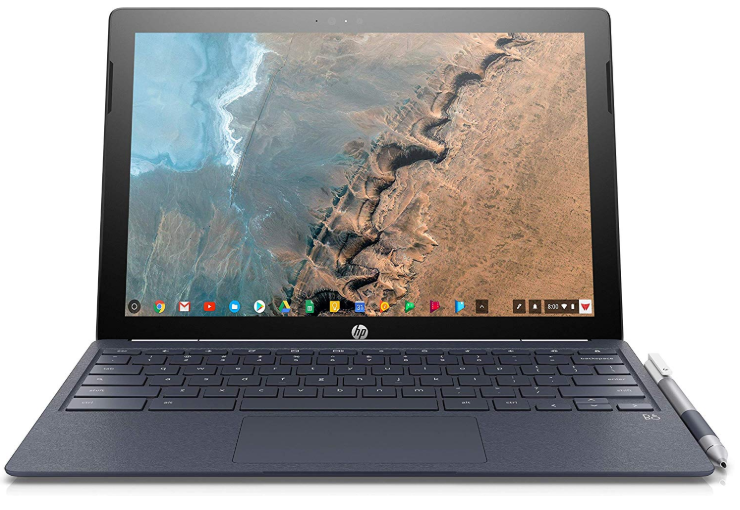 12.3" inclining 2K WLED-backlit touch screen (2400 x 1600) | Intel Core m3-7Y30 (1 GHz base frequency, up to 2.6 GHz with Intel Turbo Boost Technology, 4 MB cache, 2 cores) | 32GB eMMC Storage | 4 GB LPDDR3-1600 SDRAM | 802.11ac WiFi (2x2) and Bluetooth 4.2 | Wide Vision 5MP Front Camera | 13MP Rear Camera | 1 headphone/microphone combo; 2 USB 3.0 Type C | Google Chrome OS | 3.06 lbs (1.4 kg)
The good stuff
Elegant design | High-resolution screen | detachable keyboard and a kickstand | Strong performance | Good battery life
Not-so-good stuff
Expensive | No backlit keyboard | Average cameras quality
The verdict
The HP Chromebook is comes with an Intel processor, 4 GB of system memory, and 32 GB of storage. Another standard performance laptop with an elegant design, a 12-inch screen with full HD 2K quality, strong performance and a good battery life. 
The price is a little high for a budget Chromebook, with a price range between $450 and $550 for this 12-inch and at just below $600 for a 14-inch. With its elegant black design, lightweight, and good battery life, it's a worthy competitor for all 2-in-1 laptops. Click here to buy the HP Chromebook!
Dell Chromebook 3189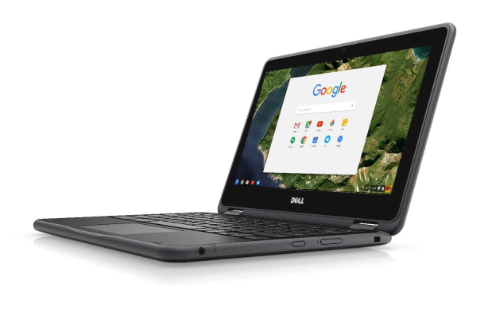 Intel Celeron N3060 1.6GHz | 32GB SSD Storage | 4GB DDR3 of RAM | 11.6" IPS display (1366 x 768) | Intel HD Graphics | 802.11AC, Bluetooth 4.0 + HS | Chrome OS | Up to 10 hours Battery Life | 3.16 lbs (1.43 kg)
The good stuff
Good 10 hours of battery life | Spill-proof exterior | 2-in-1 convertible form factor | Support for Google for Education administration and features 
The not-so-good stuff
Low-resolution screen | No USB-C ports | No Backlit Keyboard | No Optical Drive
The verdict
The Dell Chromebook 3189 is a durable 2-in-1 laptop, with good battery life, and strong processing to improve the overall system performance at the budget price offered. Although it won't have the best features and standard budget specs, it is a simple 2-in-1 laptop that can work for you, it's that simple. Click here to buy the Dell Chromebook!
Lenovo 500e Chromebook
Intel Celeron N3450 | 11.6" HD (1366 x 768) 10-point multi-touch screen | 4 GB of RAM | 32 GB Storage | 2.97lbs (1.35kg) | 720p HD front-facing camera | 5MP HD back-facing | Up to 10 hrs | 2 USB-C, 2 USB 3.0, Micro SD card reader, Audio combo jack | 802.11 AC 2 x 2 WiFi, Bluetooth® 4.2
The good stuff
Good performance for scholars | Two USB-C and two USB 3.0 ports | Stylus included | Impressive 9 hours of battery life | Durable and spill-resistant
The not-so-good-stuff
Low-quality screen resolution | No HDMI port | Two standard internal cameras  
The verdict 
The Lenovo 500e Chromebook is a good laptop for students. It is durable, good performance, and long lasting battery life. If you can bear the low-quality screen and its semi-ruggedness, then this one is a good choice. Click to buy the Lenovo Chromebook!
Dell Inspiron Chromebook 14 2-in-1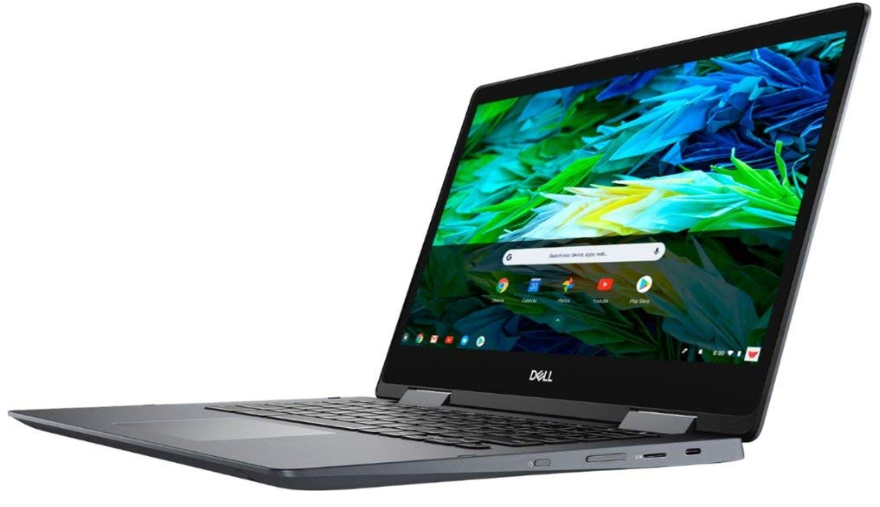 Google Chrome OS | 14-inch Full HD touch screen for hands-on control | Intel Core i3-8130U processor | 4GB of RAM | 128GB eMMC storage | Intel UHD Graphics 620 | Bluetooth 4.0 | HDMI | Intel Wireless-AC connectivity (2x2, 867 Mbps) | Built-in webcam | Backlit keyboards | 5.77 lbs (2.6 kg)
The good stuff
Quick performance | Stylish, sturdy aluminium design | Stylus pen included and fits inside chassis | Comfortable backlit keyboard
The not-so-good stuff
Heavy for its size | Low battery life | Display hinges are overly stiff | Loud touch | pad clicks | No dedicated video-out connector | No cable lock down slot.
The verdict 
The Dell's Inspiron Chromebook 14 2-in-1 looks good, feels good with its added features, but its got low battery and it weighs more. Yet it has good performance thanks to the Intel i3 processor improving its overall system performance and comes at a good price tag. If you can bear, then this is for you. Click here to buy the Dell Inspiron Chromebook!
The final word
Chromebooks are the most flexible, versatile, easy-to-use, lightweight, and let's not forget, cheap and powerful laptops to use right now. It is not like any modern laptop out there, and it's perfect for someone who is looking for a budget laptop to work on it daily.
If you are looking for a good performance laptop, at a budget price then check out and see what's on offer - you really don't have anything to lose, except having a great experience with a Chromebook.
Thank you for reading this amazing article. Leave your comments below and share this post with friends and family.