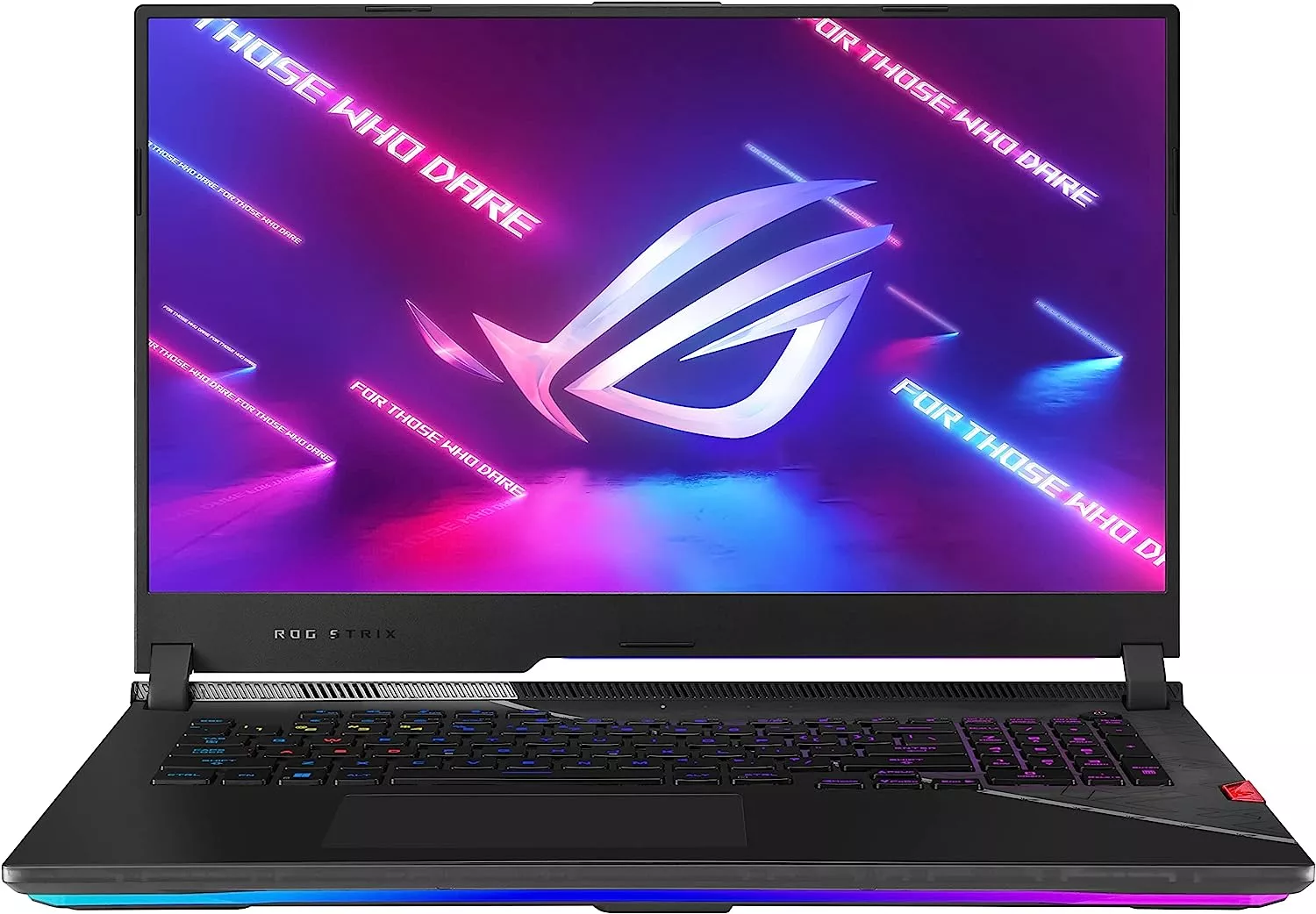 The Asus ROG Strix Scar 17 (2023) features the best performing components to optimize your gaming experience. 
SPECS
Asus ROG Strix Scar 17 (2023)

CPU
AMD Ryzen 9 7945HX
STORAGE
1TB or 2TB PCle SSD
MEMORY
32GB DDR5
GPU
NVidia GeForce RTX 4080 or 4090
PORTS
2x USB-A, 2x USB-C, HDMI, RJ-45, 3.5mm headphone/mic
DISPLAY
17.3-inch, QHD, 240Hz/3ms, 100% DCI-P3 
PROS
Excellent gaming performance
Responsive keyboard
Smooth frame rate
Spacious & colorful display
Well-managed thermals
Good overall specs
Stunning design
CONS
Enormous & heavy
Very expensive
Short battery life
Overview
The specs of the 2023 ROG Strix Scar 17 make it obvious that it's all about performance. It not only features Nvidia's top-tier laptop graphics card, but it also has AMD's most recent mobile processor, so it's ready to munch its way through all of the current titles at high settings.
That means it's a big PC with considerable cooling technology to keep temperatures under control, and it's also incredibly expensive. However, it is not excessive for the quality on offer, and if you're looking for desktop-level performance in something more portable, this may be a great alternative. After a few weeks of testing this incredible gaming laptop, here are my impressions.
Performance
AMD Ryzen 9 7945HX
Nvidia GeForce RTX 4090/4080
32GB DDR5 of RAM
1TB/2TB PCle SSD
Under the hood, the Asus ROG Strix Scar 17 (2023) packs a punch. Powered by the latest generation CPU from AMD, and the latest GPU from Nvidia, it delivers blazing-fast performance that can handle even the most demanding games and apps with ease. Say goodbye to lag and hello to smooth gameplay and lightning-quick multitasking. 
When it comes to memory and storage, the gaming laptop doesn't disappoint. With ample RAM and vast storage available, you can have all your games, files, and programs at your fingertips. Whether you're a casual gamer or a content creator, this laptop has the storage capacity to meet your needs.
In benchmark tests, the Strix Scar 17 consistently shines. It surpasses expectations, delivering exceptional performance and impressive frame rates. The laptop's hardware configuration and optimization make it a force to be reckoned with in the gaming world, ensuring a seamless and immersive experience.
When it comes to gaming, the Asus ROG Strix Scar 17 truly shines. With its powerful hardware configuration, including the latest processor and graphics card, you can expect smooth gameplay and high frame rates. Whether you're playing the latest AAA titles or engaging in competitive esports, this laptop can handle it all with ease.
Optimizing graphics settings can sometimes be a cumbersome task, but not with the Asus ROG Strix Scar 17. The laptop comes with software that automatically optimizes game settings, ensuring you get the best balance between performance and visuals. This takes the guesswork out of tweaking individual settings and allows you to focus on enjoying your gaming experience.
For gamers who crave realistic lighting and visuals, the Asus ROG Strix Scar 17 has got you covered. The laptop supports ray tracing technology, which adds a new level of immersion to supported games by simulating the behavior of light. Additionally, it also supports DLSS (Deep Learning Super Sampling) technology, which enhances performance and image quality by using AI algorithms. These features combine to deliver stunning visuals that bring games to life.
Display
17.3-inch, 240Hz, WQHD, IPS display
2560 x 1440 screen resolution 
The display on the Asus ROG Strix Scar 17 (2023) is a visual treat. With its high-resolution panel, colors pop and details come to life, offering an immersive gaming experience. The vibrant and crisp visuals make every game, movie, or whatever you viewing an absolute delight to behold.
Color accuracy and brightness are critical factors when it comes to gaming and content creation. The Strix Scar 17 excels in both areas, delivering accurate colors and great brightness levels. This ensures that you see every shade and hue as intended, enhancing your gaming and visual experience.
To further enhance the visual experience, it comes equipped with a high refresh rate and adaptive sync technology. This combination results in ultra-smooth gameplay, minimizing screen tearing and stuttering. Whether you're engaging in fast-paced action or exploring breathtaking open worlds, the display keeps up with your every move.
Design
Weighs 3kg
2x USB-A, 2x USB-C, HDMI, RJ-45, 3.5mm headphone/mic
395 x 234 x 28.2mm dimensions
In terms of aesthetics, the Asus ROG Strix Scar 17 (2023) strikes the perfect balance between bold and sleek. Its angular design and matte black finish give it a stealthy appearance that screams gaming prowess. The slim bezels surrounding the display further enhance the overall look and provide an immersive viewing experience.
Constructed with precision and durability in mind, the Asus ROG Strix Scar 17 (2023) boasts a robust build quality. The laptop feels solid and well-built, with no flex or creaking even under pressure. The use of premium materials adds to its overall sturdiness, ensuring that it can withstand the rigors of gaming on-the-go.
There are some sci-fi-inspired highlights here and there, but for the most part, it's a really basic approach. And the laptop wouldn't appear out of place in a professional environment. As long as you switch off the RGB lighting. Because when you turn on the computer, you will be welcomed with a rainbow of colors all over the keyboard and around the underside of the laptop.
The huge ROG logo lights with a white outline on the back, which is a great touch that reminds me of previous MacBook models. Other than that, the RGB lighting looks absolutely excellent; it's really bright, has rich colors, and has seamless transitions.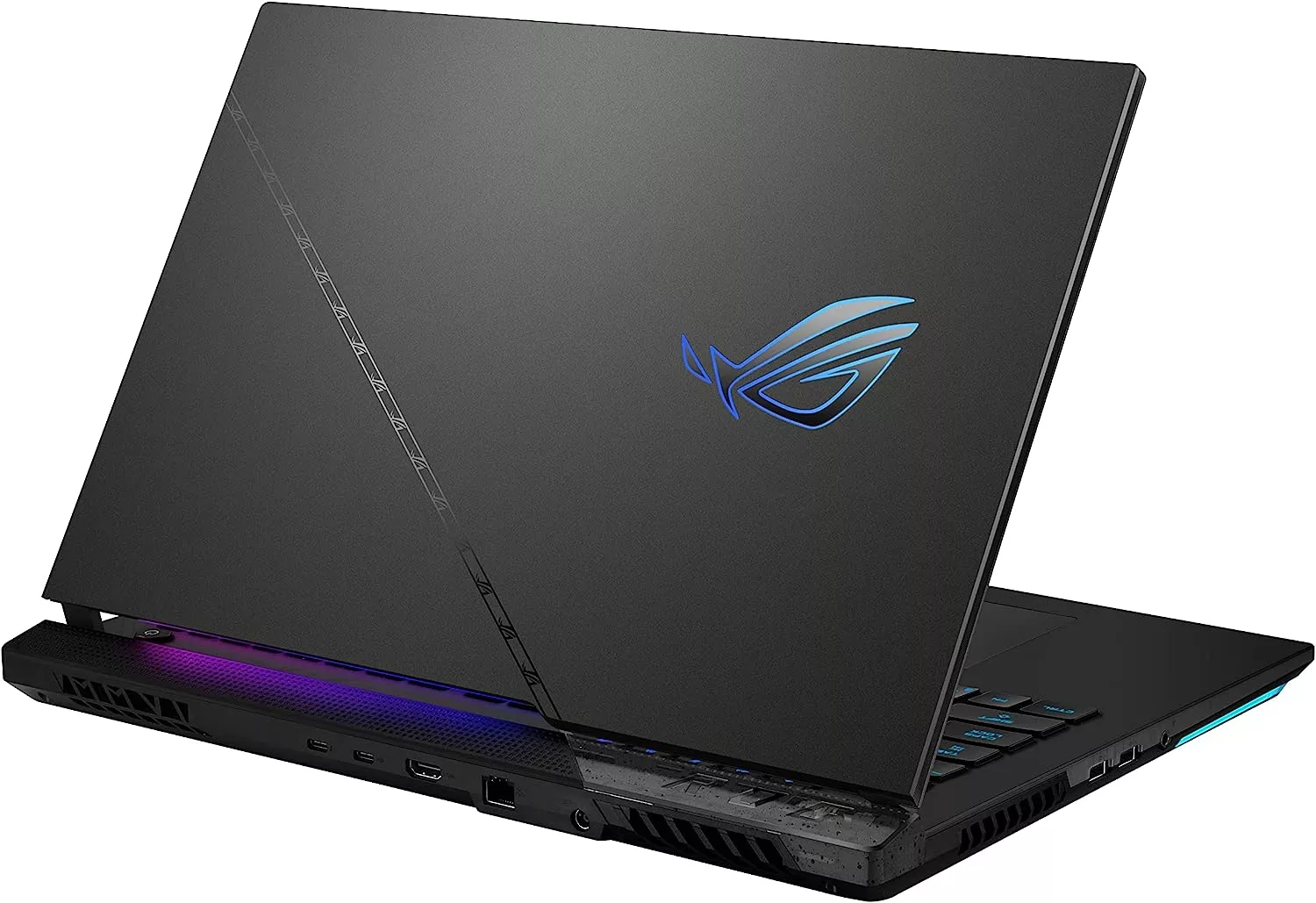 It, like most other ROG products, can be connected with various devices using Aura Sync, so your entire desk may light in harmony – or you can turn it off entirely.
As a gaming laptop, the Asus ROG Strix Scar 17 isn't the most portable option out there. It's a bit on the heavier side, which can make it less than ideal for frequent travel.
However, if you're primarily looking for a powerful gaming machine that you can move around occasionally, the weight shouldn't be a dealbreaker. The laptop's solid build quality and powerful performance make up for its slightly bulkier form factor.
Keyboard & Touchpad
The keyboard on the Asus ROG Strix Scar 17 is a pleasure to type on, with a well-spaced layout that makes it easy to find your way around. The keys have a satisfying amount of travel, striking a balance between responsiveness and tactile feedback.
Whether you're typing up a document or engaging in an intense gaming session, the keyboard provides a comfortable and accurate typing experience.
If you're a fan of flashy aesthetics, you'll love the RGB lighting options on the Asus ROG Strix Scar 17. The keyboard features per-key customizable RGB lighting, allowing you to create your own unique lighting effects or choose from a range of pre-set options. The lighting is bright and vibrant, adding an extra touch of personality to your gaming setup.
While the focus of the Strix Scar 17 is undoubtedly gaming, the trackpad works on average but not impressive. For normal use it's fine but it's best you get a good gaming mouse for gaming sessions. 
Heat Control
No one wants their gaming laptop to overheat, and with the Asus ROG Strix Scar 17, you can rest easy. The laptop features a robust thermal design and an efficient cooling solution that keeps temperatures in check, even during demanding gaming sessions. This means you can play for hours without worrying about overheating issues affecting your performance.
While the cooling system does an excellent job at keeping temperatures under control, it's not completely silent. During intense gaming, you can expect the fans to ramp up and generate some noise. However, it's worth noting that the noise levels are still within acceptable limits and shouldn't be overly distracting. Plus, when you're immersed in the game, you'll hardly notice the hum of the fans.
Battery life
90Wh Li-Ion battery
330W charger
Given the powerful hardware inside, it's not surprising that the battery life on the Asus ROG Strix Scar 17 is not its strongest aspect. While it can handle light usage and productivity tasks, the battery drains relatively quickly during gaming sessions. If you're planning on gaming on the go, it's advisable to keep the power adapter handy.
The power adapter that comes with the Asus ROG Strix Scar 17 is capable of delivering ample power to keep the laptop running at its full potential.
It charges the battery relatively quickly, allowing you to get back in the game with minimal downtime. The charging speed is impressive, ensuring you spend more time gaming and less time waiting for your laptop to recharge.
Verdict
The Asus ROG Strix Scar 17 (2023) proves to be a formidable gaming laptop that excels in both design and performance. With its sleek aesthetics, powerful specifications, immersive display, responsive keyboard, and efficient cooling system, it offers an outstanding gaming experience for enthusiasts.
While its battery life may be a slight drawback for those seeking prolonged portability, the Scar 17's overall performance and features make it a highly desirable choice for gamers who demand top-tier performance. With the Asus ROG Strix Scar 17 (2023), you can elevate your gaming sessions to new heights.
If you're looking for a top-notch desktop replacement, the Asus ROG Strix Scar 17 (2023) is the ultimate choice. Although it may not be the most portable or long-lasting in terms of battery life, it more than compensates with its exceptional speed and performance. When it comes to gaming performance, there are very few, if any, machines that can surpass it.
Yes, it's expensive, but it boasts one of the most well-balanced spec sheets I've encountered in this category. This means that your hard-earned money is being invested in the components that truly matter, rather than wasting it on excessive memory or a display that the GPU can't fully utilize.
If you're on the hunt for the absolute top-notch option, the Asus ROG Strix Scar 17 (2023) is a force to be reckoned with and deserves your undivided attention.
If you like this review, please leave a comment below. If you have any questions, you're welcome to leave them here below and I will get back to you soonest. It's encouraging and motivates us to bring you more great content.