ASUS ROG Ally Gaming Handheld
The Asus ROG Ally gaming handheld console is an amazing mobile device. Although it presents a short battery life, a lack of touchpads, and a difficult user interface, it excels in stunning visuals, great design and great gaming performance.  
Specs
| | |
| --- | --- |
| DISPLAY | 7-inch IPS Touchscreen, FHD, 1920 x 1080, 120Hz |
| CPU | AMD Ryzen Z1 Xtreme Zen 4, 2.8GHz |
| MEMORY | 16GB LPDDR5 6400 RAM |
| STORAGE | 512GB/2TB NVMe PCIe 4 M.2 SSD |
| GPU | AMD Radeon RDNA3 graphics (4GB VRAM) |
| AUDIO | Dolby Atmos (dual speakers) |
| PORTS | USB Type-C , headphone jack, MicroSD slot, Asus PCIe port |
| BATTERY | 40WHrs |
| CONNECTIVITY | Wi-Fi 6E, Bluetooth 5.2 |
Pros
Includes MicroSD to expand storage

Fairly priced

Stunning Full HD display

Able to play most PC games
Cons
No touchpad included

Short battery life

Challenging user interface
Overview
The Asus ROG Ally gaming handheld is the upcoming competitor in the field of portable PC gaming. With its stunning 1080p screen, 120Hz refresh rate, AMD Ryzen Z1 Extreme Zen 4 processor, and its fair price, this new handheld is sure to catch the attention of anybody searching for a genuine Steam Deck rival.
The Z1 Extreme-powered ROG Ally costs between US$800 and US$1000, which is more than the Valve's Steam Deck gaming handheld. Yet it comes with a ton of technological upgrades compared to Valve's practical gadget. For better or worse, it is also not constrained by Steam Deck's operating system which is Linux-based, called SteamOS.
The ROG Ally could be what you're seeking for if you've always wanted a Windows-based portable PC. It really pushes the envelope in terms of functionality, not overly priced, and plays almost all PC games, even Xbox Game Pass games natively on the go.
Design & other Features
When it comes to gaming on the move, the design strategy of the Asus ROG Ally continues to adhere to the majority of industry norms. It doesn't try to reinvent the wheel when it comes to managing your video games on a portable device with its central 7-inch screen and side-form controls, which are also found on the Steam Deck, Nintendo Switch, Ayaneo 2, and other devices.
The face buttons on the Ally handheld have a typical ABXY configuration that is quick and responsive. This is in addition to 'View' and 'Menu' buttons that resemble those on the Xbox controller.
There are also dedicated buttons geared to launch ROG Armory Crate or a specification configuration menu where you can change performance modes, change the resolution from 1080p to 720p, cap the frame rate, or even change controller settings for the game you're playing. I thought the circular cross layout of the D-pad to be more practical than individual buttons, but it also gave the otherwise premium-looking gadget a cheap aspect.
Although comparisons between the ROG Ally and Steam Deck are unavoidable, I don't want to focus this entire review on them, but the Steam Deck's pressure-sensitive touchpads are something that the Ally lacks.
Many gamers won't find this to be a significant concern, but it's still a noticeable missing that may limit your ability to pick the type of game you want to play when you're on the road. Lacking touchpads here is unquestionably a check in the Steam Deck's column because they make operating mouse-based games on the Deck much easier, especially when paired with the multitude of community control profiles available.
When you're not playing games, the joysticks function as a mouse cursor. If you need a little bit more precision, they can support touch controls. Although it doesn't feel great, this is still extremely good.
Overall, if you want to use it as a regular computer at any time, I advise connecting a wireless keyboard and mouse. You can instantly reach the Windows toolbar on this screen by swiping up at any time, which is quite helpful for constantly navigating the device.
The ROG Ally boasts an exceptionally slim and light design, measuring 280 x 113 x 39 mm and weighing only 608g. While it may not feel completely secure in both of your hands, its slanted sides and slimmer design do help to make it comfy for longer gaming sessions.
In contrast to the Ayaneo 2, another portable rival, the ROG Ally has bezels on every side of its screen. When you initially use it, it might make the playing area seem a little constrained, but as the screen starts up and you become engrossed in its stunning sights, everything is quickly forgotten.
Display
The Ally's 7-inch LCD touchscreen, which has a resolution of 1920 x 1080 and a brightness of 500 nits, is highly colorful and performs astonishingly well outside or in bright sunlight. Although the screen performs quite well for individuals who prefer to travel on some of the sunnier days of the year, details can occasionally seem washed out.
Many devices find it challenging to handle Full HD+ quality, but the new AMD Ryzen Z1 Extreme APU performs an excellent job of dividing its responsibilities between CPU and graphics.
User experience
The operating system is one of the main distinctions between the Steam Deck and the ROG Ally. The Ally uses standard Windows 11, as opposed to the Steam Deck, which runs SteamOS. This is both its strongest point and biggest flaw.
The Steam Deck is confined to Steam games exclusively, whereas the ROG Ally supports any PC game without any problems. You are therefore free to purchase your games from other online retailers, including Epic, GOG, and Xbox Game Pass.
Asus included an Xbox Game Pass Ultimate 3-month trial. It's wonderful to have Game Pass access right out of the box on a gadget like this, and it's by far my favorite aspect of the portable. You don't even need a sizable library to get started with instant access to hundreds of titles.
Running Windows, however, has the drawback of preventing the ROG Ally from taking advantage of all the software-based adjustments Valve has made to the Steam Deck. The lack of true hardware/software synergy is still noticeable even if there are certain levels of software tinkering available here. You can change power settings, resolution, and set a framerate cap, for instance, using Armoury Crate.
The ROG Ally's user interface might be a little intimidating at first. I have to admit, my initial thoughts weren't exactly positive. I had a few crashes in the first few hours using the handheld. There were a few more times when I felt like a short reset was necessary to get back on course.
Many of the issues were caused by the ROG Armory Crate, which felt awkward. It sometimes stayed on my screen for 10 to 20 seconds after a game launched. As a result, I ended up being disappointed with the mobile device. 
Using Steam in the ROG Ally seemed slow, as opposed to using it in the Steam Deck. The Xbox PC launcher is still infamously glitchy, just like on the desktop. The Ally's inability to pause and restart a game with the press of a button, like the Steam Deck and the Switch, is its major drawback.
This implies that if you wish to stop playing for a longer period of time than a brief break, you must save your game, exit the application, and restart it from scratch. Of course, things work on a desktop in this manner by default.
However, I had a lot of fun once I got past all the riff-raff and started gaming. It was quite pleasant to not need to pull out an online manual and jump through a number of workaround hoops in order to start gaming on the go after switching between all the different launchers, including Epic, GOG, Steam, and Xbox. It is a sight to behold and is definitely worth the cost of admission over the Steam Deck when everything is operating as intended.
Gaming performance
The AMD Z1 Extreme mobile CPU, which is noticeably more powerful than the Steam Deck's, the AMD Ryzen 7 6800U, is used for the first time in a portable gaming PC with the ROG Ally. When plugged in, the Z1 Extreme's 8-core Zen 4 CPU and RDNA 3-powered graphics may be turned up to a maximum of 30W. In contrast, the Steam Deck's 4-core proprietary Zen 2 APU has a maximum power limit of 15W whether it is powered by a cord or a battery.
Although it can also operate at 720p (and there is a convenient toggle that enables you simply switch between the two resolutions), the ROG Ally aims a higher resolution than the Steam Deck – 1080p as compared to 800p.
After benchmark performance testing, the best graphic settings to optimize overall gameplay is to play PC games at 'medium' to 'low' with the ROG Ally. This is the same for the Steam Deck. The biggest distinction is that, with the appropriate adjustments, you'll be able to play on the ROG Ally at 'High' or even 'Ultra' settings, maybe even exceeding 60 frames per second.
Battery life
When it comes to the battery life, the ROG Ally is not its strongest feature. Similar to the Steam Deck, Asus claims a maximum battery life of 8 hours. This is likely to be achieved with the lowest graphics settings, 720p, silent mode, low interior lighting, and a classic side scroller.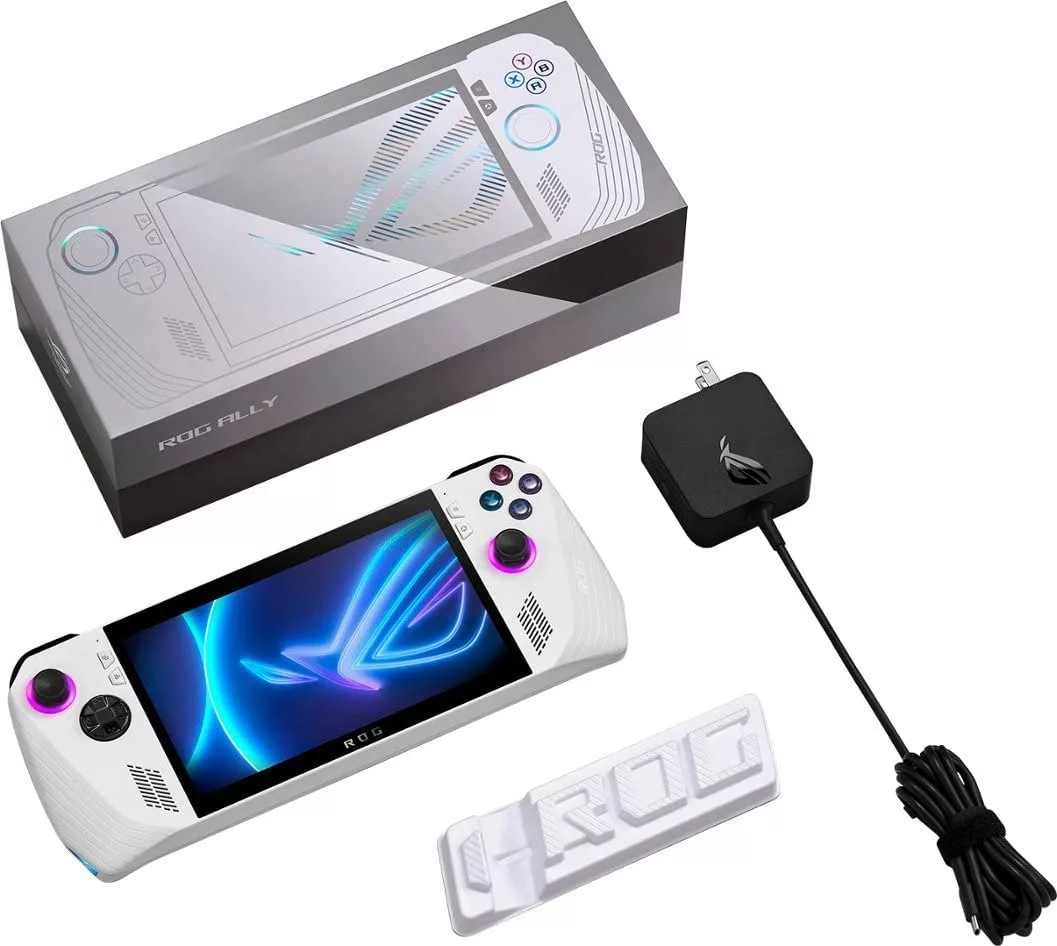 You will only be able to play graphics demanding games for a total of no more than two hours. After testing it with a few PC games in performance mode at 1080p with low-medium settings, the maximum playtime was approximately 1 hour and 30 minutes.
Price
The entry model Asus ROG Ally, powered by the AMD Ryzen Z1 Extreme, retails between US$800 and US$900. Even while the ROG Ally is primarily a mobile gaming device, it's important to keep in mind that it functions as a small Windows PC. With those specifications in place it justifies the high price.
In terms of overall affordability for portable PC handheld in 2023, the Asus ROG Ally gaming device often falls in the center. With the Ayaneo 2 costing between $1099 and $1499, and the Steam Deck costing less than US$600, it's not the most lavishing price we've heard, yet it really seems very reasonable for what you're receiving.
Verdict
The Asus ROG Ally gaming PC is an amazing mobile gaming device. You can take it and play it anywhere you want, and experience the best of what mobile gaming has to offer. Yes, it has a short battery life, a clumsy user interface and lacks the touchpads for precision gaming. But it makes up for it in providing amazing graphics, smooth gaming, and a stunning display.
The portable Xbox Game Pass device that many fans have been begging for really feels like the Asus ROG Ally gaming handheld is the better choice. Steam Deck may have a few good perks, but it's impossible to deny how much fun the ROG Ally handheld is to use when it gets going. It turns out that the ROG Ally is indeed very much a rival to the Steam Deck gaming handheld.
If you have any comments, or questions, you're more than welcome to leave them here below. It's truly encouraging, and motivates us to keep creating better content. So what next? Is the Asus ROG Ally gaming PC your choice of a mobile gaming device? Then click here to find out more, and also purchase it, if you so desire.