The Samsung Galaxy S23, one of the best compact phones in the world, has just got better. It is now quicker, more durable, with better connectivity, and has a larger battery. It's going to become a fan favorite in 2023 and in the compact sector (since it is still as compact, light, and appealing as ever). Is it really worth the money at the end of the day? Let's explore and find out from the Samsung Galaxy S23 Review.
Samsung Galaxy S23
SPECS
DISPLAY: 6.1 inches, Dynamic AMOLED 2X, 120Hz, HDR10+, 1080×2340 pixels
Operating System: Android 13, OneUI 5.1
CPU: Snapdragon 8 Gen 2
STORAGE MEMORY: 128GB 8GB RAM, 256GB 8GB RAM, 512GB 8GB RAM
BATTERY: 3900mAh, supports fast, wireless, and reverse wireless charging
MAIN CAMERA: Triple-lens, 50MP wide, 12MP ultrawide, 10MP telephoto with 2x optical zoom, up to 8K video recording at 30fps
SELFIE CAMERA: Single-lens, 12MP wide, with up to 4K video recording at 60fps
COLORS: Phantom Black, Cream, Green, Lavender
MISC: IP68 dust and water resistant, weighs 168 g, onscreen fingerprint sensor
RELEASED: February 2023
PROS
Professional & premium looks
Easy handling
Bright & fast OLED display
Fits in pockets nicely
Fast & solid performance
Good battery life
Excellent photo & video quality
Great sound output
CONS
Slow charging
No ultra-wideband support
No charger/earphones inbox
Overview
The Samsung Galaxy S23 smartphone is small and compact but comes in a great package that explodes greatness. To start off, it comes with a small 6.1-inch display that boasts a Full HD+ AMOLED display, and an adaptive refresh rate that changes as you use it. The phone comes with a triple-lens camera at the back, and a tear-drop lens selfie camera in front.
Under the hood, the S23 comes with a fast Snapdragon 8 Gen 2 processor, a 3900mAh battery pack, and 8GB of RAM. Other features include water and dust resistance, a fingerprint sensor on the screen, and an Android 13 operating system OS. Depending on the choice of model, you can choose either a 128GB, 256GB, or 512GB storage. No expandable storage here but there are other alternative storage services online to use.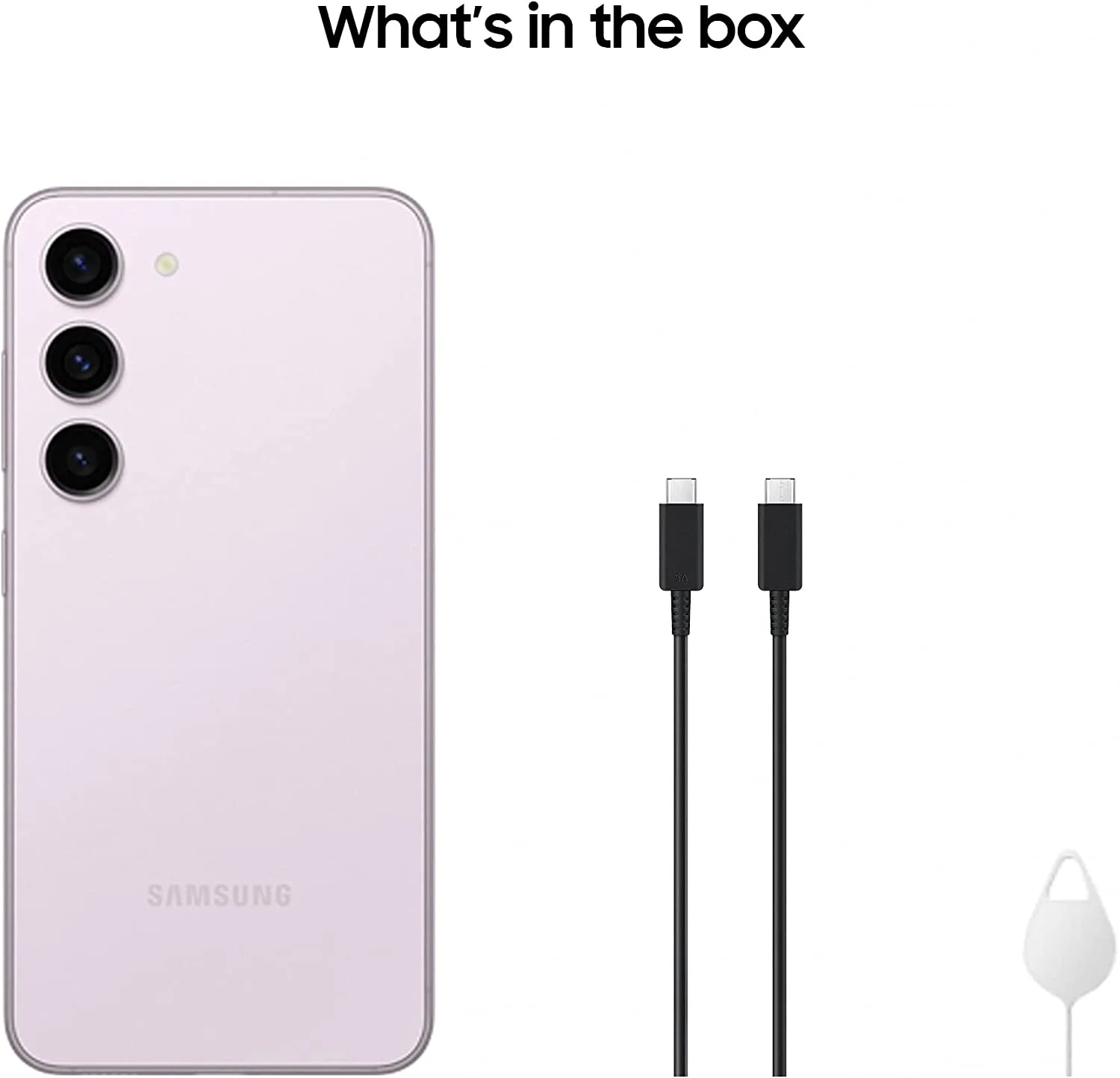 If compared to the Samsung Galaxy S22, most of the features are the same, except for (1) it comes with a faster processor, which means better performance, (2) it has a bigger battery, which means more battery life and (3) it has a brighter display. Overall, the S23 smartphone comes with a few new features that are however better, brighter, and faster than its predecessor.
What you get in the box is the Samsung Galaxy S23 smartphone, a sim card ejection pin, and a USB-C cable. Samsung provides no charger and headphones anymore but at least we can be happy that a USB cable is included. When you buy a charger make sure it's a 25W. Any higher and the phone won't charge.          
The Good Features

Attractive & Professional Design
The Samsung Galaxy S23 smartphone is a compact and smaller model than the S232+. You can choose from six attractive colors: Phantom Black, Cream, Green, and Lavender. The other colors Graphite and Lime are available when you purchase the S23 from the Samsung.com website online.
It comes with a matte finish at the back which makes it easy to grip and doesn't slip from your hands and includes a triple-lens camera which also looks good without the bump that surrounded the camera module from the last model.
The two standard volume and power buttons are stationed on the right side, with the USB-C port, sim card slot, and one of the speakers positioned at the bottom. The other speaker is positioned on the top of the phone where the glass and metal meet. All this is encased in a glass aluminum frame and good glass protection thanks to Gorilla Glass Victus 2. 
Overall, the S23 phone design looks great. Not much change from the older model, except for the bump at the back, but it looks professional and the colors make it look more attractive.
Small but Powerful Display
The S23 smartphone comes with a small 6.1-inch smartphone which is similar to the S22. But the difference is the brightness. Yep. The S23 comes with a moderately brighter display to help enhance the HDR experience with streaming videos.
Other standard features include the 1080p resolution, the dynamic refresh rate, which goes up to 120Hz, HDR10+ support, and the strong glass protection from Gorilla Glass Victus 2. Overall, the display is small but features more brightness, and more support for HD images and videos, it looks great, and the glass display will not crack so easily. 
Great Triple-Lens Camera
The Galaxy S23 includes a triple-lens camera which has the same camera setup as the new Galaxy S23+. This includes a 50MP wide camera with optical image stabilization, a 10MP telephoto camera with three times zoom, and a 12MP ultra-wide camera. It also includes video quality of up to 8K resolution at 30 frames per second.  The selfie camera comes with a 12MP wide camera and includes up to 4K video quality recording at 60 frames per second. 
The S23 is more than capable for the majority of individuals. It produces clear, detailed images in almost all lighting situations. It also enhances colors, as is usual for Samsung cameras, producing vivid shots that occasionally appear a touch oversaturated. 
Nevertheless, the Galaxy S23's cameras offer a fantastic video recording experience as well. You can choose between 1080p at 960 frames per second, (which is for creating silky smooth, ultra-slow-motion footage), and up to 8K at 30 frames per second which produce extremely high-quality footage. 
Moreover, you have an almost infinite number of options for taking pictures and films, including Director's View (which employs several lenses simultaneously); Adaptive Pixel (reduces picture size whilst retaining quality); High-Resolution Photo; Multi-Exposure; Nightography; Selfie Night Portrait, and Super HDR (merges multiple shots to create a detailed composite image).
Overall, the S23 comes with a good camera. You get a triple-lens camera system that takes high-quality photos and videos, a selfie camera that also takes high-quality videos and photos, and you get camera modes options to help enhance your camera experience.   
Good Battery Life
The Galaxy S23 is powered by a 3900mAh battery which is bigger than the Galaxy S22 which comes with a 4100mAh battery. From web browsing to making and receiving calls, to video playback the phone lasted an amazing 31-hour battery life before needing more juice.
But that's on moderate usage. It even takes pole position compared to the Galaxy S21 (28 hrs) and the Xiaomi 12 Lite (25 hrs). The battery also includes support for fast charging, wireless charging, and reverse wireless charging, which is a standard feature for this smartphone.
Fast Performance
The S23 smartphone comes with a Qualcomm Snapdragon 8 Gen 2 processing chip, which includes an eight-core, 4nm fast-performance processor. It also includes an Areno 740 GPU. Compared to the previous S22, the S23 has improved in performance and in processing efficiency, making it more useful for daily processing and gaming. 
Speaking of gaming, starting and playing games is a seamless process. Simple games like Royal Match, Candy Crush, Arlo's Odyssey, etc., operate without a hitch. And even triple-A games with demanding high graphics, like Genshin Impact, and Knighthood didn't exhibit any delays or frame rate drops.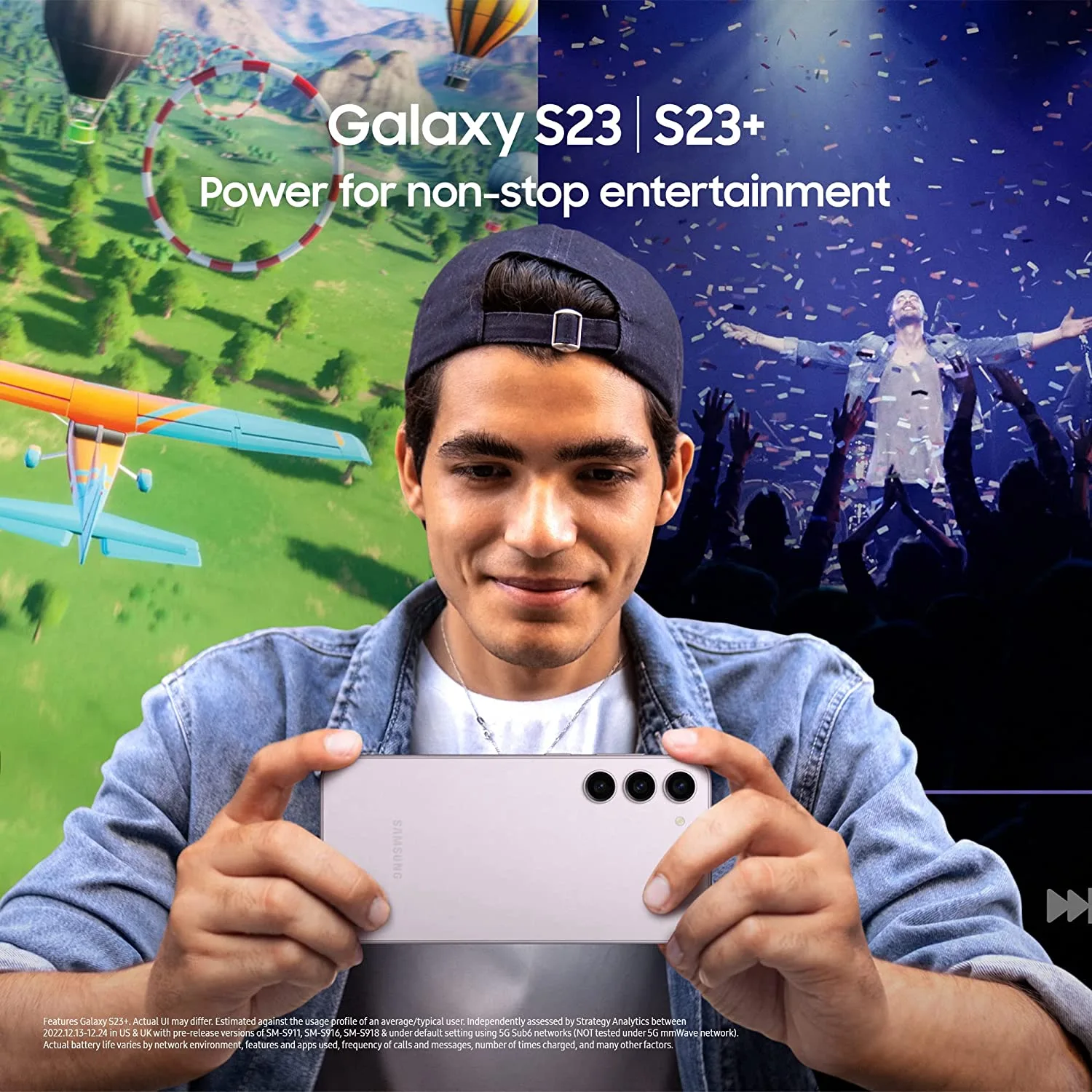 All S23 models come with an 8GB of RAM (LPDDR5x) which improves the memory storage of apps and improves overall performance. With regards to storage, it's better to get either the 256GB or the 512GB storage model as the 128GB models use an older storage drive.   
Regarding the operating system, the Galaxy S23 includes the newer One UI version 5.1. Based on Android 13 OS, it comes with new widgets, more connectivity options, various improvements in the gallery, and DeX mode. Other than that, One UI operates the same and looks similar to other Samsung devices. 
Yet the GUI looks and feels great. As you swipe from left to right, it feels smooth. This is one of the best parts of the One UI, the overall improvement in performance.
To end off, the S23 smartphone is the most performing smartphone in the market right now. It comes with excellent hardware and great specs. Gaming looks and plays better. And the One UI feels fast and looks smoother than ever. 
Other Features
Other features include great quality sound, with a clear-sounding loudspeaker. It's water and scratch resistant making it durable. The fingerprint scanner on the bottom of the screen is fast and responsive. The connectivity is fantastic. Whether it's Bluetooth, WiFi, 5G, or 4G (LTE), it connects fast and downloads up to 12 Mb per second. Most of these features are standard from all Samsung Galaxy models, but it's worth mentioning.  
The Bad Features
Snail Charging
Compare to other great smartphones, the charging speed of the S23 is not much to be excited about. The battery inside the Galaxy S23 supports up to 25W chargers, whereas the Galaxy S23+ and the top Galaxy S23 Ultra support up to 45W chargers. With a 25W charger, after half an hour the Galaxy S23 is charged to 57%, whereas it takes seventy minutes to reach full charge.
Compared to the Galaxy S22, it takes an hour for it to fully charge even with a 25W battery. Sad to say, you may have to wait a little longer for the S23 smartphone to fully charge. Overall, the S23 is not the fastest at charging but where it disappoints, it excels in battery life.      
No-no Features
The Samsung Galaxy S23 smartphone comes with a few no-nos. Firstly, there's still no charger in the box. You'll have to buy it separately. Secondly, the Galaxy S23 lacks UWB connectivity, which helps provide accurate GPS information. It's like using Google Maps to find a location. You punch in the address. You follow but it takes you to a completely different location. That's what it means. In the end, the Galaxy S23 is not a perfect smartphone. It will come with compromises but with all the other great features it's one of the best phones you can buy.      
Verdict
The Samsung Galaxy S23 smartphone is excellent overall. It looks good. Excellent performance. It has a good battery life. It takes beautiful photos and videos and comes with other great features. Although it's a small phone that doesn't charge very quickly and does lack UWB support, it's the best handset for those who want something simple, with less complex features, and has a professional finish. If that's what you looking for then the Galaxy S23 is the smartphone for you.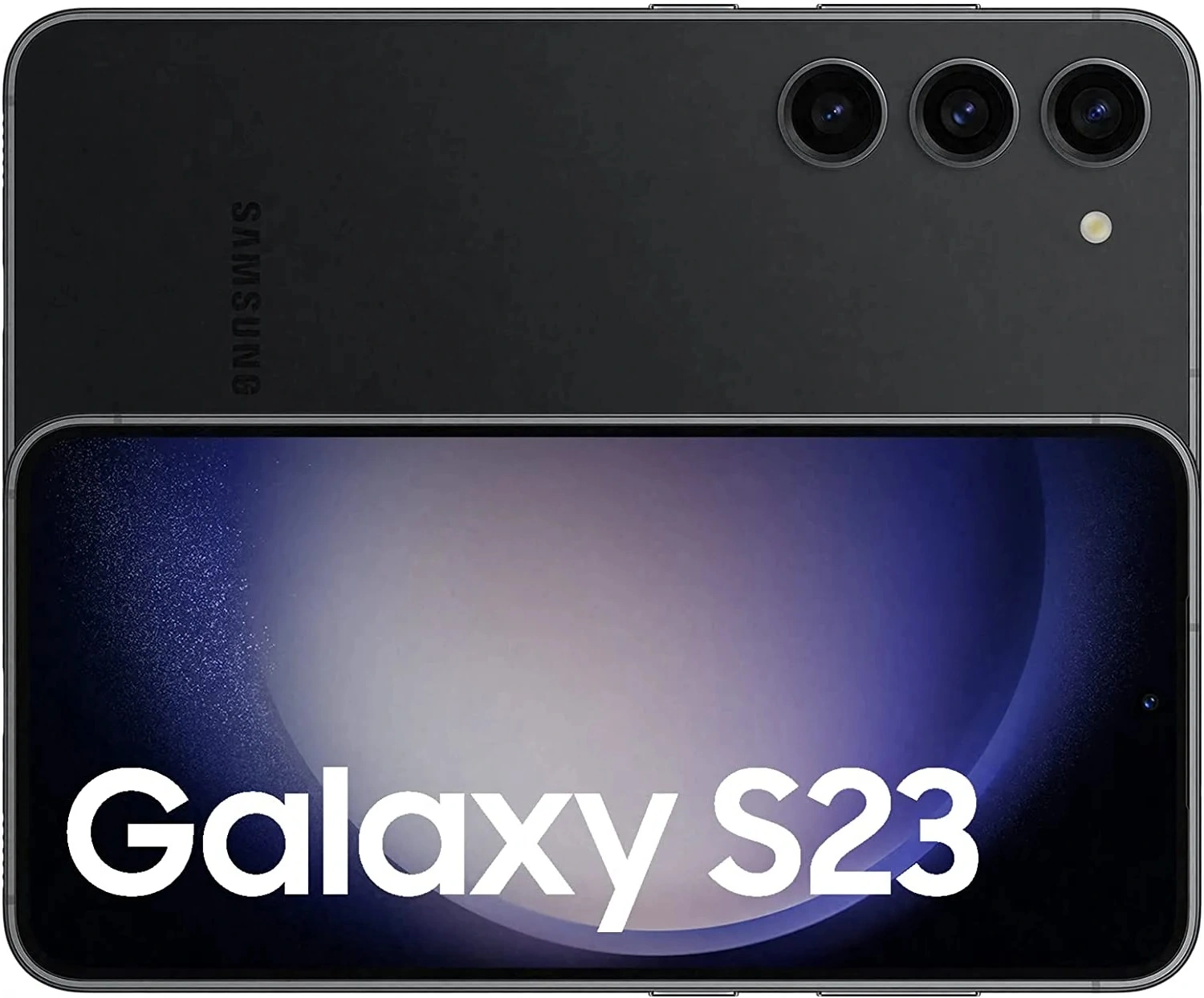 So did you enjoy my Samsung Galaxy S23 review? Are you swayed to get the Galaxy S23 smartphone? What are your opinions?  If you like the Samsung Galaxy S23 Review, then please add a comment below. If you have any questions then you may also add them as well. I will answer you as soon as I can. So what to do next? Well, if you missed it, click here to find out more or to purchase your S23 smartphone today.  
Samsung Galaxy S23
The Good Stuff
Professional & premium looks
Easy handling
Bright & fast OLED display
Fits in pockets nicely
Fast & solid performance
Good battery life
Excellent photo & video quality
Great sound output
The Bad Stuff
Slow charging
No ultra-wideband support
No charger/earphones inbox