The Lenovo Legion Pro 5 is a powerful gaming laptop that aims to provide an unmatched gaming experience. As part of the widely acclaimed Legion series, this device combines cutting-edge hardware, advanced gaming features, and a sleek design to cater to the needs of hardcore gamers. In this review, we will delve into the various aspects of the Lenovo Legion Pro 5, including its design, performance, display quality, battery life, software features, and more. By the end of this article, you will have a comprehensive understanding of whether the Lenovo Legion Pro 5 is the ultimate gaming laptop you've been waiting for.
Lenovo Legion Pro 5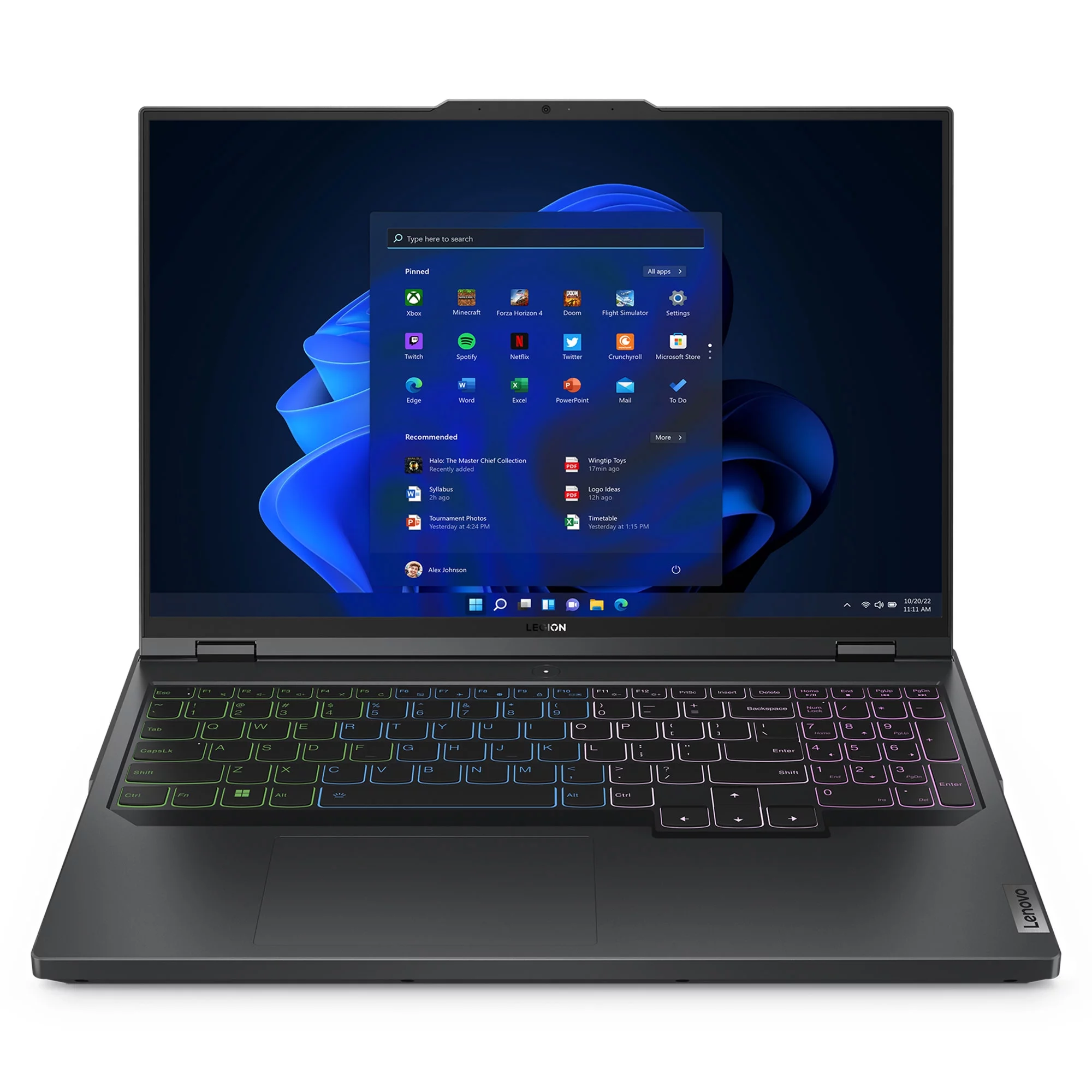 SPECS
Lenovo Legion Pro 5
CPU
AMD Ryzen 7 7745HX
STORAGE
512GB PCIe Gen4 NVMe SSD
MEMORY
16GB DDR5-5200
GPU
Nvidia RTX 4070 laptop GPU
PORTS
4x USB 3.2 Gen 1 Type A, 2X USB 3.2 Gen 2 Type C (2x DisplayPort 1.4, 1x 140W power delivery), 1x HDMI 2.1, 1x Ethernet
DISPLAY
16-inch 2,560 x 1,600, IPS, 165Hz 
PROS
Excellent performance

Great value

Includes lots of ports

High refresh rate
CONS
Expensive

Outdated IPS display

Quite heavy
Overview
The Lenovo Legion Pro 5 is a gaming beast that's ready to take your gaming experience to the next level. Packed with powerful hardware, this gaming laptop is designed to deliver exceptional performance and immersive gameplay.
It's powered by an AMD Ryzen 7 processor and features a generous amount of RAM, ensuring smooth multitasking and seamless gameplay. It also boasts impressive graphics capabilities, thanks to the RTX mobile GPU, allowing you to enjoy your favorite games in stunning detail.
With its high-quality display, comfortable keyboard, and fast storage options, the Legion Pro 5 ticks all the boxes for a top-notch gaming laptop.
Let's See its Build
The Legion Pro 5 sports a sleek and modern design that exudes a premium feel. It features a backlit keyboard that not only enhances the overall aesthetics but also aids in gaming in low-light conditions. The ergonomics of the laptop are well thought out, providing a comfortable typing experience and easy access to all the essential ports.
Built with quality materials, the Legion Pro 5 feels sturdy and well-made. The laptop can endure the rigors of gaming sessions and daily use without showing signs of wear and tear. The construction is solid and reliable, ensuring the longevity of the device.
While the Legion Pro 5 is not the lightest gaming laptop on the market, it strikes a good balance between portability and performance. It is relatively slim considering its powerful hardware, making it easy to carry around for on-the-go gaming sessions. However, it's worth noting that the laptop's weight might be a factor to consider if you plan on traveling frequently with it.
Let's Game
Equipped with a high-performance processor and ample RAM, the Legion Pro 5 delivers exceptional performance in both gaming and multitasking. You can expect smooth gameplay, quick load times, and seamless transitions between applications, giving you a hassle-free gaming experience.
The Legion Pro 5 doesn't disappoint when it comes to graphics capabilities. With its powerful graphics card, it can handle demanding games and deliver stunning visuals. Additionally, if you're into virtual reality, this laptop supports VR, providing an immersive experience like no other.
When it comes to gaming performance, the Legion Pro 5 shines. It can handle even the most demanding games with ease, offering smooth frame rates and minimal lag. Whether you're playing fast-paced shooters or graphically-intensive RPGs, this laptop delivers a responsive and enjoyable gaming experience.
Let's See the Display
The Legion Pro 5 features a high-quality IPS display that enhances your gaming visuals. With its vibrant colors and sharp details, every game comes to life on the screen. The size of the display is generous, providing an immersive viewing experience that pulls you into the game world.
The resolution of the Legion Pro 5's display is on point, offering crisp and clear visuals. Colors are accurately reproduced, ensuring that you see the game as the developers intended. Whether you're exploring fantastical realms or engaging in intense battles, the display's color accuracy adds depth to your gaming experience.
While the gaming laptop comes with a compromise of an IPS display, it makes up for it thanks to the high refresh rate, the color accuracy and quick response time. The Legion Pro 5 minimizes motion blur and ghosting, resulting in smooth and fluid gameplay.
You won't miss a single frame, and your actions register instantaneously, giving you the competitive edge you need in fast-paced games. Say goodbye to frustrating lag and hello to a seamless gaming experience.
Battery & Cooling Power
When it comes to gaming laptops, battery life is often a concern. Thankfully, the Lenovo Legion Pro 5 doesn't disappoint in this department. Its battery performance is impressive, lasting for hours on end even during intense gaming sessions. With a decent battery capacity, you won't constantly find yourself tethered to a power outlet, allowing you to truly enjoy the freedom of gaming anywhere.
Gone are the days of eternal waiting for your laptop to charge. The Lenovo Legion Pro 5 offers fast charging capabilities, ensuring that you spend minimal time plugged in and more time immersed in your gaming adventures. Additionally, the laptop provides various charging options, giving you the flexibility to charge through different ports or even wirelessly, depending on your preference.
No gamer wants their laptop to turn into a mini volcano during intense gaming sessions. That's where the cooling system of the Lenovo Legion Pro 5 shines. It keeps your laptop cool and prevents overheating, even when pushing the hardware to its limits. The efficient cooling system ensures optimal performance, allowing you to focus on dominating virtual worlds without worrying about your laptop melting away.
Verdict
To sum it up, the Lenovo Legion Pro 5 impresses with its battery life, sleek design, and its efficient cooling system. It offers great gaming performance, features, and optimizations that cater to both casual and serious gamers.
It's important to note that the Lenovo Legion Pro 5 may come with quite a high price tag. The weight may not be ideal for those who are constantly on the go, and the IPS display may be outdated or appeal to all, yet it still looks good so it really doesn't disappoint. 
After thoroughly examining the Lenovo Legion Pro 5, it is evident that this gaming laptop offers an exceptional gaming experience that is hard to match. 
If you're in the market for a gaming laptop that delivers on performance, battery life, and an exceptional gaming experience, the Lenovo Legion Pro 5 is a solid choice. Its impressive features and capabilities make it a worthy investment for gamers looking to take their gaming to the next level. Just be prepared to shell out a bit more and consider your portability needs before making the purchase.
We hope you enjoy the Lenovo Legion Pro 5 review.  Any questions or comments, leave them down here below. It's encouraging and motivates us to deliver better content.