Microsoft Surface Go 2 Review: The Next Great Tablet-on-the-go
Microsoft Surface Go 2 review. Here is the second release series of the Surface Go 2-in-1 laptop-tablet from Microsoft. It comes into 2020 with new upgrades and features from the 2018 model and starts at a mid-range price.
It comes with the intention to compete with other top tablet brands, with a sleeker look, good display, and better performance. It may not be a cheap buy but it's very much capable and versatile for all to use.   
Microsoft Surface Go 2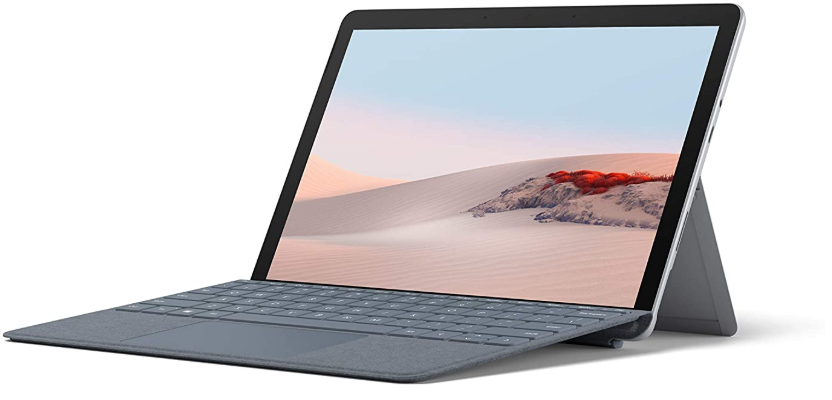 Display: 
10.5-inch PixelSense™ Touchscreen
1920 x 1280 resolution
Corning® Gorilla® Glass 3 Protection
Memory:
4GB/8GB RAM
Processor:
Intel® Pentium® Gold 4425Y/8th Gen Intel® Core m3
Graphics:
Intel® UHD Graphics 615
Storage:
64GB eMMC drive/128GB Solid-state drive (SSD)
Connections: 

1 x USB-C®
3.5 mm headphone jack
1 x Surface Connect port
Surface Type Cover Port
Micro SDXC Card Reader
Compatible with Surface Dial*
Microsoft Surface Go 2 is a tablet that can be used as a laptop with the right accessories. From the first view, it looks pretty decent with a 10.5-inch touchscreen. Inside the tablet includes an Intel Pentium or Core m3 processor, with choices between 4 to 8GB RAM, and choices of internal storage from 64 to 128GB.
Initially, it's a tablet but easily becomes a 2-in-1 laptop when you add the 'Surface Go Type Cover', where you can freely type and use the touch-pad like a normal clamshell laptop.
Design & Display
The Surface Go 2 comes with a 10.5-inch 'PixelSense' touchscreen with 1920 x 1280 resolution. It's bright and vibrant. The bezels are thinner. The screen is a half-inch bigger than the 2018 model. Overall, the screen is slightly bigger and has a better quality view.   
With the design, it's pretty much the same as the older version. It has two lens webcams, one front-facing and one at the back. Speaking of which, at the back is also a kickstand to hold the tablet upright, and a micro SD slot to add more storage. 
On the right side is the charger port (Surface Connect) to charge the mobile unit, along with a USB-C port and a 3.5 mm headphone jack. On the left side is the SIM card tray. On the top is the power button, along with the volume button. On the bottom lies the port to connect the 'Surface Go Type Cover'       
Therefore, the overall design may be the same as the older model, but it worked well. It's still simple to use, and easy to connect to the keypad. 
Performance
The base entry model comes with 4GB of RAM and 64GB of internal storage. That's typical specs of a budget tablet.
From the first test and usage, the performance of the tablet is good and works pretty well. The experience of doing daily tasks was delightful with no slowdown in system performance.
However, it starts to slow down though when you switch between apps on stand-by. But overall, the tablet performs well and is capable of handling everyday tasks with ease. 
This is no gaming tablet. You may get away with light gaming on the go but won't work well with intense 3D games. Sadly, the hardware won't support that type of gaming, not like gaming laptops. Overall, casual gaming is fine but not hardcore gaming.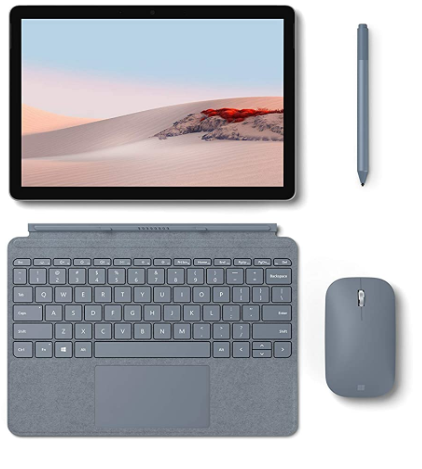 Battery life
With battery life, the Surface Go 2 tablet lasts longer in tablet mode, however, it's shortened when you attach the keypad and switch to S Mode.
From tests conducted without S Mode, with the keypad attached, the battery life of the tablet lasted up to 5 hours. Without the keypad, the tablet lasted up to 7 hours.
Therefore, the battery life of the tablet lasts longer in tablet mode. It's best to detach the keypad if you're not using it to save battery life.
Audio
The tablet comes with 2W stereo speakers in front. It sounds good and has detailed audio quality but sadly lacks bass and it's not very loud. Therefore, the overall sound is typical of a normal tablet.     
Camera
The tablet comes with two cameras: a 5MP front-facing and an 8MP back-facing. They both support 1080p video, meaning sharp and clear full HD quality videos. That also means good HD videos and images, sadly not 4K but hey, this is a budget tablet.  
Additionally, the front webcam comes with infrared sensors for face recognition that works well with Windows Hello. It's a security feature to help prevent unauthorized access. 
Bottom line. The tablet comes with two cameras that deliver full HD quality videos and the front camera comes with security features. 
Verdict
Surface Go 2 is great to use and has the potential to be a great 2-in-1 tablet. With a bigger display, reliable performance for everyday use, and features, it's a fun, portable mobile device to use wherever you are. 
I recommend this tablet to students, corporate or technical professionals, and others who are looking just to do daily tasks. The entry model is a great start at a retail price of US$399.99. The other models are more expensive, but provide better performance and more internal storage options. 
So there you have it. This was the Microsoft Surface Go 2 review, the compact 2-in-1 laptop/tablet. If you have comments, feedback, or just want to add to the review, please leave them below. If any questions, please leave them as well and I'll find get back to you ASAP.
Follow me on Instagram by clicking here: luvuyomadyibi and on Twitter: @LuvuyoMadyibi
Microsoft Surface Go 2
US$ 399.99
Battery Life, Sound, & Other Features
4.0/5
The Good Stuff
Thin, lightweight & great quality design
Good audio output
Decent battery life
Good quality built-in kickstand
Bright & clear screen display
LTE model available
The Bad Stuff
Keyboard & stylus pen sold separately
Better specs on expensive models
Limited upgrade options