HP Spectre X360 15 Review: Gorgeous with a short battery life
The HP Spectre X360 15 is an updated flagship 2 in 1 laptop that improves from last year's model. It comes with the latest technology, offering top quality features and a satisfying user experience.
With so many other top brands, it will be a challenge for HP to compete for the top market spot due to the tough competition. Yet so far the 2020 HP Spectre x360 15 has proven to be one of the best looking, and best performance 2 in 1 laptop of 2020.
Does it have the essence to win and stay on top of the game? Let's find out from the review.        
HP Spectre X360 15

(2020)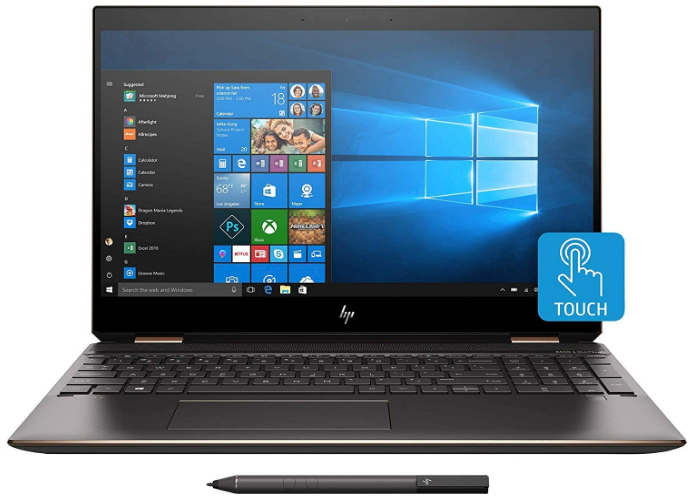 DISPLAY: 15.6-inch, 4K, AMOLED, (3840 x 2160) | CPU: Intel i7-10750H | GPU: Nvidia GeForce MX330/GTX 1650 Ti Max-Q | MEMORY: 16GB RAM | STORAGE: 512GB SSD/1TB SSD | WEIGHT: 4.23 lbs (1.9 kg)
Overview
Feast your eyes on the beautiful HP Spectre X360 15. This is a 2-in-1 convertible laptop, that features all the common features of a 2-in-1 laptop. It comes packed with the latest tech that includes a 4K display, a 10th generation i7 processor, an Nvidia GeForce GPU, plenty of storage and memory.  
Design
The HP Spectre X360 is a gem of a 2-in-1 laptop to hold. The mix between black and gold design brings the best in its beauty and innovation.
First, the screen bezels are thin and almost non-existent, making the 4K 15-inch display look stunning. Second, the white backlit keyboard offers a comfortable typing experience. The mouse-pad offers great responsiveness and the audio speakers on top offer decent quality sound.
Thirdly, the dual golden hinges offer you easy switching from laptop to tablet. Lastly, it's lightweight and super slim for easy portability. The input ports include an HDMI port, two USB-C, a USB, a headphone jack, and a microSD card reader.
Overall, the design and outer features of the HP Spectre X360 is amazing. It comes with a great design, a great looking display, and offers easy portability and a premium experience.
Display
The HP Spectre X360 includes a 15-inch AMOLED display, sporting a 4K (3840 x 2160) screen resolution. The display comes with great colours, good brightness, and contrast, producing sharp and detailed images and videos. 
The thin bezels offer an amazing viewing experience, as we as a touch screen that responds well to finger gestures and smooth swipes. 
Overall, the display is a noticeable great part of the Spectre X360, offering a good viewing experience for all users.     
Performance
The 2-in-1 laptop performs well as expected like other top-range laptops. The 10th generation Intel i7 chip, together with the 16GB memory, excels in making sure that tasks are run smoothly without any lag or performance issues.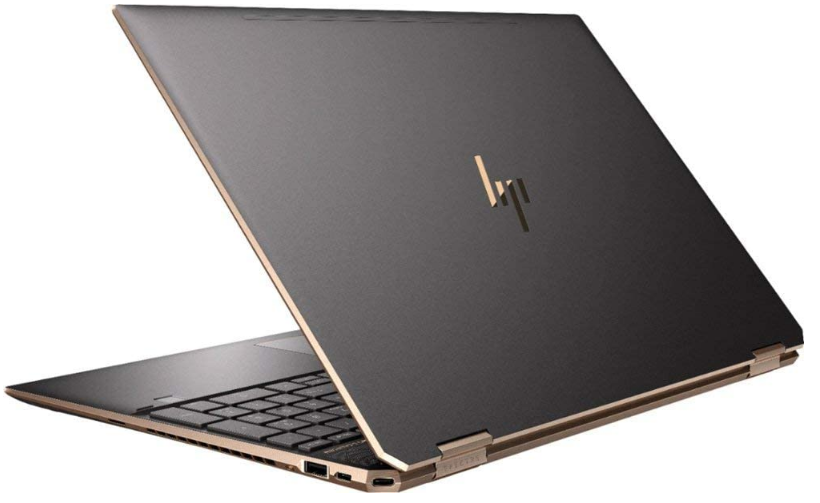 Gaming is an option too here. The NVidia GeForce GPU allows for light gaming. Older games work well as the hardware offers good graphics and performance, but not a good idea for top titles.
This is no gaming laptop so if you do want to play hardware demanding games, then you would have to lower the graphics and screen settings.
To close off, the HP Spectre offers great performance for everyday tasks and offers decent performance for gaming. 
Battery life
The battery life is not the best feature here. For light tasks and activities like web browsing, and normal everyday typing, the 2-in-1 can last for a good day's work.
Thanks to the 4K AMOLED touch screen, the top performance chipset, and the NVidia GPU using them consume more battery power leaving you with less than 3 hours of battery life.
So if you looking for a powerful 2-in-1 laptop, the HP Spectre X360 has all the features you need. But if you going to maximize full use of it, make sure you carry the USB-C charger with you where ever you go.    
Sound
The HP Spectre X360 comes with a 'Bang & Olufsen' speaker on the top section of the keyboard and dual speakers on each side of the laptop.
The audio speakers are well-placed and produce decent sound, but loses it at max volume.
It's not loud enough and the bass quality is low, but overall, they are there and work well. Getting headphones may be a good idea. 
Verdict
The HP Spectre X360 is a powerful, good looking 2-in-1 laptop. It comes with top performance hardware, a great-looking touch screen that offers a stunning view experience, a unique design, and other premium features. It surely is a fantastic mobile device to use and is highly recommended.
The battery life is a problem though. If you plan to install apps that demand so much of your system hardware, then you must always keep the adapter in hand, especially when you are out and about.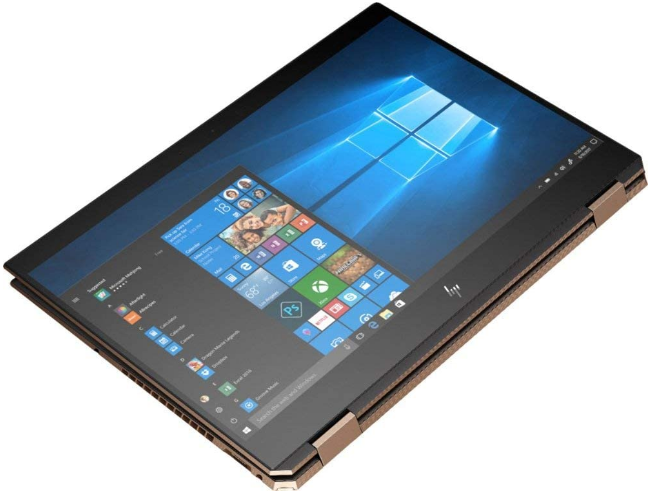 Another thing to note is that the older 2019 model has a great battery life but with last year's tech, which is still relevant today. It's a good alternative worth considering. 
Either than that, there's nothing more major to criticize the HP Spectre X360.
Recommendations
Buy the 2020 HP Spectre X360 15 as it offers: lightweight and portability, flexibility in switching from tablet to laptop, a great viewing experience, and great system performance.
Don't buy it because it has a low battery life and it's expensive due to the high-quality features. If you need a powerful 2 in 1 with more battery life, then this is not for you. there are alternatives to consider, but not as good as this one.
Closing off
The 2020 HP Spectre x360 15 may have that essence to win, but staying on top will be a mission. It really is a powerful 2 in 1 laptop and aims to give competitors a tough time to catch up to its brilliance. If you still have no idea what 2 in 1 laptop is, click here. If you want to find out the latest prices for the HP Spectre, click here. 
Thank you for checking out my review of the 2020 HP Spectre x360 15. If you have any questions, comments, and praises, you are welcome to leave them below. If it's a question, I'll make sure to answer it as soon as possible. 
Thanks again. Keep well. Stay safe until next time.
HP Spectre X360 15 (2020)
US$ 2489.89