Introducing the Best Budget Business Laptops of 2020
Let's face it. We all want the best laptop to do everything we want. Problem is that we cannot all afford them. They are so expensive and take months to save up for. Even if we do end up getting one, not all of us will use the nice premium features. Some of us just want a simple business laptop, that can handle everyday tasks and overall achieve our business goals. If you are one of such fellows, then here are five of the best budget laptops that have made good ratings this year. They offer good performance, cool features, at affordable prices.    
Lenovo Chromebook Duet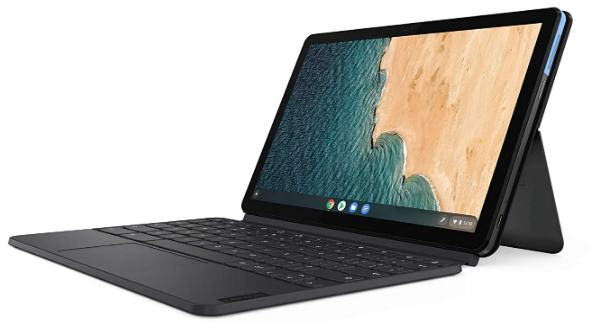 DISPLAY: 10.1-inch FHD Touch (1920×1200) | CPU: 8-core, MediaTek P60T | GRAPHICS: ARM Mali-G72 MP3 GPU | MEMORY: 4GB RAM | STORAGE: 32GB/64GB/128GB | Battery: 7000mAh | OS: ChromeOS | WEIGHT: 0.99 lbs (449 g) | OTHER: WiFi, Bluetooth, 2MP Webcam, 8MP Rear Camera | RATING: 3.9/5 
REASONS TO BUY
Available at an affordable price
Includes keypad
Decent webcam and rear camera
Great battery life
Lightweight 
REASONS NOT TO BUY
Average performance
Includes one USB port
No headphone jack nor microSD slot
No backlit & cramped keypad
Heavier with a keypad 
The Chromebook Duet from Lenovo is not really a business laptop, but rather a handy 2-in-1 laptop-tablet, catered for those who want a laptop-tablet package alternative.
Yes, college students can get this one now and make great use of it straight away, as it also includes a free keypad upon purchase.
Starting at less than US$300, this 2-in-1 tablet includes an 8-core processor, 4GB of memory, storage model options from 32GB to 128GB, up to 14 hours of battery life, and weighs a pound.
But it comes with compromises. Firstly, performance is adequate but tends to slow down if you open up too many apps. Secondly, no headphone jack and a MicroSD slot to increase storage.
Thirdly, it only comes with one USB slot. And lastly, the keys on the keypad are too narrow which means uncomfortable typing.
Overall, the Chromebook Duet is just a budget 2-in-1 laptop. No premium features. Just a simple mobile device that can handle simple day-to-day tasks.
With good battery life, and at an affordable price, check out the latest price figures on offer here.        
---
Acer Chromebook 715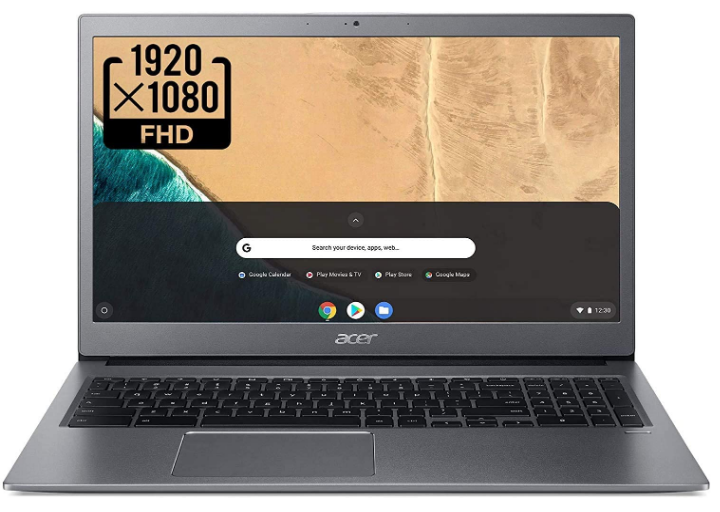 DISPLAY: 15.6-inch FHD Touch (1920×1080) | CPU: Intel Core i3-8130U | GRAPHICS: Integrated Intel UHD Graphics 620 GPU | MEMORY: 4GB RAM | STORAGE: 128GB eMMC | OS: ChromeOS | WEIGHT: 4.3 lbs (1.9 kg) | OTHER: WiFi, Bluetooth, Webcam | RATING: 4.0/5
REASONS TO BUY
Great premium look and design
Large keyboard & touchpad
Great battery life
Lightweight & affordable
Great performance for everyday use
REASONS NOT TO BUY
No backlit keyboard 
No fingerprint sensor
Average quality webcam
The Acer Chromebook 715 may be in line to be one of the better Chromebooks to come out this year. The bigger display, premium looks, and great battery life make it a worthy contender.
Compromises are minor here but you'll quickly overlook them, and performs decently for every use. But is it worth your time and investment?
Let's find out more. 
As I said, performance is decent here. Here's why. Firstly, the Intel Core i3 processor, together with the 4GB memory, manages to keep the Chromebook working at its peak.
Secondly, the full HD livens up the 15-inch touch screen. Thirdly, you are looking at up to 16 hours of battery life. Enough for a good day's work. 
The Chromebook comes with no backlit keyboard, no fingerprint scanner, and a standard-quality webcam. Common features for a budget laptop, yet it's expected at its affordable price.  
Overall, the Acer Chromebook 715 has the makings of being one of the best budget business laptops, as it offers you great features at a budget price. If a cheap 15-inch Chromebook is what you look for, then here's one for you. See the latest price here. 
---
Microsoft Surface Go 2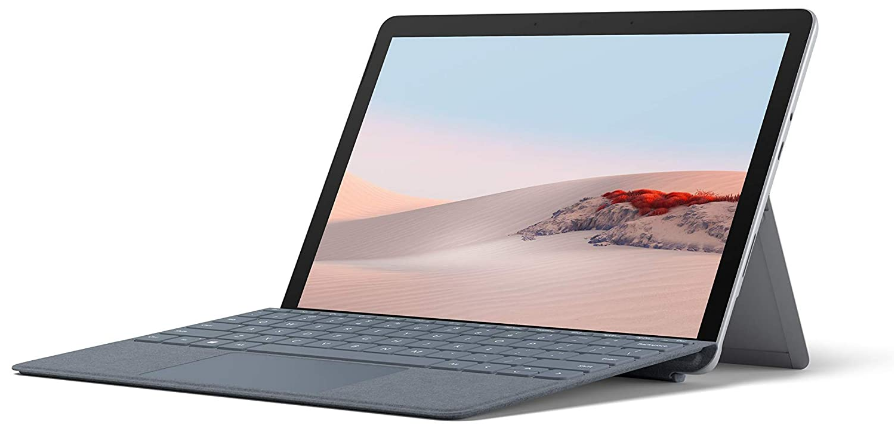 DISPLAY: 10.5-inch FHD+ multi-touch (1920×1280) | CPU: Intel Pentium Gold 4425Y/8th Gen Intel Core m3 | GRAPHICS: Intel UHD Graphics 615 | MEMORY: 4GB/8GB RAM | STORAGE: 64GB eMMC/128GB SSD | OS: Windows 10 Home | WEIGHT: Wifi – 1.2 lbs (544 g)/LTE – 1.22 lbs (553 g) | OTHER: Bluetooth, 5MP webcam, 8MP Rear camera | RATING: 4.0/5
REASONS TO BUY
Slim, lightweight & great quality design
Good audio output
Decent battery life
Comes with a kickstand
Great quality display
LTE model available
REASONS NOT TO BUY
Stylus pen and keypad sold separately
Entry model is under-powered
Better performance models are more expensive  
In my review of the Surface Go 2, here was my overall impression:
Surface Go 2 is great to use and has the potential to be a great 2-in-1 tablet. With a bigger display, reliable performance for everyday use and features, it's a fun portable mobile device to use wherever you are.
Check out my full Surface Go 2 Review.
My impressions remain unchanged. The Surface Go 2 from Microsoft is still one of the best budget business laptops to use for everyday tasks.
It may have a smaller touch screen but supports higher resolutions than 1080p. It's one of the best mobile devices to offer up to 6 hours of battery life.
The kickstand too is another great feature that lets you open it up at the rear, and place the Surface Go 2 on any flat surface.  
Performance is still decent for everyday tasks, but other budget laptops come with slightly better performance ratings. Storage from the entry-level model is too small for the apps and updates we use on a daily basis. 
Overall, if you want a simple, portable business laptop that has better screen quality and other cool features, then look no further than the Surface Go 2.
I recommend getting the Surface Go 2 with 8GB memory and 128GB storage SSD, but that means getting a more expensive model. Click here to check out.
---
Samsung Chromebook 4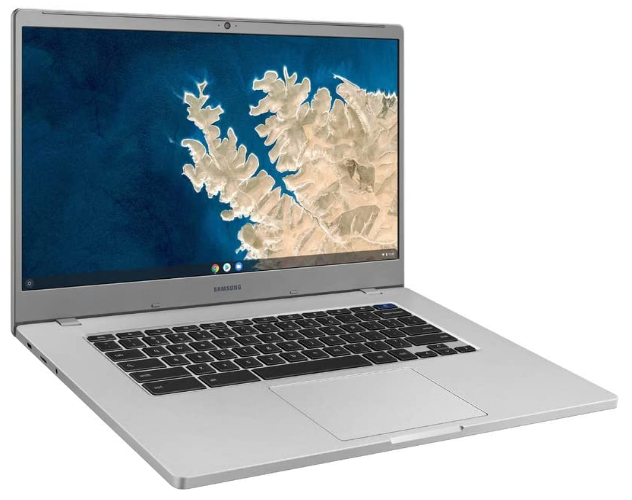 DISPLAY: 15.6-inch FHD (1920×1080) | CPU: Intel Celeron N4000 | GRAPHICS: Intel UHD Graphics 600 | MEMORY: 4GB/6GB RAM | STORAGE: 32GB/64GB eMMC | OS: ChromeOS | WEIGHT: 0.99 lbs (449 g) | OTHER: WiFi, Bluetooth, Webcam | RATING: 3.7/5
REASONS TO BUY
Great battery life
Good look and design
Really affordable
Comfortable keyboard and touchpad
Great performance for everyday use
Slim and lightweight
REASONS NOT TO BUY
No touch screen
No storage high than 64GB
Below average brightness
Mediocre audio performance
Comes with budget hardware specs
Another 15-inch Chromebook to look out for, is the Samsung Chromebook 4.
Samsung brings you an entry-level Chromebook that comes at an affordable price, includes a 15-inch screen, good battery life and a premium design finish.
This 15-inch Chromebook comes with an entry-level Intel Celeron processor, with 4GB of memory, and 32GB of storage. The hardware specs are low but perform tasks well.
It's a great Chromebook for everyday use, comes with a comfortable keyboard layout, a responsive touchpad, and guarantees up to 10 hours of battery life.
The Chromebook does have its flaws. Firstly, the display has no touch function. Secondly, the bezels around the screen are pretty thick. And thirdly, the display is not that bright.
Suffice to say the Samsung Chromebook 4 offers you a great working laptop at an affordable price. The display is the major disappointing issue, which may cause others to look elsewhere. But it's more of a normal laptop than a Chromebook.
If you looking for a laptop that is affordable, functions as a laptop rather than a Chromebook, and works with everyday tasks, then the Samsung Chromebook 4 is for you. 
---
Asus VivoBook 15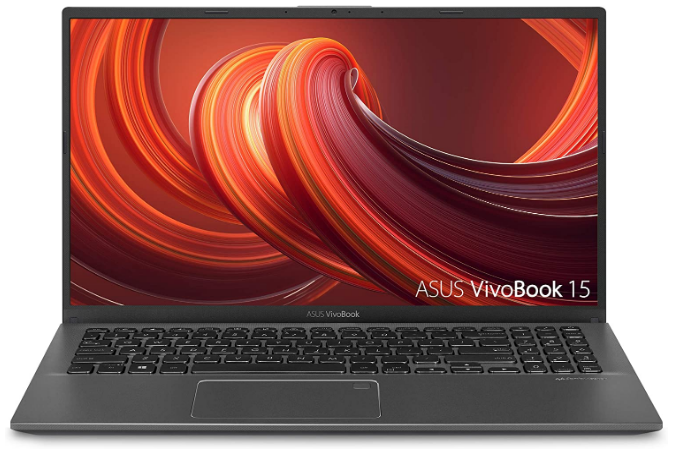 DISPLAY: 15.6-inch FHD Touch (1920×1080) | CPU: Intel Core i3-1005G1 | GRAPHICS: Intel UHD Graphics | MEMORY: 8GB RAM | STORAGE: 128GB/256GB/512GB SSD | OS: Windows 10 Home | WEIGHT: 3.75 lbs (g) | OTHER: WiFi, Bluetooth, Webcam, Backlit keyboard | RATING: 3.8/5
REASONS TO BUY
Great overall look and design
Thin screen bezels
Good set of input slots
REASONS NOT TO BUY
Below average battery life
Below average processor performance
Display lacks brightness
The entry-model Asus VivoBook 15 comes with great design features, that include a thin-bezel display, good-looking keyboard layout, and touchpad. But suffers greatly as it lives up to the common cliche 'don't judge a book by its cover'.
The screen is dim. Battery life is less than average. The performance is adequate but not as good as average. But with an affordable price tag, you can rest assured that you get what you pay for. 
Here are reasons why you should buy it. Starting with the display, it's a large 15.6-inch full HD touch screen, that shows clear, sharp images and good color accuracy.
Secondly, the laptop comes with a little over 5 hours of battery life that is better than older budget laptops.
Next is the long list of input ports, which includes a USB Type-C, USB 2, USB 3, HDMI, audio jack, and a microSD reader. No Ethernet port but supports WiFi.
In terms of performance, the VivoBook 15 does its job well but it's rated lower than other budget laptops. The display is not a good feature as it comes with lower brightness, and the battery life is considered shorter than other budget laptops.
Overall, the Asus VivoBook looks like a solid contender in the design department but suffers from performance, battery life, and display.
Keep in mind that this is a budget laptop, so there will always be compromises, but if you're looking for a better business laptop, then it's best to look elsewhere. 
---
Lasting Impressions
These best budget business laptops of 2020 may not be the most powerful laptops around. They may even lack the premium features included in top-range laptops, but with the limited hardware specs, features and performance, they are good laptops for simple everyday tasks.
My eye is on the Acer Chromebook 715. It has a stunning design, comes with good system performance, and high initial storage. It may have its flaws but is overlooked because of the good features it offers.
Another one is the Microsoft Surface Go 2. It comes with great features plus a higher screen resolution that offers a better quality picture. It's sad that you must buy the extra accessories, and it's a little more pricey than most, but the unique features make up for the price tag.
These are my recommendations. Check out the corresponding links that follow to find out more about them.   
Closing Off
Thank you for check out my post on the best budget laptops of 2020. If you have any comments, please share them below and check out the links within. It helps me out tremendously with no extra cost to you.
Thanks again for your time. Take care of yourself. Stay safe until next time.