There's the S20, then the more powerful S20 plus, and the ever so powerful, the S20 Ultra. Now Samsung introduces bringing you to the next phone in the S20 series, the Samsung Galaxy S20 FE 5G. It got good specs. It has funky colours and a modern design. But is worth your money? Let's check out the review.
Samsung Galaxy S20 FE 5G
Samsung Galaxy S20 Fan Edition/ Samsung Galaxy S20 Lite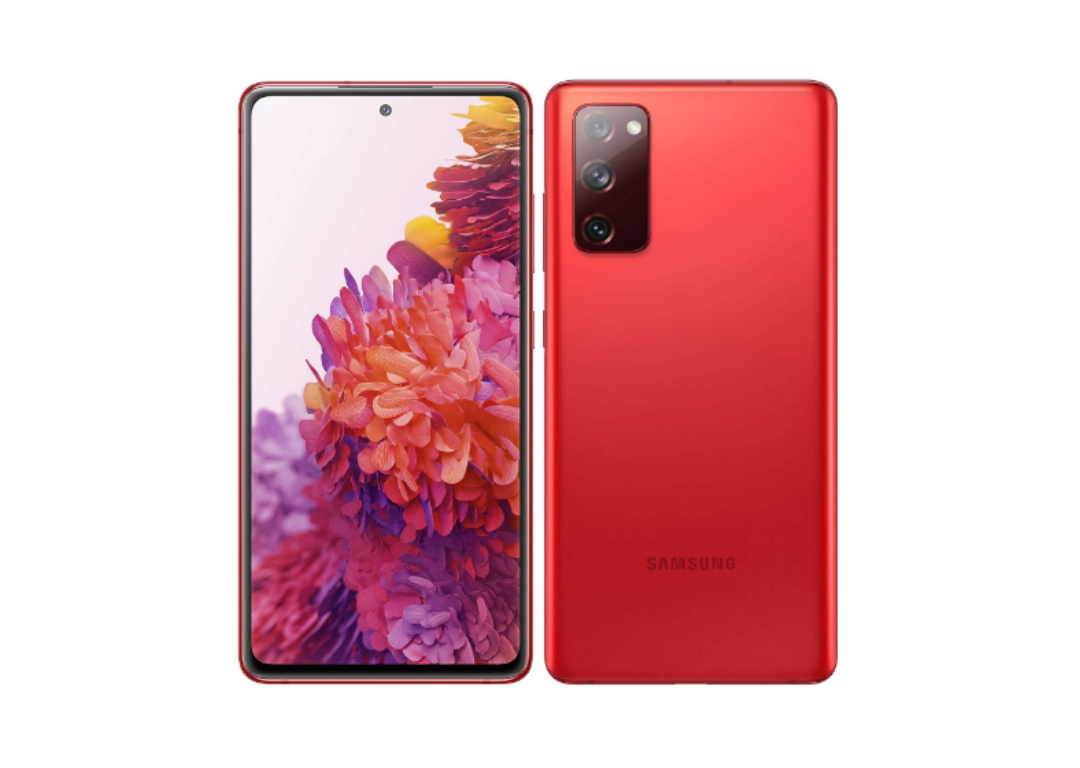 DISPLAY: 6.5-inch Super AMOLED 120Hz (1080 x 2400) | CPU: Qualcomm Snapdragon 865 | STORAGE/MEMORY: 128GB/6GB, 128GB/8GB, 256GB/8GB | OS: Android 10, One UI 2.5 | CAMERA: Triple rear camera, 12MP (wide), 8MP (telephoto), 12MP (ultra-wide); Single selfie camera, 32MP (wide) | BATTERY: 4,500mAh | WEIGHT: 190 g
The latest addition to the S20 series is a lower-priced smartphone, that offers few compromises yet still manages to maintain the S20 reputation. For starters, it's powered by a Snapdragon 865 chip, that comes with a large 6.5-inch display, and a triple camera on the back. Internal you get the new Android 10 OneUI OS, with up to 256GB storage options, up to 8GB memory, and a 4500mAh battery that offers great life. Let's see it in more detail.  
Display
The S20 FE comes with a 6.5-inch full HD, AMOLED display with 1080 x 2400 screen resolution and a 120Hz refresh rate. The display looks great. The full AMOLED display shows great quality images and video with accurate and vibrant colours, and good use of contrast and brightness. Compared to the S20 series smartphones, the S20 FE comes with a lower quality display, and lower screen resolution, but has the same refresh rate.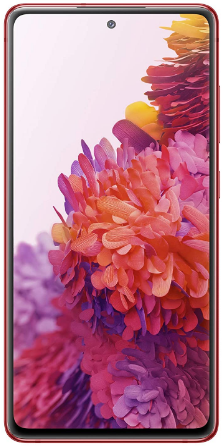 Speaking of refresh rate, you can set it to either 60 or 120Hz. But not all apps support the higher refresh rate and tend to self adjust to the standard 60Hz. The fingerprint sensor is placed on the lower section of the display. It has a second delay to unlock than other mid-range phones, but it works well.     
Basically, it offers the same smooth, fast and responsive screen performance as the other S20 models, but the S20 FE is using the same standard display technology as other mid-range smartphones.
Design

The S20 FE is built using a glass plastic aluminium frame, with a flat glass screen in front and a curved plastic at the back. Not exactly premium like the other S20 models but it's expected at its current price. It weighs 190g, which is more than the Galaxy S20 but lighter than the Galaxy S20 Ultra 5G. It's available in six beautiful colours – Cloud Navy, Cloud Lavender, Cloud Mint, Cloud Red, Cloud Orange, and Cloud White.
The power button and volume button are placed on the right. The USB-type C input is at the bottom. Triple camera lens at the back, and a single selfie camera on the top centre of the screen. No headphone jack here. Overall, the design of the S20 FE is not really ground-breaking. The screen is flat, not curved like the other S20 models. It has a bit more weight and is made of cheaper material. Yet it comes in great colours and has a good durability rating.  
Performance
The S20 FE includes a 5G Snapdragon 865 chip with up to 8GB of system memory. It's fitted with the same processor chip found in the S20 Ultra, offering premium phone performance that outperforms the S20 and S20 Plus smartphones. The S20 FE also performs well as a gaming device. Not as powerful as the Asus ROG smartphone but the gameplay and graphics are great overall. To sum up, if top-premium performance is what you looking for, this one has it.   
Camera
The camera package of the S20 FE consists of a triple-lens camera at the back, that includes a 12MP wide, 8MP telephoto, and a 12MP ultrawide. On the screen is a single-lens camera with a 32MP wide.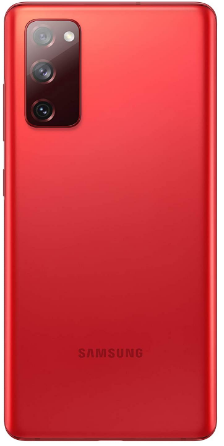 The camera main camera overall takes great pictures, taking in all the detail, and colours. Night pictures look good as well. The sharpness of detail and colours are amazing. The selfie camera performs equally, producing excellent pictures with good detail.  Ultra-wide images are acceptable but not as detailed as the main camera. Rather stick to using the wide sensor or if you can, there's a Pro mode in the camera app for that professional finish.  
With video recording, you can record up to 4K quality videos at 60fps using the main camera. With ultra-wide, you can get full HD videos but at 30fps. 4K videos look acceptable but not as good as premium phones, but full HD videos look stunning. This is a mid-range smartphone after all so compromises are expected. Rather stick to recording full HD videos here as colour and detail are noticeably better than 4K. Overall, no problems with the camera here, except for the 4K video recording. It works well and takes detailed and colourful pictures and videos. 
Battery Life
The S20 FE is powered by a 4500mAh battery, the same battery power as the S20 Plus and the Note 20 Ultra. With this one, the battery is measured two-fold: 60Hz and 120Hz. With the 120Hz refresh rate, you get up to 14 hours of web browsing, under 15 hours of video play or streaming, and over 34 hours of talk time. At 60Hz, you get up to 15 hours of web browsing, and up to 18 hours of video play or streaming. In this case, less is better.
The phone supports up to 25W of fast charging, wireless and reverse-charging. From purchase, the phone includes a 15W charger that takes longer to charge. Getting a 25W charger for the S20 FE will boost charge speed. From 0 to 50% is less than 30 minutes, and at full charge is just a little over an hour.
Overall, the battery life is great. From both modes, the S20 FE offers long hours of battery and other charging options found in premium phones. It would be great if a 25W charger is included in the box, but if you can find one then you won't have problems with fast charging.
Verdict
The S20 FE smartphone is definitely one for the fans. The design may not be as groundbreaking as top-premium models but the choice of colours, great durability, and overall look make it appear modern, fresh and trendy. The display is excellent. There's sharp detail, accurate colours, good contrast and brightness. The smoothness and responsiveness really are thanks to the screen technology used and the hardware inside, giving a stunning overall screen.
The battery life of the S20 FE is long, making it a very reliable smartphone. It's disappointing that you get a 15W charger upon purchase, but if you can find a 25W charger then you will be sorted. It's also surprising that you get wireless and reverse wireless charging on the S20 FE as other mid-range phones don't have that feature.
The performance is great. The hardware inside is the same as the S20 Ultra 5G. So if you want an alternative and affordable 5G Samsung smartphone, the S20 FE is the best choice. The camera works well taking great quality images and videos. The sound quality is acceptable. Overall, this may be one of the best mid-range smartphones to get in 2020. 
Recommendations
The Samsung Galaxy S20 FE is definitely one of the best choice midrange smartphones to get this year. I recommend it to Samsung fans, those looking for an affordable alternative, and those who don't mind compromising on premium features.
Close Off
Let me take this opportunity to humbly thank you for reaching this far in my Samsung Galaxy S20 FE 5G review. If you have any questions or comments, personal preferences or impressions, smartphone or laptop review requests or words of encouragement, please leave them here below. I will get back to you soon as I can. Have a good one. Stay safe. Check you soon. Peace.
Samsung Galaxy S20 FE 5G
The Good Stuff
Micro SD compatible
Dust & water resistant
Fast charge, wireless and reverse charge
LTE/4G also available
Great colour and model options
Great quality display & battery life
Takes great pictures day and night
The Bad Stuff
Slow 15W charger in the box
Lacks premium design features
No headphone jack
Average 4K videos & ultra-wide camera