HP Pavilion 15 Gaming Laptop Review: Old yet Affordable and Great Value 
The HP Pavilion 15 gaming laptop is one of the most affordable laptops around. It caters to those who don't want to spend so much money and want to get the best gaming experience. With gaming laptops so affordable, there are bound to be pros and cons to look out for before you buy.
This review hopes to reveal them to you and provide you with all the information you need before you decide to buy this gaming laptop. If you're still curious, then let's run through the review of the HP Pavilion 15 gaming laptop.
HP Pavilion 15 (2019)
HP PAVILION 15-dk1056wm | DISPLAY: 15.6-inch, Full HD (1920 x 1080) | CPU: 10th Gen Intel Core™i5-10300H | STORAGE: 256GB SSD | MEMORY: 8GB DDR4 | OS: Windows 10 Home (64bit) | GPU: NVIDIA GeForce GTX 1650 (4GB GDDR5) | WEIGHT: 4.92 lbs (2.23 kg) | PORTS: 3xUSB 3.1, HDMI 2.1, 1xUSB Type-C, SD Card Reader, Headphone/Microphone Combo Jack | MISC: WiFi, Bluetooth, 720p webcam, backlit keyboard
Reason to buy
Affordable price
Nice look and design
Decent overall performance
Good quality display
Relatively quiet cooling fans 
Good battery life for daily use
Lots of input ports
Reason not to buy
Plastic-build material makes it less durable
Gaming better at low or medium graphics settings
Poor battery life for gaming
Cooling fans get loud during long gaming sessions
Overview
The HP Pavilion 15 gaming laptop comes in two models: the 15-inch and the 17-inch. The one here on review is the 15-inch model that comes with a 1080p 144Hz display. It also includes a 10th generation Intel i5 chip, with a GeForce GTX 1650 graphics chip, 256GB fast SSD storage drive, and 8GB of memory.
This is a rather older gaming laptop (released in 2019), but has a lot of great features, adequate specs for light or casual gaming, and comes at a decent price (under US$1000).
Anyone hunting around for a cheaper gaming laptop, that comes with good system performance, and plays the latest games, then the HP Pavilion 15 gaming laptop is for you. Let's find out more from this review if you not convinced.   
What's to like
There's a lot of reasons why you should give this gaming laptop a try.
Firstly, it comes with a Full HD IPS display, with a 60Hz refresh rate, and a screen resolution of up to 1080p. It produces decent views with good use of color and sharp images. What I'm trying to say is the display looks good. It's not 4K but it's expected in this price range.
Next, the speaker grill is placed on the top section of the keyboard, which is good for anyone using the laptop. The speakers are tuned by 'Bang and Olufsen'. They really sound good and go quite loud.
Thirdly, the design of the gaming laptop looks decent and attractive in black and green. As you open it, you see the green backlit keyboard, with a large touchpad, and speakers on top.
On the flip side of the laptop is the green HP logo, on the left and right sides are the input ports, and at the bottom are the large air vents to help keep the laptop cool.
The HP Pavilion 15 gaming laptop is equipped with a 52.5Wh battery back. With it, you can get up to six hours of web browsing, up to five hours of streaming and video play, and of battery.
For daily use, on average you are looking at up to 4 hours on battery. Nowadays it's common for gaming laptops to have a short battery life, even at this price range.
The next feature is the HP Pavilion comes equipped with lots of input ports here. On the left side, there is the HDMI 2.1, a USB 3.1, an Ethernet port, a USB-C 3.1, and an SD card reader. Then on the right side, you will see two more USB 3.1, and a headphone/mic combo jack.
Then lastly is the system performance. It's good but not great. With a gaming laptop at this price range, you can get a decent amount of work done, gaming, web browsing, and decent video streaming.
It's not as strong as higher-priced laptops, but it's expected at the current price range.
Overall, the HP Pavilion 15 gaming laptop is a decent-performing laptop. It comes with a lot of features that may mostly appeal to the laptop standards but these are common features for gaming laptops in this price range. If you want to see how much it goes for, click here.  
What's not to like
The HP Pavilion 15 gaming laptop may come with some good features, but with gaming laptops, at this price range, you do encounter a few setbacks you need to note before purchasing.
First off, the build material is made of plastic. Not the most durable but it's common with these gaming laptops at this price range.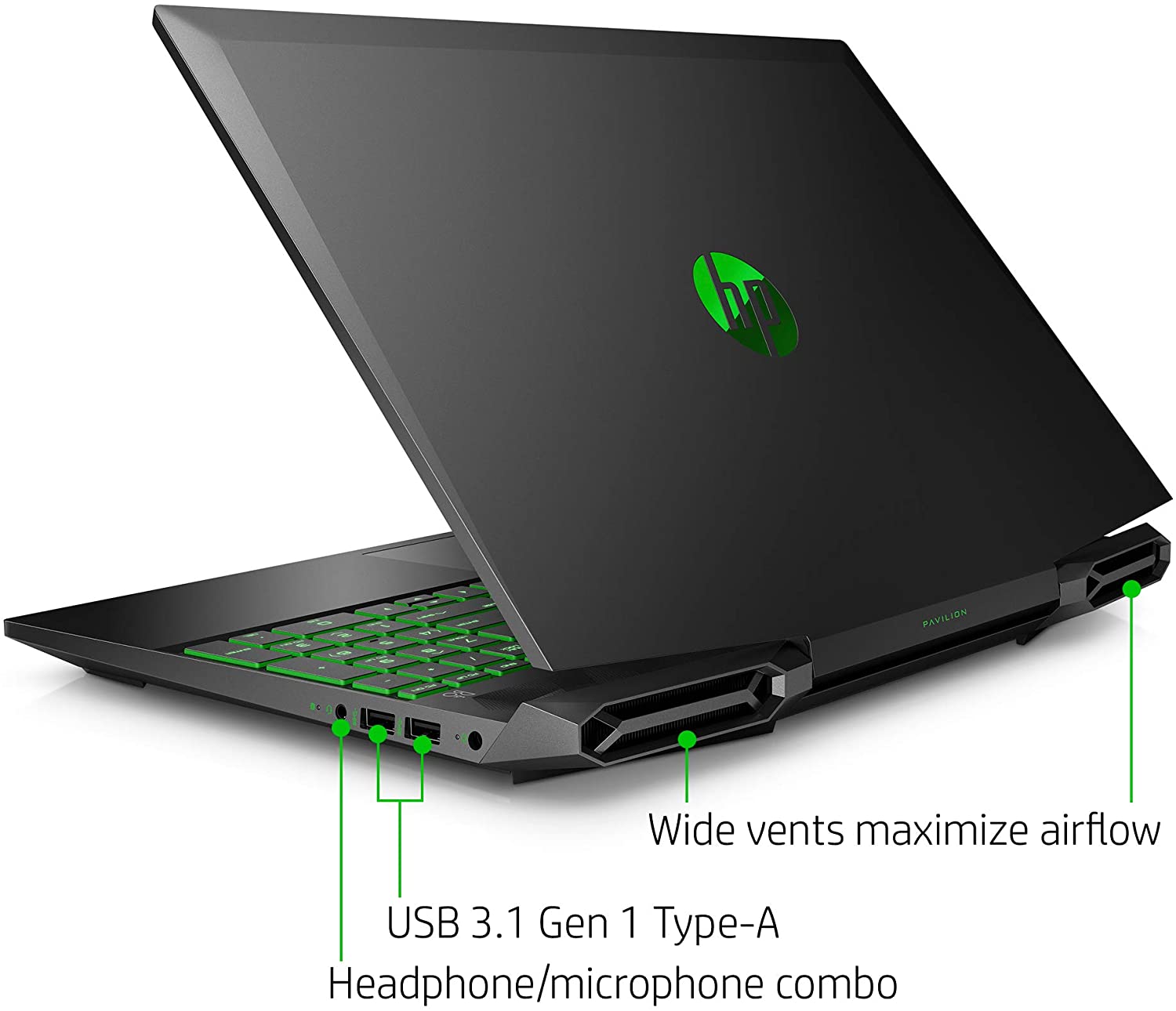 The second is the battery life is really short when gaming. It's not really the best idea to play games on a gaming laptop on the battery as the hardware will consume a lot of power from the battery. So when you plan on having a long gaming session, it's best to keep it plugged into a power source.
Thirdly, with the GeForce GTX 1650 graphics chip expect acceptable gaming performance here. If you like to play games like Fortnite then it will work in normal to high graphic settings, but as you play other A-list titles like Call of Duty, you will need to decrease your graphic settings to medium or low. Again, these are common with all gaming laptops in this price range.
Lastly, the cooling fans get quite loud but bearable during use, especially when your gaming. You cannot really get rid of it because the sound comes from the cooling fans. The only thing you can do really is to plug in headphones, otherwise, it's another common feature with laptops.
Overall, most of these setbacks can be managed and others are bearable. Yet they are common in all gaming laptops, especially at this price range.  
Verdict
In my opinion, the HP Pavilion 15 gaming laptop is not the most impressive. For the current price on offer, it really doesn't need to be the best. The fact that it looks this good, comes with good features, and is affordable, makes it a product with great value.
If you think you can handle this gaming laptop, seeing all the pros and cons, then I recommend it. But for those who are looking for more then this one may not be for you. 
Should you buy it?
Well, if you are looking for a really cheap gaming laptop, that has decent system performance, and good looks, then Yes, you should buy it.
If you can tolerate its limitations, like gaming in medium or low settings, then Yes, you should buy it.
If battery life, is an important requirement for gaming laptops, then you won't find it here. Hence No, don't buy it. You going to have to budget a lot more money to get to a faster gaming laptop. 
Closing off
That's all from me for now. Thank you for your time and for checking out this review. Please leave any questions or comments. I will greatly appreciate it, it helps and contributes to the overall ratings of wildbreaktech.com.
So how do you feel about this review of the HP Pavilion 15 gaming laptop? Is it worth your next purchase? What do you really look for in affordable gaming laptops?
 See you at the next post.
HP Pavilion 15 gaming laptop
US$ 685.77
The Good Stuff
Affordable price
Nice look and design
Decent overall performance
Good quality display
Relatively quiet cooling fans 
Good battery life for daily use
Lots of input ports
The Bad Stuff
Plastic-build material makes it less durable
Gaming better at low or medium graphics settings
Poor battery life for gaming
Cooling fans get loud during long gaming sessions