Don't just get yourself a cheaper laptop, get a Chromebook instead. And one you definitely need to look out for is the Lenovo Flex 5i Chromebook. Remember the Lenovo Flex 5 from 2020? Forget it. Because this one is the improved model.   
Lenovo Flex 5i Chromebook (2021)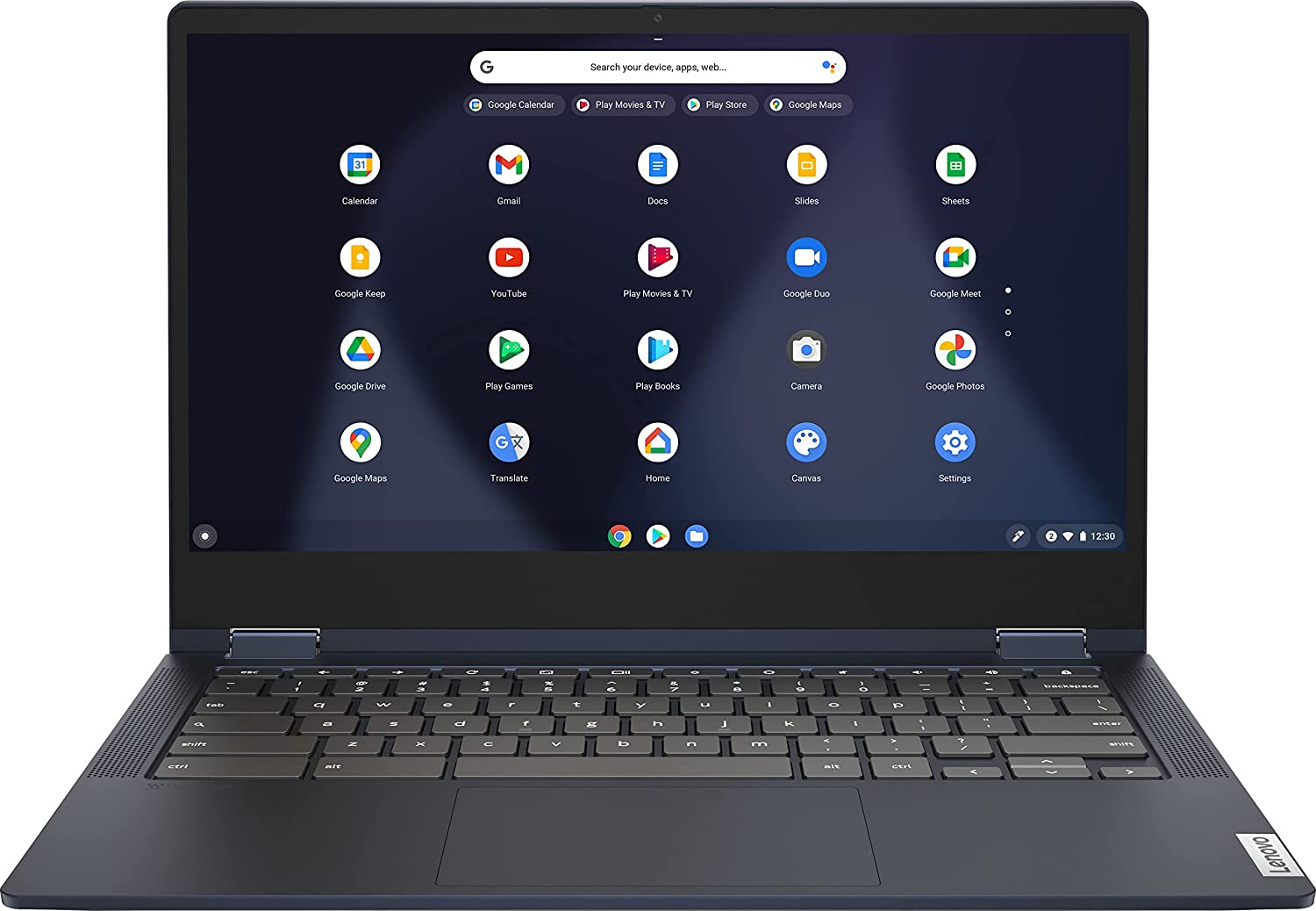 Specifications
DISPLAY: 13.3-inch Full HD IPS Touchscreen (1920 x 1080) | PROCESSOR: Intel Core i3-1135G7 dual core | GRAPHICS: Intel UHD integrated | STORAGE: 128GB NVMe SSD | MEMORY: 8GB DDR4 | OS: Chrome OS | PORTS: 1X USB 3.1 Type C with Power Delivery, 2X USB 3.1 Type A , 1X HDMI, 1X Mic/Headphone combo | BATTERY: 52.5WH 3 cell Li-Polymer | MISC: WiFi 2×2 802.11AX , Bluetooth 5, weighs 3.30 lbs (1.50 kg), 720p webcam, Backlit keyboard, Fingerprint Reader, released 2021
Overview
The Lenovo Flex 5i Chromebook is a lightweight, slim, and budget 2-in-1 laptop with a price range of less than 500 USD. The model on review comes with an 11th-gen Intel Core i3 chip, with 8GB of RAM, and 128GB SSD storage.
It also has a Full HD touch screen that's compatible with a stylus pen and a backlit keyboard. 
There's a cheaper Flex 5i Chromebook that comes with the same 11th-gen Intel i3 chip but with 4GB of RAM, and a smaller 64GB storage drive.    
But, we decided to review the little more expensive model because it's more efficient and it's the better budget Chromebook of the two, as it has more storage and more memory.
Yet they both remain excellent value for money because of their design, build quality, and other impressive features such as long battery life, good portability, flexibility, etc. Let's dive right in and see what's good and what's not with this Chromebook. 
What's to Like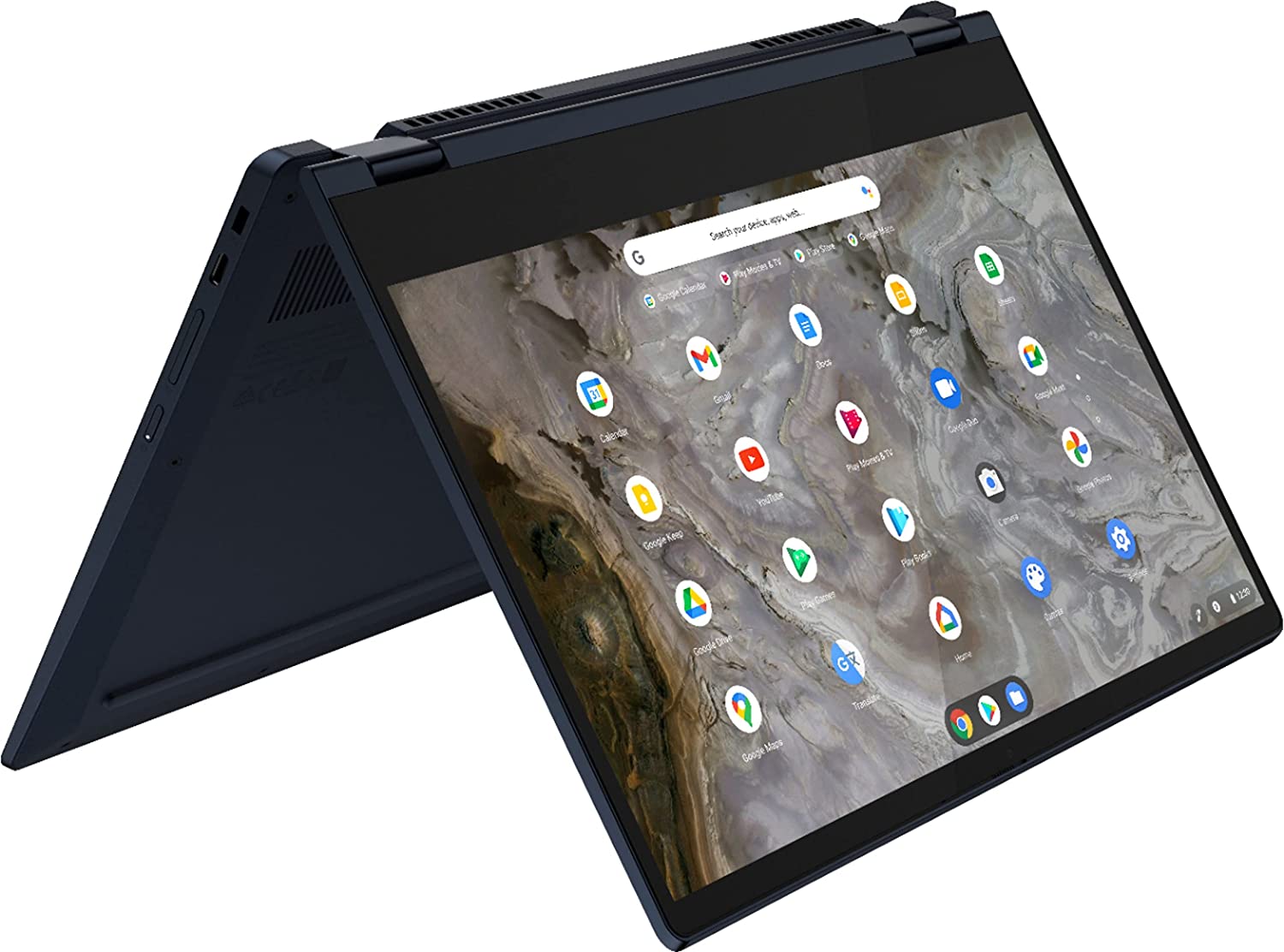 Impressive Performance
The Flex 5i includes an 11th-generation Intel Core i7 chip which is one of the fastest-performing processors now. Overall, the performance is impressive for a 2021 laptop.
I had no problems with the performance, i.e. no sluggish or sudden freezing experience. It performs really well and is great for routine tasks like typing, web browsing, video streaming, and basic photo and video editing. 
You can get away with playing gaming apps from Google Play Store. The performance is okay, but not AAA titles as the laptop doesn't have a discreet graphics chip. i.e. it's not a gaming laptop. 
Overall, the Flex i5 Chromebook has impressive performance. Great for daily routine tasks. Good for light gaming. Not recommended for AAA gaming.  
Good Battery Life
As advertised, the battery life of the Lenovo Flexi i5 Chromebook should last 11 hours, which is impressive. But after testing, I can confirm that it's quite close.
The battery life is actually pretty good. On moderate use, you are looking at about 6 to 7 hours before it needs to be charged – depending on what you do the laptop will use more power. Yet it's much better than older laptops. In short. Great battery life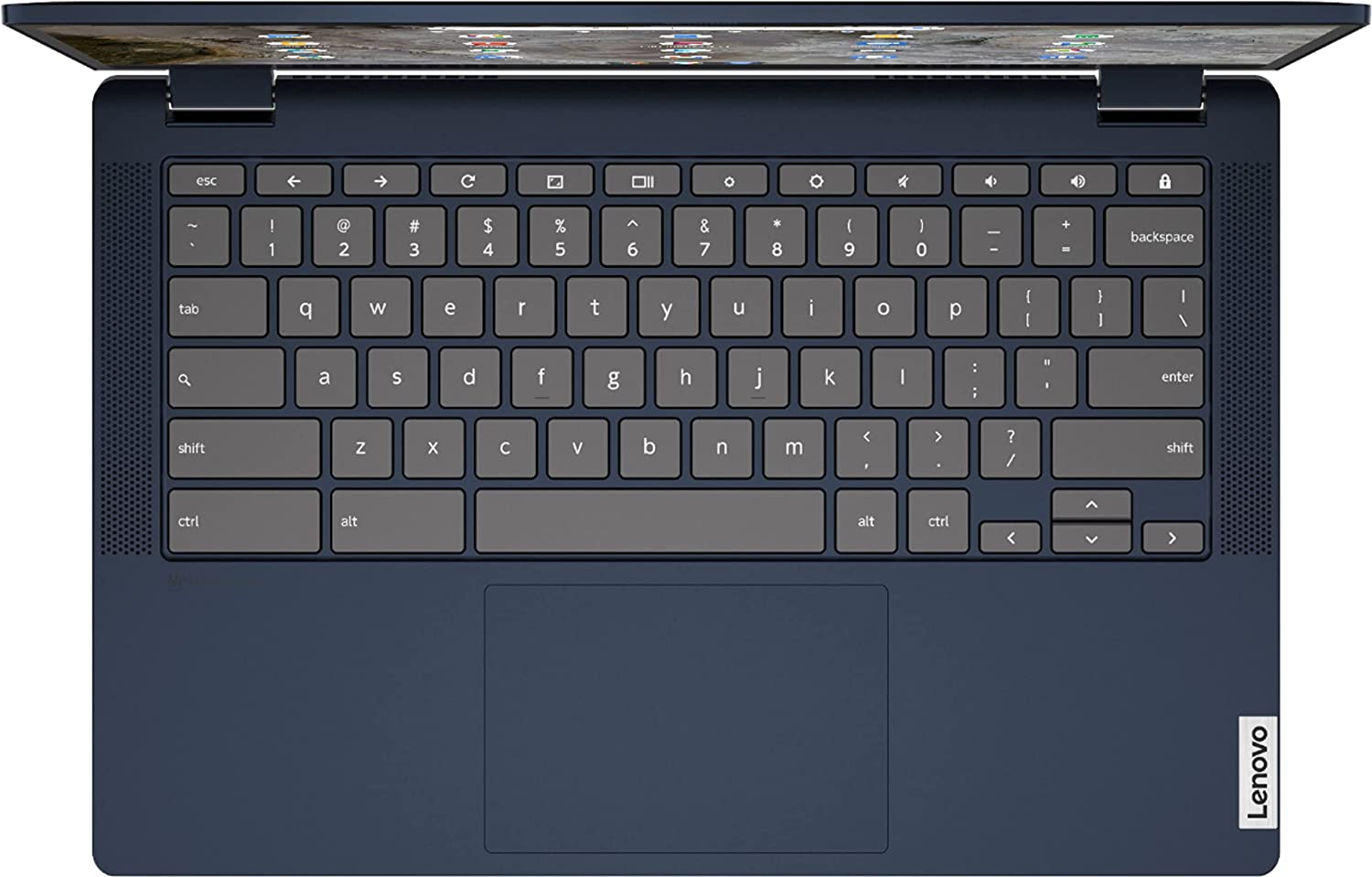 Fairly Affordable Price
The entry-level Lenovo Flex 5i Chromebook comes at a price range of less than US$400. Whereas, the model Chromebook on review costs a little more but not really much as it sits under the US$500 price range.
So yes, the price range is fair and affordable. It also includes features that are not normally included with other budget laptops, so yes it's also great value for money. It really is definitely worth the buy. Overall, a fairly affordable price.
Good Looking Display
The Lenovo Flex 5i Chromebook comes with a Full HD IPS touch screen that is 13.3 inches. The overall display looks good. The colors and contrasts look fine and the images displayed look detailed.
The only reason why it's not the best-looking screen is that it's quite dim and glossy. It's okay working with it indoors, (but not near windows) but suffers outdoors.
The glossiness attracts light from the environment making it difficult to see the screen. Even after cranking the brightness to max, it still looks quite dim.
So overall, good quality display. Decent colors and contrasts. But has a glossy and dim screen.       
What's Not to Like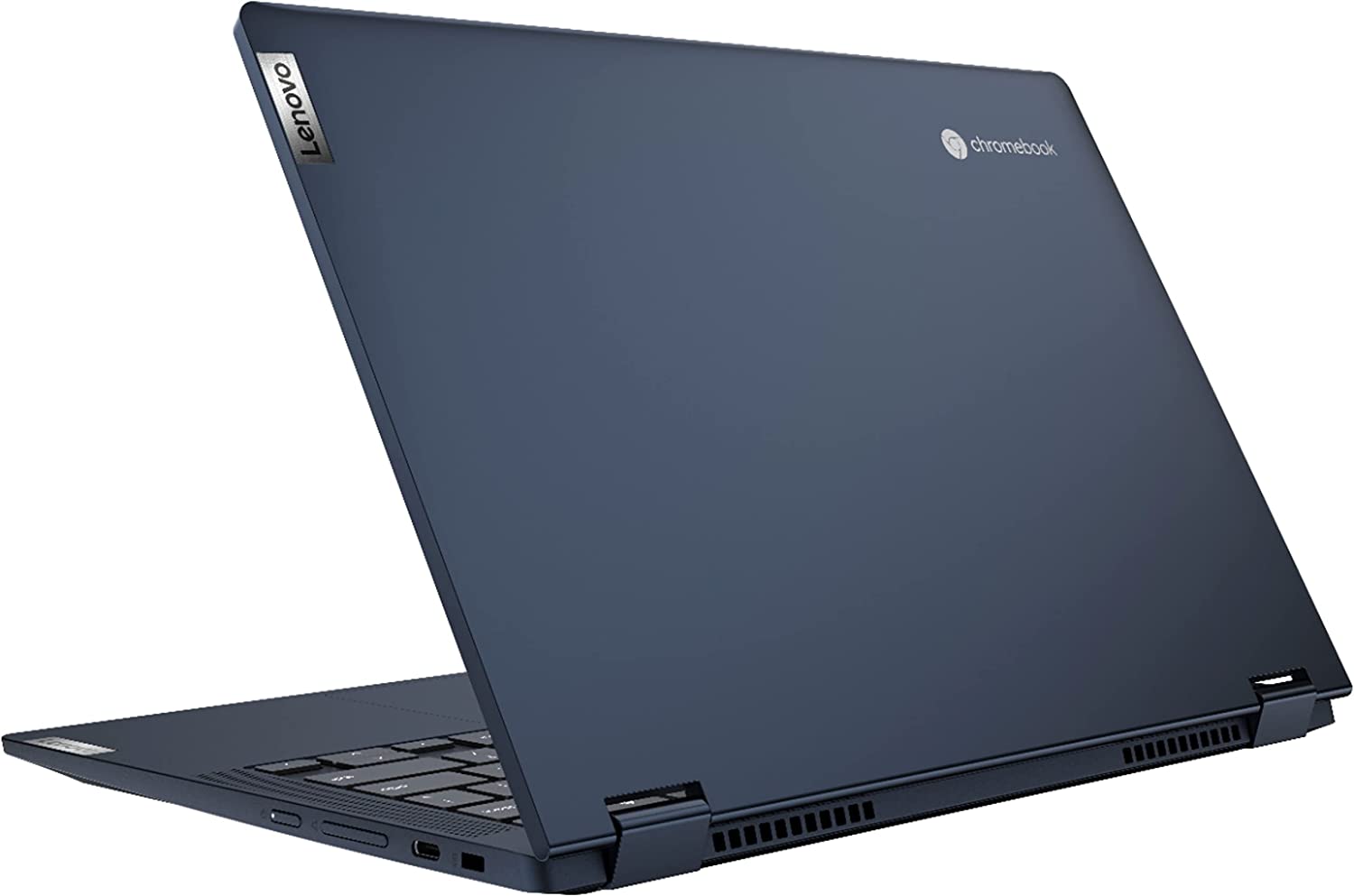 Stylus Pen may or may not be included
Depending on where you buy the Chromebook it may or may not come with the stylus pen. But the touch screen is compatible and works with any stylus pen, so if you have one laying around at home, try it. I'm pretty sure it will work. 
Verdict
The Lenovo Flex 5i Chromebook is by far the most interesting mobile device I have ever come across. It's versatile as it works as both a tablet and a laptop. It looks good, even though there's not much more to say about the design. It comes with a comfortable backlit keyboard, which is not a normal feature on budget laptops.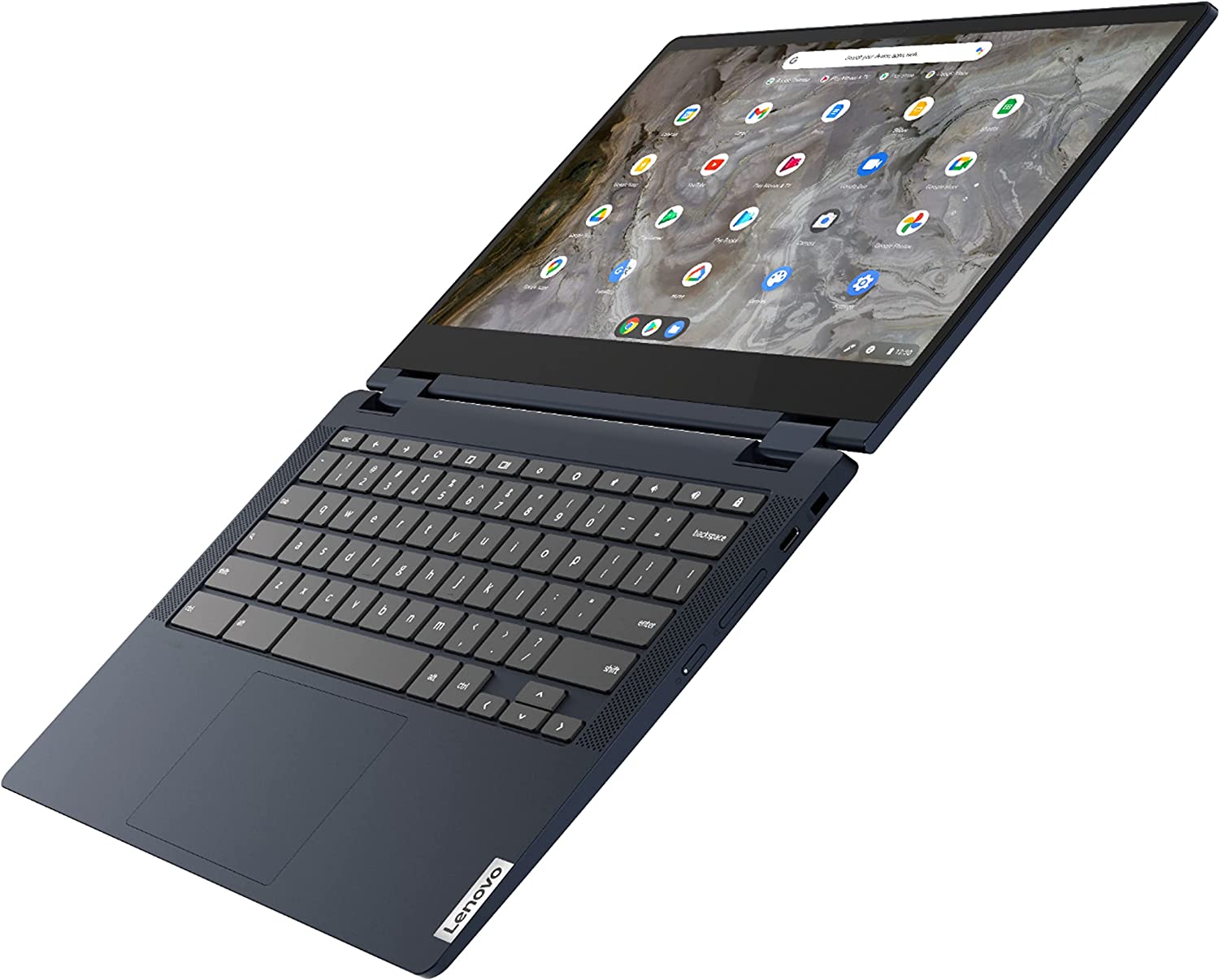 It comes with the latest specs to get you going the minute your turn it on, with an impressive performance in its class, and great battery life. All this and more at an affordable price. Nothing really disturbing to say about it, but it's an amazing device.
It's not the fastest-performing or ground-breaking Chromebook for gaming enthusiasts, but it's a handy device to help you get your daily work done. Perfect for corporate entry-level employees, college students, and for those looking for a budget portable device to work on anywhere.
Should you buy it? Well. If you're looking for both a laptop and a tablet, if you're looking to do simple tasks, if you looking for a portable device that has all-day battery life, good overall performance, and affordable price, then I suggest you look no further and give the Lenovo Flex 5i Chromebook a try.
It's a great mobile device and with so many features, it's great value for your money. 
So what's your opinion on the Lenovo Flex 5i Chromebook? Is it the budget laptop you're looking for? What other budget laptops are you considering? Let me hear your comments or any other questions you have. I look forward to hearing from you.
If you really like my review of the Lenovo Flex 5i Chromebook, then click HERE to see the price and get the opportunity to purchase one, or you can click the button above. If you wanna be the first to see my exciting reviews and articles, then consider subscribing and get exclusive access to the newest posts as they are released.