Looking for a smartphone that is specially catered for gaming? Let me introduce to you the Asus ROG Phone 6, the latest powerhouse gaming smartphone from Asus in hopes to improve on its predecessor, and compete with top-tier handsets such as Samsung Galaxy S22 Ultra and iPhone 13 Pro Max.
With a new design and powerful performance let's see if this new gaming handset is the best for you.     
Asus ROG Phone 6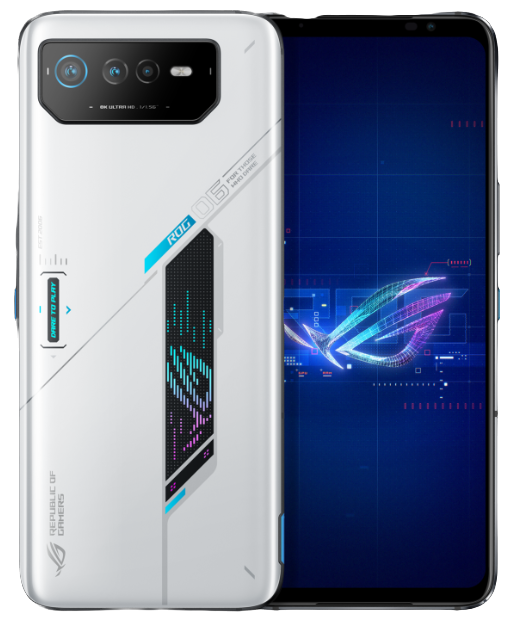 Display: 6.78-inch; (2448 x 1080) AMOLED; Corning® Gorilla® Glass Victus protection | Processor: Qualcomm® Snapdragon® 8+ Gen 1 CPU (4nm); Qualcomm® Adreno™ 730 GPU | Storage: 256GB/512GB; UFS3.1 | Memory: 12GB/16GB RAM; LPDDR5 | OS: Android 12 | Rear Camera: triple-lens camera; 50MP f/1.9 (wide); 13MP f/2.2 (ultra-wide); 5MP (macro) | Selfie Camera: 12MP  | Video: 8K@24 fps, 4K@30/60 fps, 1080p@30/60 fps, 720p@30/60 fps,  image stabilization for rear cameras, HDR10+ support | Battery: 6000 mAh battery, supports Quick Charge 5.0 | Misc: 239 g, In-display fingerprint sensor, face recognition, accelerometer, e-compass, gyroscope, proximity sensor, ambient light sensor, ultrasonic sensors for AirTrigger 6 and grip press, 5G or 4G dual-Nano SIM/dual-standby support, WiFi 6, Bluetooth® 5.2, colors available include Storm White; Phantom Black
Overview
Introducing the Asus ROG Phone 6, the next gaming smartphone on the ROG Phone 6 series. This one comes with a 6.78-inch screen, with the latest overclocked Snapdragon processor, a choice of 12 or 16 GB memory, a choice of 256 or 512 GB storage, a triple camera package, and a 6000mAh battery.
It's run by Android 12, weighs 239 g, and has 5G network capabilities with WiFi and Bluetooth connectivity. All this is encased in a glass aluminum back and front with the strong Gorilla Glass Victus, and water splash resistance.
This is a gaming smartphone but it also functions like a normal smartphone, with specs similar to a top range. So yes, expect to pay a heavy price to get. In the box, you get the Asus ROG Phone 6 smartphone, a 65W power charger, a black USB Type-C cable, and a hard plastic cover. After all, that, let's what this phone has to offer.         
What's to Like
Impressive Battery Life
There are so many reasons to be impressed by the battery life of the Asus ROG Phone 6. Firstly, it comes with a large 6000mAh battery.
The bigger the battery, the longer the battery life. Second, upon moderate use, such as web browsing, making and receiving calls, viewing and editing pictures and videos, the Asus Phone 6 dropped to 20% after 16 hours.
Next is the charging speed. Thanks to the 65W charger included, I was able to charge the phone from 0 to 100% in less than 45 minutes. Those are really impressive numbers.
Just a few things to note. When gaming, the Asus phone drains more battery power. No wireless and no reverse charging here. And if you start using one of the many Asus phone accessories, the battery will also drain more. 
Overall. Long battery life. Great charging speed. No wireless charging. Battery score: 4.8/5.    
Impressive Design
Here are the reasons why we love the design of the Asus ROG Phone 6. Firstly, the phone's screen is protected by Gorilla Glass Victus, which is a pretty tough glass. So if you drop it by accident, the screen won't crack or shatter.
Next, the phone comes with a curved, smooth, and frosted glass back that feels comfortable and also looks good with a smaller RGB lighting display. The back does feel slippery but luckily, the box includes a lightweight, hard plastic cover to help with the grip and further protection.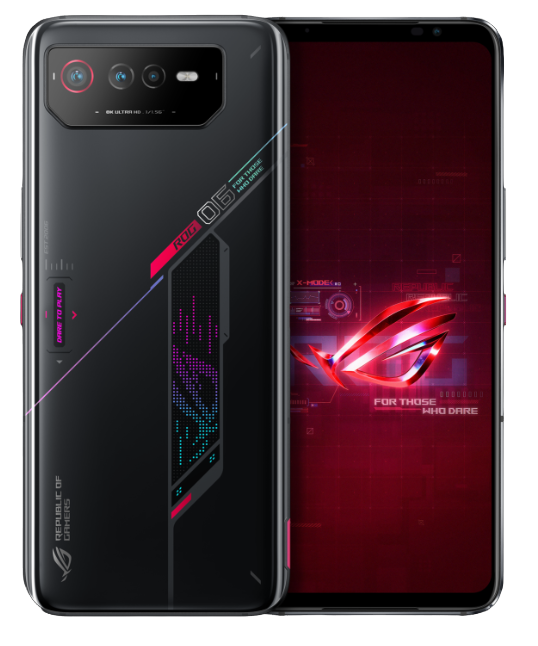 The third thing is the phone comes in two colors: Phantom Black and Storm White. There's also IPX4 splash resistance but not water or dust resistance. So don't go dropping the phone into the water just to test it, but a few splashes won't hurt. 
Overall. Good glass protection. Stunning frosted back with RGB lighting. Splash resistance. Nice phone colors. Design score: 4.4/5   
Lots of Cool Accessories
There are a number of accessories that are available for the ROG Phone 6. The Aero Active Cooler is an attachment that helps to cool down the phone during gaming sessions. Next, there are two wireless earphones called ROG Cetra True Wireless Pro and ROG Cetra True Wireless.
Then lastly there are two headphones called the ROG Delta 5 Wireless and the ROG Delta 5 Core.

There are even more accessories for the older models which may work with the ROG Phone 6 but sadly they are sold separately. If you like gaming a lot it's recommended you get the Aero Active Cooler 6, not that the ROG Phone 6 doesn't have a cooling system.
Solid Gaming Performance
The Asus ROG Phone 6 comes with an overclocked Qualcomm Snapdragon 8+ Gen 1 processor. Then with memory, you can get 12GB or 16GB of RAM, which helps to enhance the performance of the smartphone.
Then with the storage, you can get 256GB or 512GB. All this with a large 6.78-inch display that includes a 165Hz refresh rate, which also optimizes the performance of the smartphone. 
Testing the smartphone I was really impressed with the smoothness as you transition from apps, webpages, and even menus with each swipe. The gaming performance is also impressive with stunning-looking graphics and smooth gameplay.
While the smartphone does heat up during long gaming sessions, my fingers didn't feel uncomfortable as the main heat is managed at the center where the processor is located.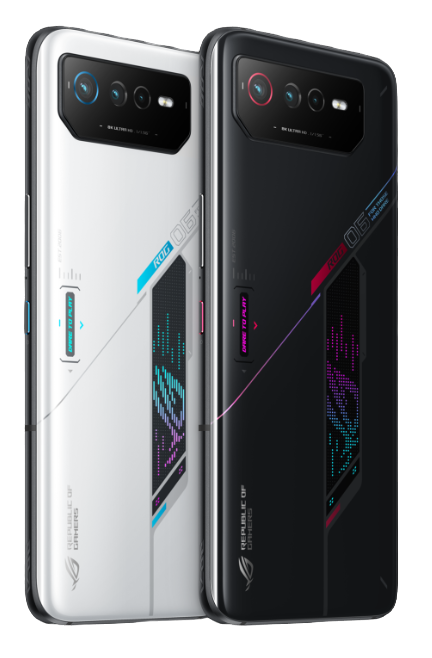 If you have the extra cash you can get the Aero Active Cooler 6 which helps to cool the smartphone dropping the temperature by 3ºC. It also has more features such as button triggers and a stand to place the phone on a flat surface, but it's bulky.
Overall, the performance is overall excellent with ROG Phone 6. Not only optimized for daily routine tasks but for gaming as well. The heat is well managed but you can get the Aero Active Cooler 6 attachment to cool even more. Performance score: 5/5
Stunning Display
The Asus ROG Phone 6 comes with a 6.78-inch AMOLED display from Samsung, with Full HD, 2448 x 1080 screen resolution, HD+ support, and a 165Hz refresh rate.
One would expect the new gaming smartphone to come with higher quality or even a 4K display at its current price but the only upgrade from its predecessor is the increase in refresh rate, making it one of the best choice gaming smartphones now. 
The display offers an impressive screen-quality experience. The colors are vibrant and accurate, perfect for gaming, and viewing HD pictures, photos, and videos. The brightness is great as well. You get up to 800 nits. Overall, impressive display. Improved refresh rate. Good brightness. Display score: 4.6/5
Decent Photos & Great Videos
Speaking of stunning photos and videos, the Asus ROG Phone 6 comes with a rear triple camera which is made up of a 50MP main camera, a 13MP ultra-wide camera, and a 5MP macro camera.
The front-facing camera comes with a 12MP camera. The ROG Phone 6 can record up to 8K videos at up to 30fps, 4K videos at up to 60fps, and Full HD videos at 60fps. 
The main camera takes decent photos and pictures. There's a fair amount of detail, good contrast, and good color accuracy. Taking pictures using the main camera in low light, look equally decent with the night mode switching on automatically.
The not-so-good side of the camera package is the ultrawide and macro camera option. The pictures look average, with good colors but a noticeable loss of detail, and sharpness.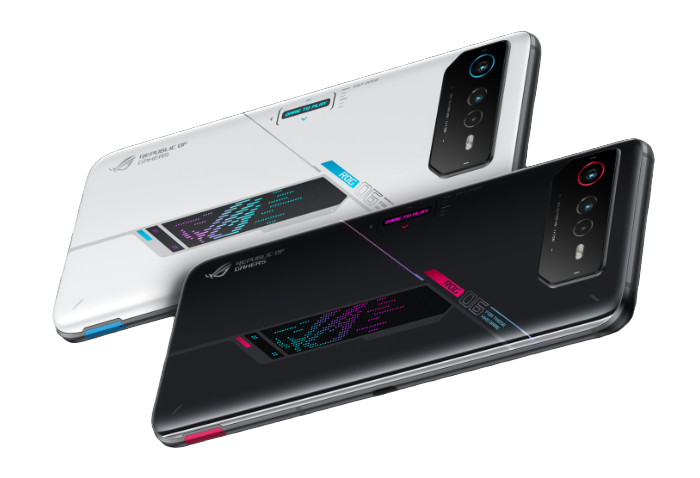 Luckily, the front-facing camera takes impressive pictures for those who love taking selfies, and the video quality of recorded clips looks impressive equally. There are a few features missing that other top-tier phones have yet are still impressive. 
Overall. The ROG Phone 6 takes impressive pictures using the main camera, great selfies using the front-facing camera, and good quality videos. The ultrawide and macro pictures are not so good. Stick to using the main camera to take pictures and videos, and selfies too. Camera score: 3.6/5
Good Software to Control & Optimize Gaming
The ROG Phone 6 runs with Android 12 OS, and all games and apps are available through the Google Play store. The common apps are available as usual, but the games you install will be available through a user interface called Armory Crate.
It gives the phone a whole new 'gamers' theme (and wallpaper change) if I put it lightly, as well as an optional X-mode upon which when activated, it switches the phone to performance. You can also use it to control phone accessories, find other games, and gain access to the ROG community online. 
Another app is called Game Genie, where you can create your own gaming profile, especially graphic settings, set or map keys, crosshairs, connect console controllers, etc. The list is endless. One feature I'm impressed with is that it can help to connect the phone to your HD TV using an HDMI adapter and play games like a console.     
Overall. Good operating system. Better software to optimize gaming, control phone accessories, and the overall look and feel of the ROG Phone 6. Software score: 4.5/5 
What's Not to Like
Expensive
Starting with the entry model (which includes 12GB RAM and 256GB storage), you are looking at spending between US$900 – US$1000. Alternatively, if you want a more powerful model, which is the 16GB RAM 512GB storage, you're looking at paying just over US$1200.
Yes, the Asus ROG Phone 6 handset comes at a high cost but you get a relatively large internal storage for games, apps, photos, movies, and music, and a refined software experience.   
Verdict
Like it or not, this is a great smartphone for gaming. It has all the software and features, great battery life, stunning display and design, and great gaming performance, worthy to be this year's top mobile gaming device.
It is not for everyone though, as the high price, and the camera package will drive people to look elsewhere. Yet, be that as it may, this is an improved ROG Phone 5.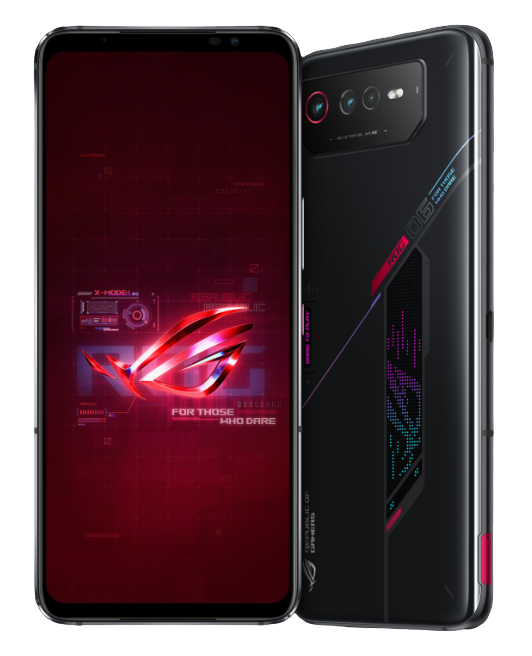 Should you buy it? Well, if you love gaming on the go, and want a powerful smartphone that has good battery life, then get the Asus ROG Phone 6. If you want a cheaper smartphone with wireless charging and great camera features, this is not the phone for you.
So what do you think of this amazing gaming smartphone? Does the Asus ROG Phone 6 appeal to you? Are you looking to upgrade your current ROG Phone 5 smartphone? If you're inclined to then add your comments and questions below. I look forward to hearing from you. 
So what's next? If you've decided you want the Asus ROG Phone 6, then click here or the button above, to see your purchasing options for getting the new Asus ROG Phone 6.
Other options to consider are the Samsung Galaxy S22 Ultra, the iPhone 13 Pro Max, or the budget gaming smartphone, the Redmi K50 Gaming Edition. Check out my reviews now.   
Asus ROG Phone 6
The Good Stuff
Impressive design
Lots of accessories
Solid gaming performance
Stunning display
Good-looking photos and videos
Good Software to Control & Optimize Gaming
The Bad Stuff
No wireless charging
Expensive
Phone accessories sold separately
Weak ultrawide & macro camera