The Xbox Series X, the next-gen console from Microsoft, is finally here. Released in mid-November 2020, the Xbox Series X console comes with a unique design, a powerful hardware specs similar to a powerful gaming PC, delivering stunning graphics and smooth gameplay.
Sony has also released its new PS5 console which comes with a promise of better features and a better gaming experience. Will the new Xbox console live up to the user's expectations? Let's go straight to the Xbox Series X review.     
Xbox Series X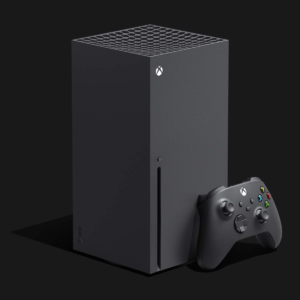 CPU: 8-core AMD Ryzen Zen 2 | GPU: AMD Navi/RDNA 2 | MEMORY: 16GB GDDR6 | STORAGE: 1TB NVMe SSD | OPTICAL DRIVE: 4K Blu-ray | MAX RESOLUTION: 8K@60fps/4K@120fps | DIMENSIONS: 5.9 x 5.9 x 11.9 in/151 x 151 x 301 mm | WEIGHT: 4.45kg
Overview
The Xbox Series X is a gaming console developed and owned by Microsoft.
It has allowed gamers to play outstanding games on their HD TVs such as Gears of War, Forza Horizon, Fifa, NBA, Call of Duty, and much much more. It's also renowned for its stunning controller design and good functionality.
Overall, it's one of the best gaming and entertainment device to release this year.  
Design
With the design of the gaming console, Microsoft has completely outdone itself. It comes standing upright like a PC desktop tower. There's the option of laying it done, but it looks better standing up. 
It's covered with a black matte finish with an inner greenish tint inside the top air vent.
It weighs 4.45 kg (9.8 lbs) which is a little heavier than the Xbox One at 3.81 kg (8.4 lbs).
In front, the Xbox logo placed at the top left is the power button. The Blu-ray disc drive and eject button are placed on the bottom left. A USB 3.2 port and IR receiver are placed on the bottom right.
At the back are more cooling vents, along with an HDMI 2.1 port, two more USB 3.2 ports, a network port, a storage expansion slot and power input.
The design of the new Xbox console is different from its predecessor. The matte finish gives it a nice, sleek and modern look, has plenty of input ports and plenty of cooling vents to keep it cool during gaming sessions. It's a welcome addition and conveys a new face of gaming.
Gaming & Graphics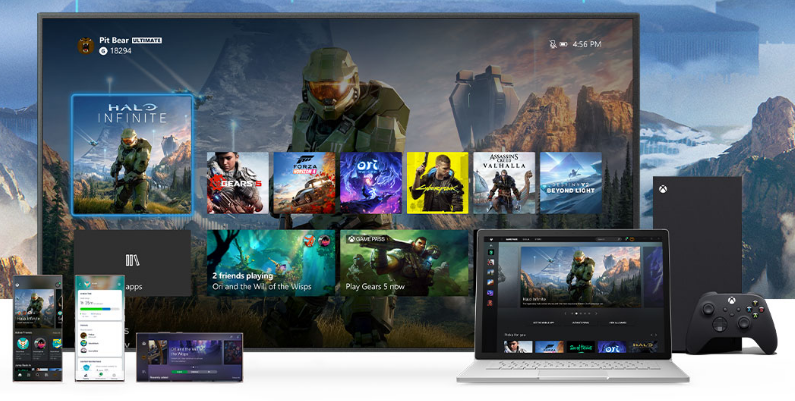 With the graphics, the games look gorgeous. The gameplay runs smoothly, the graphics environment and model textures look amazing, and the ray tracing really makes the game look close to realistic.
Don't get rid of your old games because the Xbox series X is backward compatible. You can play last-gen games from Xbox One, and some of them from Xbox 360. An update online is available to optimize older games to work on 4K TVs.
Note, there are very few games exclusive to the new Xbox series X upon release.    
You can also make use of the "Quick Resume" feature. It lets you suspend multiple games while you play, and loads them fast to get you straight back into action. That is a great feature. 
Overall, the graphics look great. They are well-textured, thanks to the added ray tracing. There are fewer new games to get right upon the launch of the new console but I guess you can be busy playing Xbox One games or older.
Accessories
The new Xbox series X controller has a few additions. Firstly, there's a share button to send or upload gaming clips and screenshots. Secondly, the D-pad looks better and works better.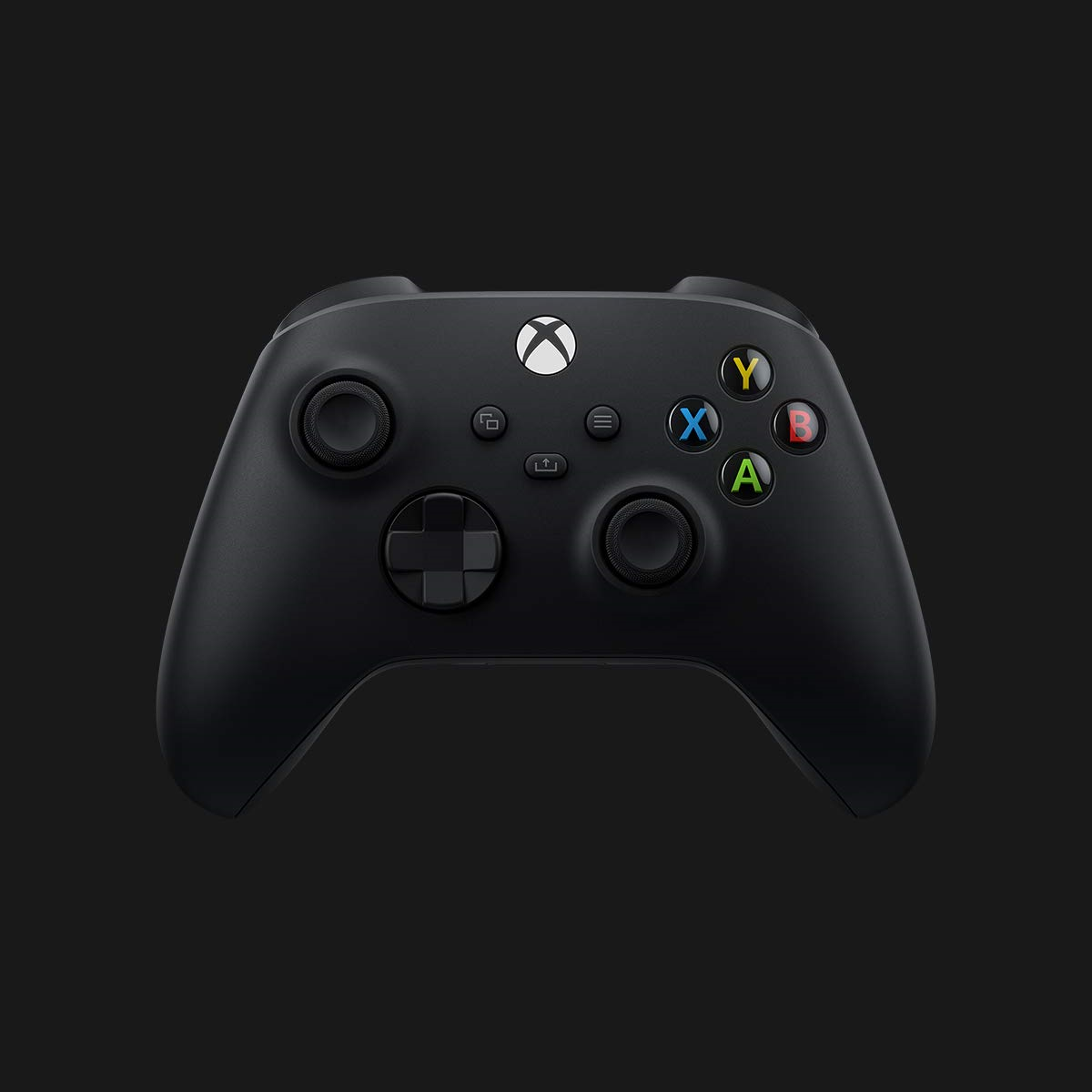 Thirdly, the LT and RT triggers come with a textured grip to help keep the fingers gripped. It has a nice texture design. 
Not much really has changed from the previous model. It uses standard AA batteries instead of having an internal rechargeable battery.
Overall, the Xbox Series X Controller may not be as flashy as the new 'DualSense controller from Sony's PS5, but the new features look to improve this next-gen controller, aiming to improve the gaming experience of gamers.
Either than the controller, other accessories include 1) an Xbox Rechargeable battery for the controller, and 2) a 1TB Seagate Storage Expansion Card. These items are sold separately. 
Verdict
The new Xbox Series X gaming console is indeed one of the best next-gen gaming platforms today. The hardware specs make it worth playing, giving it the best graphics, improved texture, smooth gameplay, and fantastic features. It's worth spending your hard, earned money on to see and be satisfied with the overall gaming experience. 
The design of the console is different. It looks great, gives it a premium look, and has great features overall. You can stand horizontally or lay it vertically but I prefer it to stand up. I take my hat off to Microsoft for choosing this design.
With the Xbox Series X controller, I have mixed feelings. The design is the same as the older Xbox One console, yet it comes with a few design tweaks here and there. It does have improved features internally yet it's powered by standard AA batteries.
I was hoping that inserting an internal battery into the controller would be worthwhile but I'm sure they have their reasons. I guess you would have to keep spare batteries ready when they run out or get rechargeable batteries instead.
Reasons to Buy or Not to Buy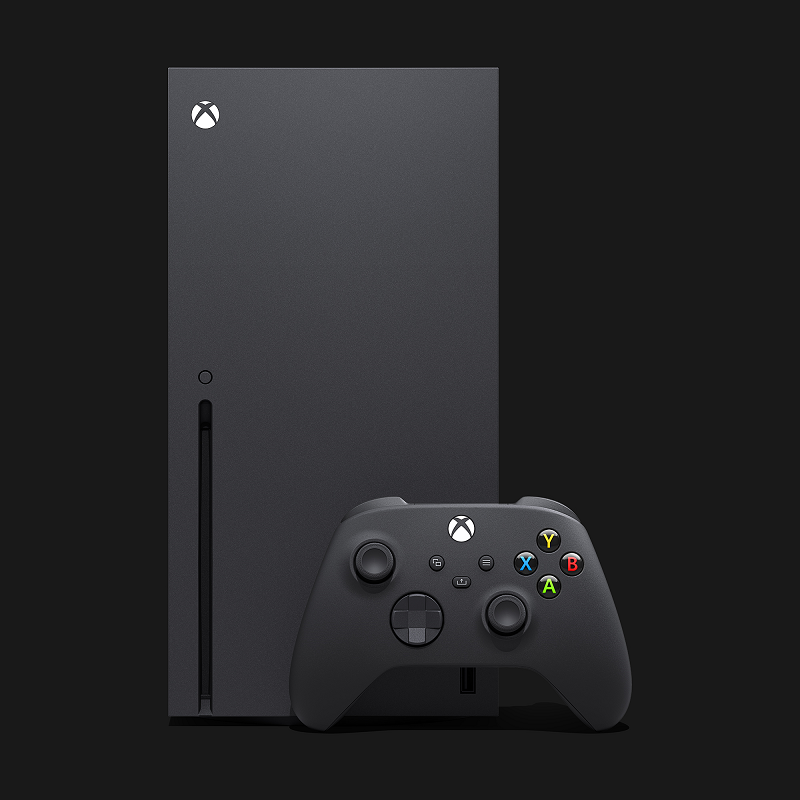 So, if you are in favor of getting yourself the Xbox Series X gaming console then here are good reasons to buy:
Short loading times, better graphics, and smoother gameplay. All thanks to the 1TB SSD storage drive, and the custom AMD RDNA2 graphics processing unit that allows 4K resolution gaming at 60Hz and 120Hz.
Great features like backward compatibility, a quick resume, and a great user interface. You can play Xbox One games, Xbox 360 titles, and other supported games. The quick resume lets you play suspended games. The user interface works smoothly and transitions fast between menus.     
The excellent audio and visual multimedia experience. With a 4K Blu-Ray player included for watching 4K movies, access to entertainment streaming services and the Dolby sound features make for a great choice for an entertainment system. 
If you are not sure, here are some reasons not to buy:
No exciting exclusive games at launch. Sadly there are no games to play right now that are exclusive to the next-gen console. We'll see in the next couple of months.
You need a 4K TV. Yes, you need a 4K or UHD TV set to enjoy all the great visuals of the gaming console. The console will work on a full HD TV but on 1080p@60Hz.
Closing-off
This was my Xbox Series X review. Thank you for reaching out this far. It is greatly appreciated. If you want to get more information then click here to see more of its great features. Thanks again. Stay safe until next time.
Xbox Series X
The Good Stuff
Unique dark design
Backward compatibility, quick resume
Fast load times
Stunning graphics & game-play
Dolby audio technology
The Bad Stuff
Little changes to the controller design
Very few exclusive titles
Very few UI improvements
Other accessories sold separately