Looking for a tablet? Here are seven of the best-rated tablets to choose from. Rated the best in 2019-2020, they come with great battery life, excellent portability, and impressive performance. 
So if you just can't handle laptops and just want a mobile device for simple everyday tasks, then one of these tablets will be a great tool for you. 
2019 Apple iPad 10.2
Specs
CPU – A10 Fusion
OS – iPadOS
Screen size (Resolution) – 10.2-inch LCD (2160 x 1620)
RAM – 3GB
Storage – 32GB/128GB
Battery life –  up to 10 hrs
Main Cam, Front Cam – 8MP, 1.2MP
Weight – 483g
Apple comes out with yet another iPad: iPad 10.2. This Best-rated tablet comes packed with good specs. That means great performance. To start, it comes with a 10.2-inch screen, 10 hours of battery life, is lightweight, and takes great pictures. Inside is Apple's top-performing processor, with 3GB and up to 128GB of internal storage.
REASON TO BUY
Good quality display
Affordable
Good OS performance
Powerful processor
Good battery life
Works well with Apple Pencil and Smart Keyboard accessories
So much software included
REASON NOT TO BUY
Apple Pencil and Smart Keyboard sold separately
More expensive than older iPad models
Not so good quality face camera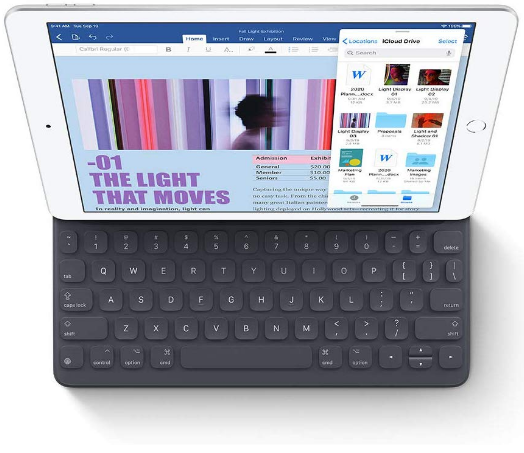 IPad 10.2 is a good buy. It's an affordable price, has good specs, and comes with a nice HD display, and good battery life. The screen resolution is better than full HD meaning good quality visuals.  
The keyboard and stylus are not included with the iPad. The front lens takes low-quality images and clips. There are plenty of alternatives, like older iPad models to consider, if this one's not in your budget.
The 128GB iPad is much preferable so you can store a lot more apps and media. If you're looking for an affordable iPad to use during the year or to give to your loved ones then consider this. 
2019 Apple iPad Air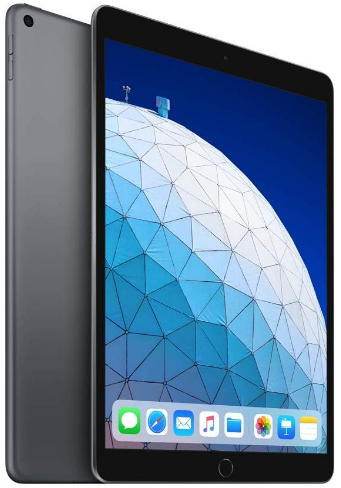 Specs
CPU – A12 Bionic
OS – iPadOS
Screen size (Resolution) – 10.5-inch (1668 x 2224)
Storage – 64GB/256GB
Battery life – 9 or 10 hrs
Main Cam, Front Cam – 8MP, 7MP
Weight – 456g
The iPad Air 2019 comes with a 10.5-inch touchscreen with lenses that take decent pictures. It's lightweight with 9 hours of battery life. There are two models: 64GB and 256GB model. Inside the iPad Air is Apple's own top-performance processor model.
REASON TO BUY
Good system performance
Great quality display
Decent battery life 
Compatible with the 1st gen Smart Keyboard and Apple Pencil
REASON NOT TO BUY
Same model design as previous models
The sound quality is not so good
Expensive starting at $600+
No USB Type-C port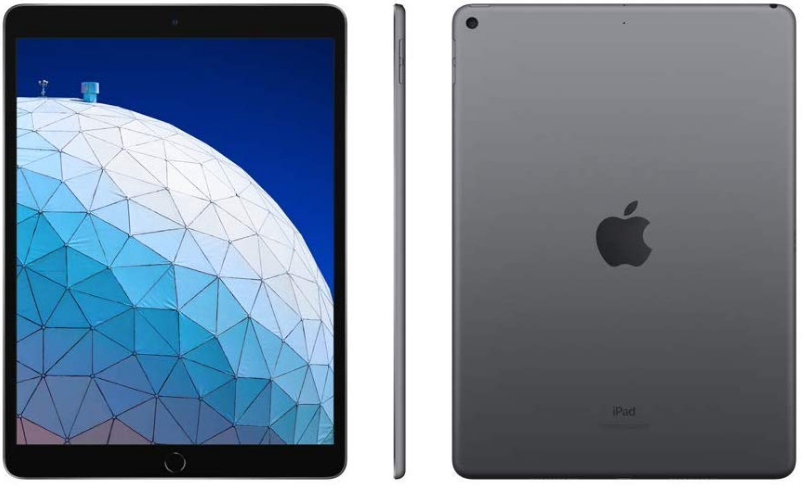 The iPad Air is almost weightless, feels light to hold, and is easy to carry around. The touch screen responds well to touch and portrays good quality images onscreen. The battery life is short but the iPad Air still lasts a good day if well used.
The iPad Air comes with the same model design as previous iPad models, but it's thinner and lighter. The sound quality is not that good. The entry-level price is above 600 USD which is more expensive than the iPad 10.2.
To conclude, the iPad Air has solid performance, good looks, and is affordable. 
Microsoft Surface Pro 7
Specs
CPU – 10th Gen Intel® Core™ i3/i5/i7
OS – Windows 10 Home
Screen size (Resolution) – 12.3-inch (2736 x 1824)
RAM – 4GB/8GB/16GB
Storage (SSD) – 128GB/256GB/512GB/1TB
Battery life – up to 10.5 hours
Main Cam, Front Cam – 5MP, 8MP
Weight – 775g/790g
Introducing the latest tablet from Microsoft: the Surface Pro 7. The tablet comes with either one of the many available processors, from the Intel Core i3 to the i7. 
Next, it comes with a 12.3-inch touch screen, 10 hours of battery life, and two single-lens cameras front and rear-facing.
REASON TO BUY
Good choice of specs according to your budget
Good quality display
Powerful hardware
Support for USB Type-C
REASON NOT TO BUY
No changes in design from the previous model
Mediocre battery life
Keyboard sold separately
Expensive accessories  
Screen bezels are quite thick
Quite a heavy tablet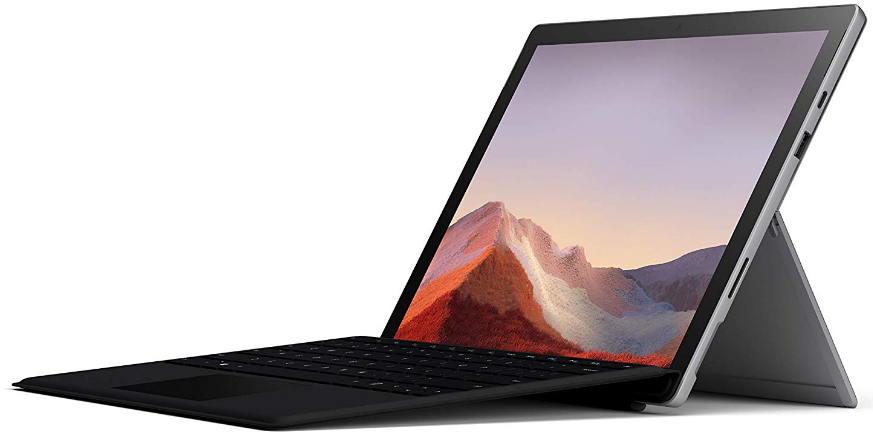 Surface Pro 7 is a powerful tablet. It comes with good features, solid performance, and good display quality, and is available in a variety of models.
Yet, it's not the best tablet to own because of a few things. Firstly, the battery life drains quickly if you open up too many apps. Secondly, the keyboard and stylus pen is sold separately, but they are also expensive.
And finally, the dark bezels are too thick around the display making it look so outdated if you look at the later models of today. Click here down below to check out more about this top-rated tablet.
Microsoft Surface Go
Specs
CPU – Intel® Pentium® Gold Processor 4415Y
OS – Windows 10 Pro
Screen size (Resolution) – 10-inch HD+ (1800 x 1200)
RAM – 4GB or 8GB RAM
Storage – 64GB, 128GB or 256GB SSD
Battery life – up to 7 hours
Main Cam, Front Cam – 8MP, 5MP 
Weight – 522g (WiFi) or 532g (LTE)
Here's a more affordable tablet, with decent performance, is simple to use, and can help you get your work done. Starting, it comes with a 10-inch screen with two choice models: LTE or WiFi.
System memory you get a choice of either 4GB or 8GB and internal storage from 64GB up to 256GB. Next are my opinions of this top-rated tablet.
REASON TO BUY
Runs Windows pretty well
Reliable LTE network
Portable and lightweight
Decent battery life
Most affordable Microsoft tablet
Good quality display
REASON NOT TO BUY
Average performance
Low battery life from too much
Dark bezels around the display are too thick
If you're looking for just a tablet to let you do fundamental tasks such as go online, check out social media, online shopping, etc., then this one is for you.
It's not the best performance tablet but it's able to get you by, and it's available at a cheaper price. It also has good performance, a good LTE network connection, and the display looks good. 
Some things to be aware of: the dark bezels around the screen are pretty thick, making it look cramped; the battery is okay but it will drain it if you increase the brightness or open up too many apps.
Overall, this is an affordable tablet from Microsoft. If you are tight on budget and want an affordable top-rated tablet, then give this one a try. 
So, which of these best-rated tablets impressed you? My money's on Apple's IPad Air. The reason why is that it comes with good performance, a nice display, and decent battery life. It's a pricey tablet but worth the buy.
Thanks for checking my choice of the best-rated tablets for 2019 and 2020. If you have any questions or comments, please consider jotting them down below. It shows interest and also supports my work.
If you like it, you can also share it on social media, you never know who you'll be helping out. Social media icons are on the top right of the page. Another thing you can do is leave a comment here below. Until next time.