Asus TUF Gaming Laptop FX505 Review: Impressive & Affordable
Over the years, the demand for top-range, powerful gaming laptops has dropped. Even if you finally get the money you've spent months saving up it, months later out comes a better gaming laptop at an even higher price.
So you need to ask yourself, was it really worth it?
Nowadays, gamers look for mid-range, even affordable alternatives. One of such to consider is the Asus TUF gaming laptop FX505. Not only for gaming but for business owners, creative artists, developers, etc. Without further ado, here is my review of the Asus TUF gaming laptop FX505.    
Asus TUF Gaming Laptop FX505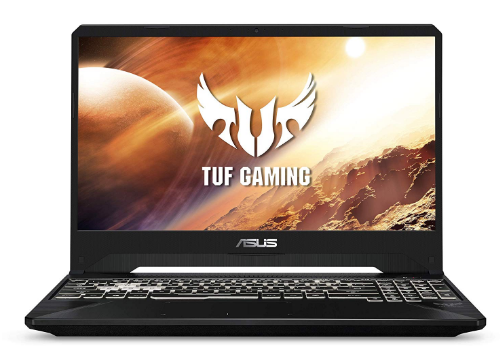 DISPLAY: 15.6-inch, Full HD LED, (1920 x 1080), 60Hz/120Hz | CPU: Intel Core i5-9300H/AMD Ryzen 7 3750H | GPU: NVIDIA GeForce GTX 1650 4GB/RTX 2060 8GB DDR6 | MEMORY: 4/8GB DDR4 | STORAGE: 512GB/1TB SSD | OS: Windows 10 Home | WEIGHT: 4.9 lbs (2.2 kg) | OTHER FEATURES: WiFi, Bluetooth, 720p webcam, HDMI, RGB Backlit keyboard | RATING: 4.1 out of 5
Overview
The Asus TUF gaming laptop FX505 is a budget laptop that is specially designed for people that like to play video games. Not that it's meant for gamers, it can also be used as a normal laptop to help you with corporate work, run your business, type documents, browse online and video streaming.
Compared to a normal budget laptop, it has a top-class hardware spec and unique features in the design. 
Display
Here are good points to say about the display. Firstly, it's a 15-inch with thin bezels on each side of the screen.
Second, it supports full HD with a screen resolution of 1920 x 1080 and runs at 60Hz.
Thirdly, the Asus TUF gaming laptop FX505 displays images pretty well. It has nice viewing angles, good colour accuracy, good management of brightness and contrasts.
Overall, it's a normal display that tops 1080p, running at 60fps. No touchscreen here, but if it had that feature it would cost so much more.
Design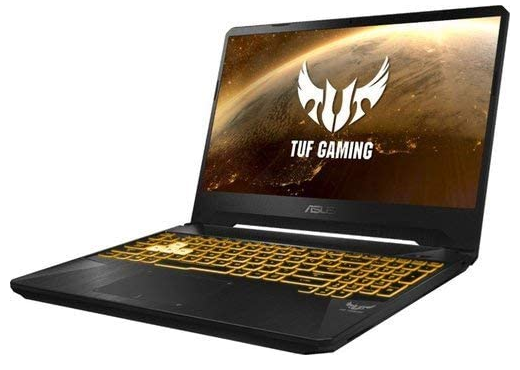 The Asus TUF gaming laptop FX505 is made of a black plastic matte finish with the Asus logo center placed behind the display.
The 720p webcam is placed on the top section of the display. Next are the backlit RGB keyboard and a touchpad.
Input ports include: 1x HDMI 2.0, 2x USB 3.2, 1x USB 2.0, ethernet port, and headphone jack. WiFi and Bluetooth connectivity also available.
The design is not that breathtaking as the Alienware gaming laptop but it's different from a normal clamshell laptop. You really notice the difference from the round corners to the matte finish texture.
The RGB backlit keyboard livens the laptop. It really glows bright, especially in low-lit areas.
Overall, the Asus TUF gaming laptop FX505 is well designed. It does have a few finishing touches here and there, but not something to really go 'WOW' about. It works well and makes it look good at its price.
Performance
For normal everyday tasks, the Asus TUF gaming laptop FX505 performs pretty well, thanks to the AMD Ryzen 7 processor, and 8GB of memory. The SSD contributes as well as it helps to lower load times of Windows, software and other apps stored. 
The Nvidia RTX 2060 GPU is not only good for gaming but also helps to optimize the display as well.
Speaking of gaming, RTX 2060 is a better performance option than the GTX 1650. PC games run smoother with better-detailed graphics.
Overall, the entry-level model is a preferable option for those looking to do everyday tasks with little consideration for gaming. If you consider the latter, then expect a better performance gaming laptop but will cost relatively more thanks to the 2060 RTX.   
Other Features
With the battery life, the Asus TUF gaming laptop FX505 is pretty short. It's so short, you are looking at up to 2 hours of battery life, which is really not that good. This can be due to prolonged gaming sessions as it uses so much of your battery. It's best that you keep it plugged in during gaming sessions.
The Asus TUF gaming laptop FX505 comes with a 'dual-fan system' that helps to keep it cool.  It does make a noise but it's tolerable. Wearing headphones is a good way not to hear it.
Impressions
The Asus TUF gaming laptop FX505 is good but not the best gaming laptop to have. There are a number of good gaming laptops available at this price range, and all have a few things in common.
First, you can play all PC games but at medium or low graphic settings. The graphics will not look as good, but the gameplay will be better.
Secondly, they are made of plastic. It's not really a bad thing, but it's something note.
Thirdly, if you can get the same model gaming laptop with a better GPU, then it's worth considering. It will improve gaming performance overall.
With that being said, the Asus TUF gaming laptop FX505, is one of the more affordable gaming laptops to buy, but (with my recommendation), make sure that it has storage space at least 512GB, that the hard drive is an SSD, 8GB or higher of system memory is good enough, and the GPU is at least an Nvidia GTX 1650. I prefer the Nvidia RTX 2060 as it's a better-performing GPU.  
To sum up, I'm happy with the performance, and the features of the Asus TUF gaming laptop FX505. It may be lacking in some areas, but remember this is a budget gaming laptop. Compromises are expected.
This is a great starter for those who want to experience a gaming laptop, and what better way to experience that with an affordable Asus TUF gaming laptop FX505. Click here to see the price.     
Should you buy it?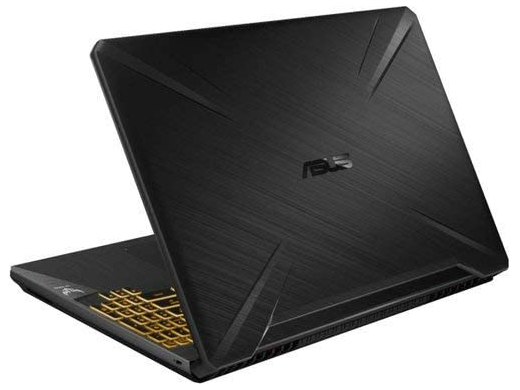 Yes!
If you are looking for an affordable gaming laptop. If you are focused on light casual gaming and the ability to handle everyday tasks, then the entry model with the 1650 GTX GPU is the better option. But if you want a more gaming laptop then the 2060 RTX with 16GB memory is the better option.  
Yes!
If you want a great performance laptop that can help you with corporate or business tasks. It's an affordable option but there are even more affordable laptops (like Chromebooks to consider). They won't have the same specs as this one.
No!
If you want more hours of battery life, then you won't find it here. Most gaming laptops nowadays have the same problem even top range gaming laptops. 
Close-off
It's been a pleasure to do the Asus TUF Gaming Laptop FX505 Review. Thank you for coming this far. If you have comments, praises, or questions, please leave them below.
To see more affordable laptops, click here. 
That's all from me today. Keep safe. Take care until next time.
Asus TUF Gaming Laptop FX505
US$ 849.00