Microsoft Surface Laptop Studio is the most innovative laptop to release this year. With an innovative design and unique features, Microsoft aims to target not only the elite laptop business users but creative designers and digital artists as well. Looking at the high degree of other elite business laptop brands in the market, is the Microsoft Surface Laptop Studio better enough to compete or even be the best? Let's check out the review.
Microsoft Surface Laptop Studio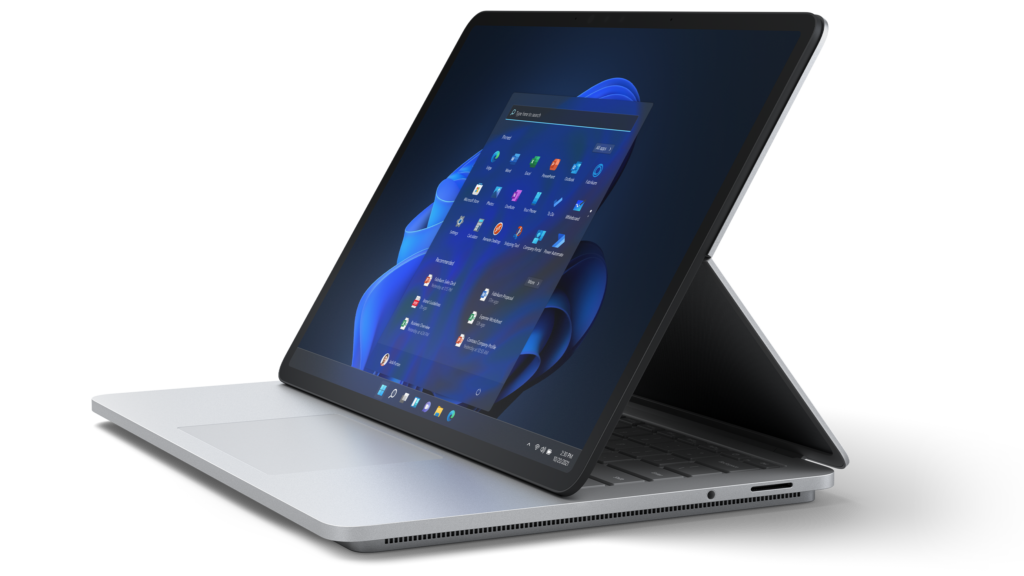 Specs
Display – 14.4in LCD 2,400×1,600 (201 PPI; 120Hz)  |  Processor – Intel Core i5 or i7 (11th generation)  |  Ram – 16 or 32GB  |  Storage – 256, 512GB, 1 or 2TB  |  Graphics – Intel Iris Xe or Nvidia GeForce RTX 3050 Ti  |  Operating system – Windows 11  |  Camera – 1080P front-facing webcam, Windows Hello  |  Connectivity – WiFi 6, Bluetooth 5.1, 2x Thunderbolt 4/USB 4, headphones, Surface Connect  |  Weight – 1,743 or 1,820g
Overview
So what's the Microsoft Surface Laptop Studio? It's a business workstation/3-in-1 laptop. It comes with a 14.4-inch touch screen that you can pull towards you for touch interaction, or you can lay it flat to write on or touch on the screen like a tablet. The display has a 120Hz adaptive refresh rate with a 1600p screen resolution. It also includes a keyboard and a relatively large trackpad.
Inside the laptop, it's equipped with either an 11th generation Intel i5 or an Intel i7 processor, with either 16GB or a 32GB of RAM, storage options from 256GB to 2TB SSD, and either an Intel Iris Xe integrated or a 4GB GeForce 3050 RTX graphics.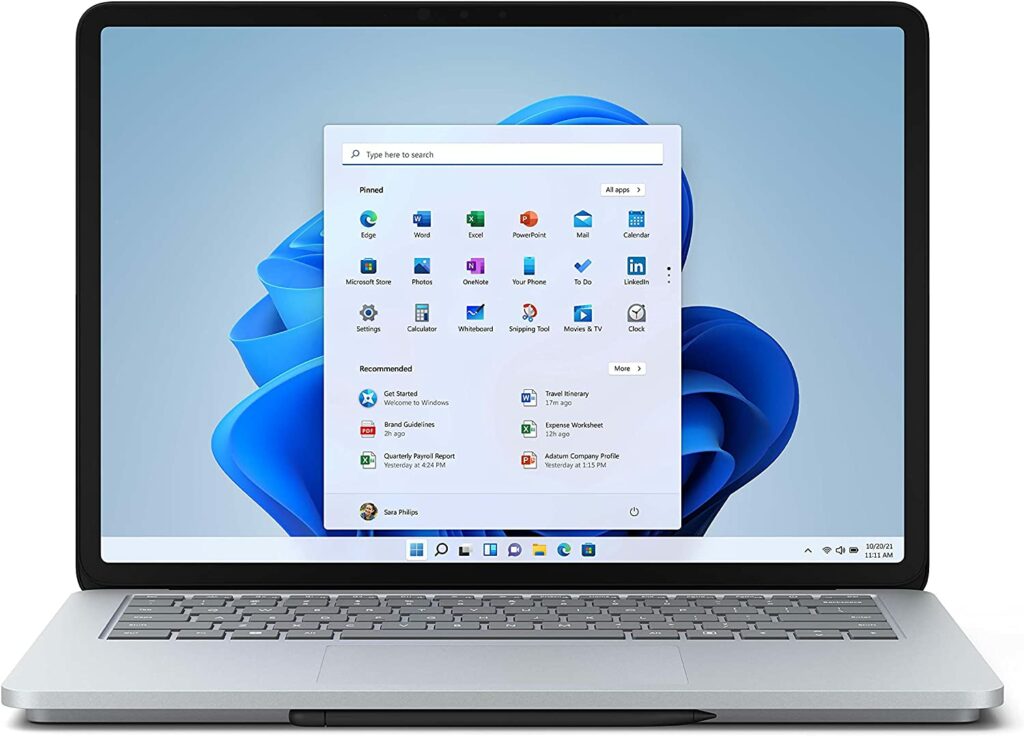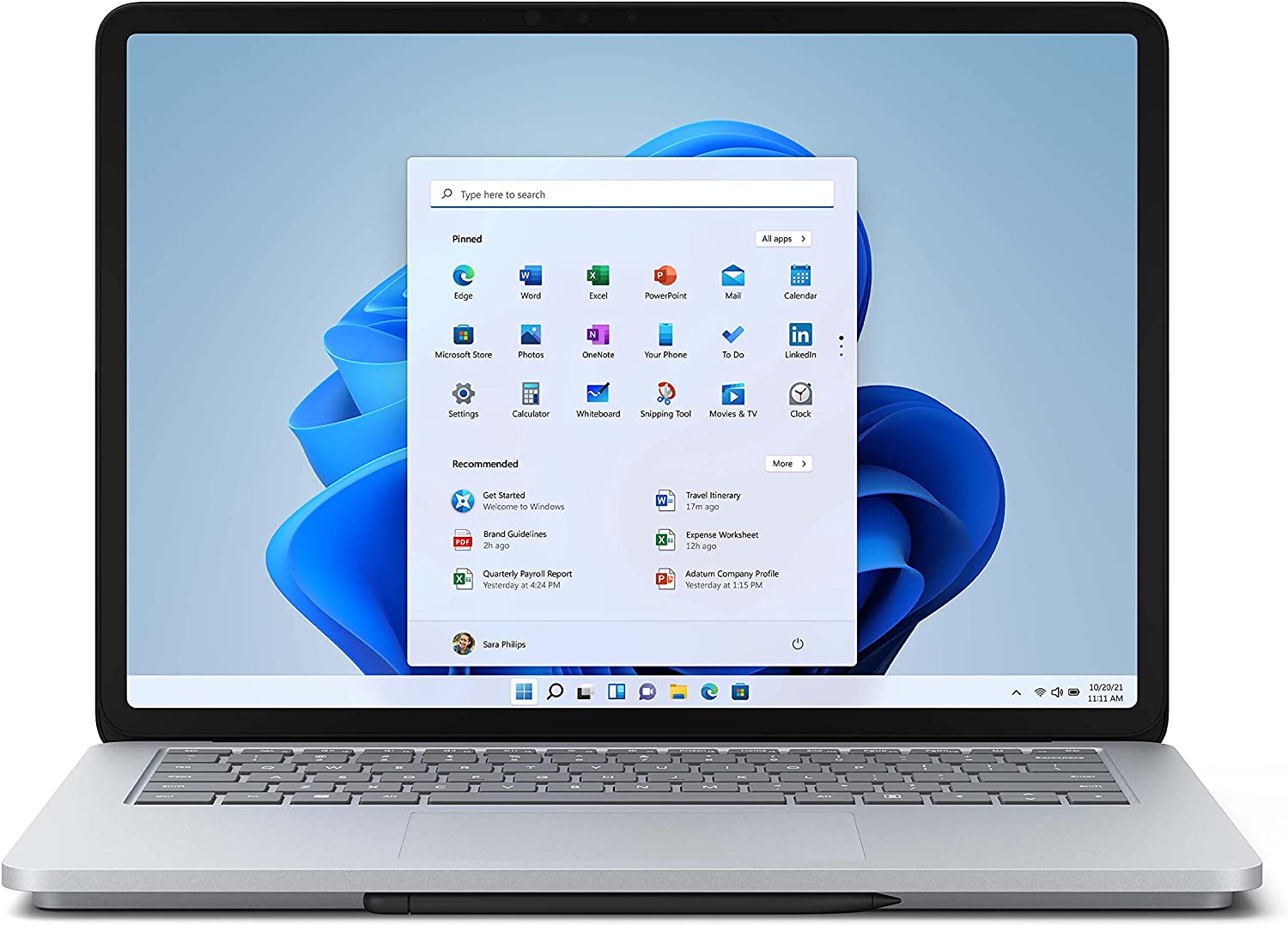 Just so you know, this is a business workstation laptop, not a gaming laptop, besides you need a minimum of 6GB of graphics to play the latest retail games, but digital artists and creative designers can make better use of this laptop.
The starting price for the entry model starts at US$1400, which is not cheap, but with the specs available, you're getting a pretty impressive laptop, so it's worth the purchase. The entry model comes with an 11th Gen Intel i7 processor, with 16GB of RAM, 256GB storage, and Intel Iris Xe graphics.   
Overall, my first impression of the Microsoft Surface Laptop Studio is good. I found the fold-forward screen very interesting. Upon use of the entry model, I found that performance was impressive with smooth transitions, fast-loading apps, a responsive touch screen, and a comfortable typing experience. All this brings a whole new experience and a great addition to the Surface Laptop series. 
What's to Like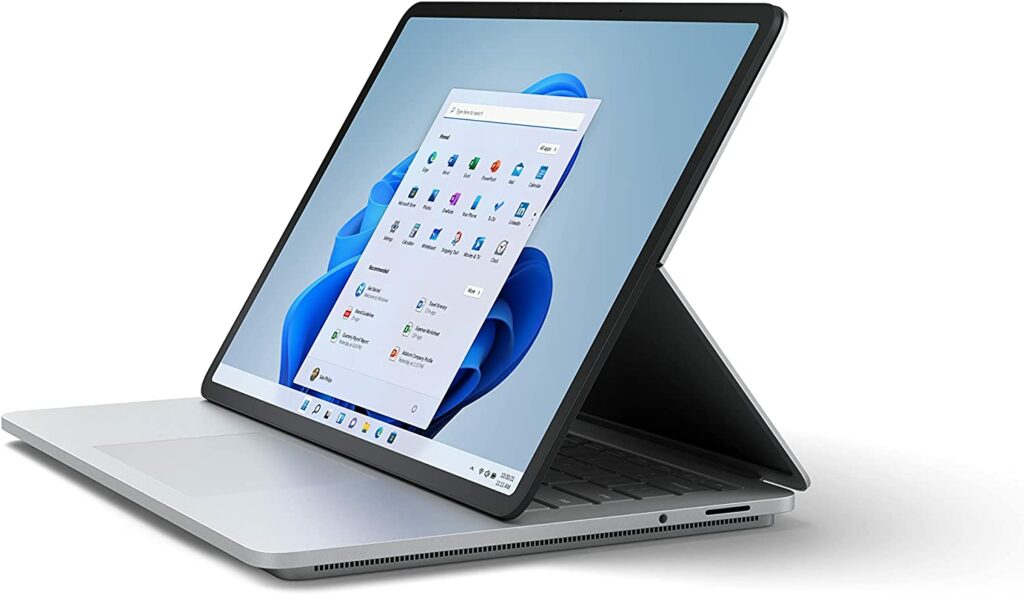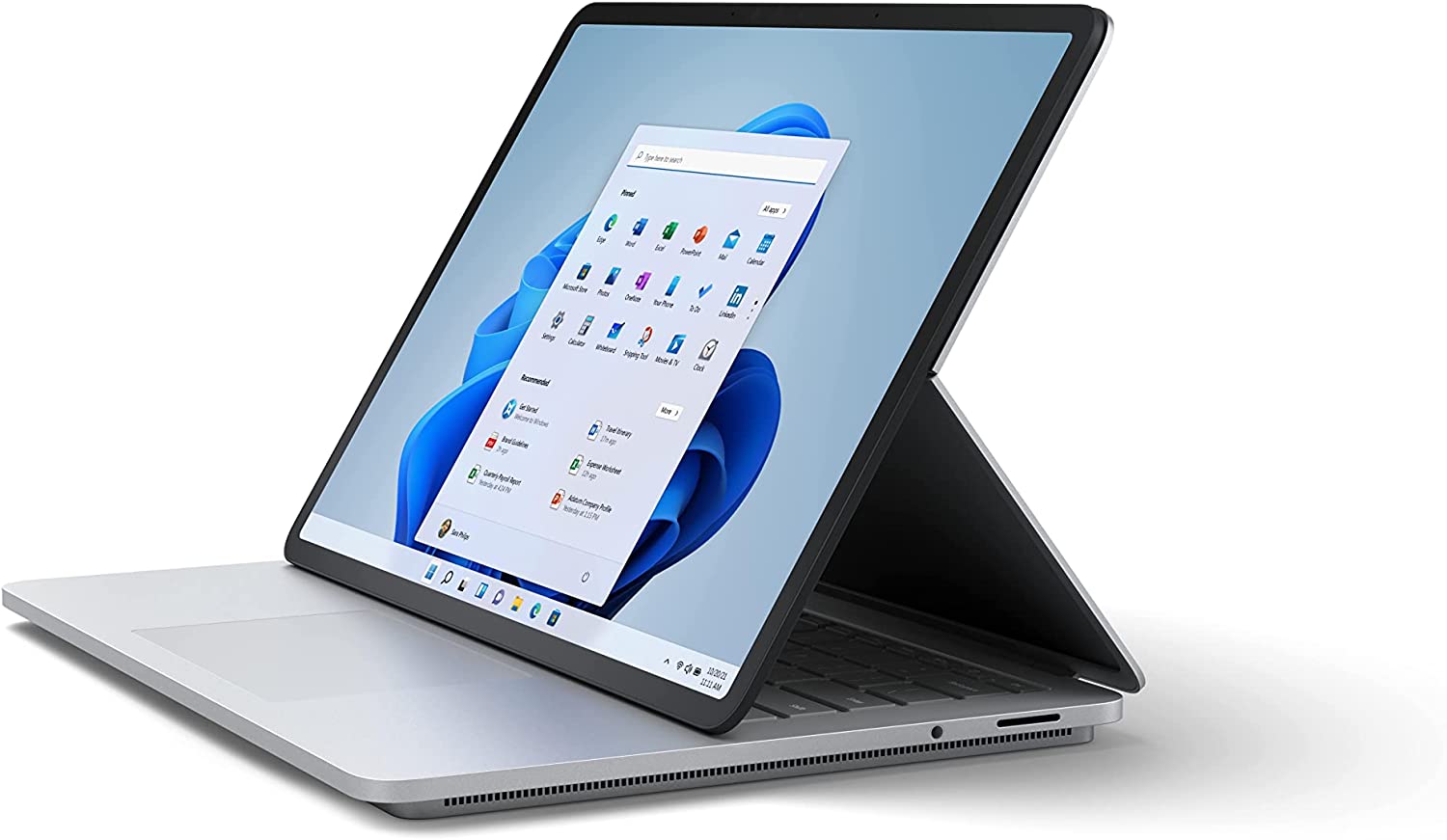 Innovative display
Microsoft Surface Laptop Studio includes a small 14,4-inch touch screen that comes with small bezels and curved-round corners. The fact that you can move the screen towards you is innovative, making it look like a 2-in-1 laptop. It comes with a screen resolution of 2400 x 1600 pixels which looks stunning and with crisp detail and includes a refresh rate of 120Hz which supports smooth scrolling.
The overall screen quality looks impressive. I really like how stunning HD photos and images look on the screen. It really delivers a good range of colors and good brightness, making it an ideal tool for processing photos and images. 
Design
The Surface Laptop Studio comes in a premium aluminum alloy build with a platinum finish – which is a common build for other Surface devices. No other alternative color finishes for this one, yet still it maintains a professional look. A few things to note:
It's quite thick and heavy, making it not really portable

There's a storage and charging compartment underneath for the Slim Pen 2 stylus

There's a long split across the laptop to help position the display

The grilles on each side of the laptop which are two of the the audio speakers
 The only thing unique with the Surface Laptop Studio is the changing positioning of the display, which switches it from a laptop up to a tablet.  
Solid performance
Microsoft Surface Laptop Studio is currently the most powerful laptop to date, thanks to the internal hardware. The starting model performs well, but if you want better performance and don't mind paying a bit more you can get one with an Intel i7 processor and a discrete GeForce 3050 Ti graphics. 
The performance is excellent with the 32GB of RAM model. Not to say the 16GB of RAM model isn't, it just performs better. Upon use, I was able to do all my daily tasks well with the laptop showing no signs of a slowdown, stuttering, or freezing – which includes sending emails, web browsing, video streaming, etc. The laptop is also capable of gaming, but with 4GB graphics, it's not the best for the latest games.     
Battery life
The battery life of the Microsoft Surface Laptop Studio is equally impressive. After 8 hours of working on the Laptop Studio, I was really impressed that I still had plenty of battery power left without using a power cable – okay, it was about 30% left.
On average you're looking at up to 15 hours of battery life for this laptop. And that's not all. Charging the laptop, it reached about 35% in 30 minutes, and reached full charge in a little over 2 hours.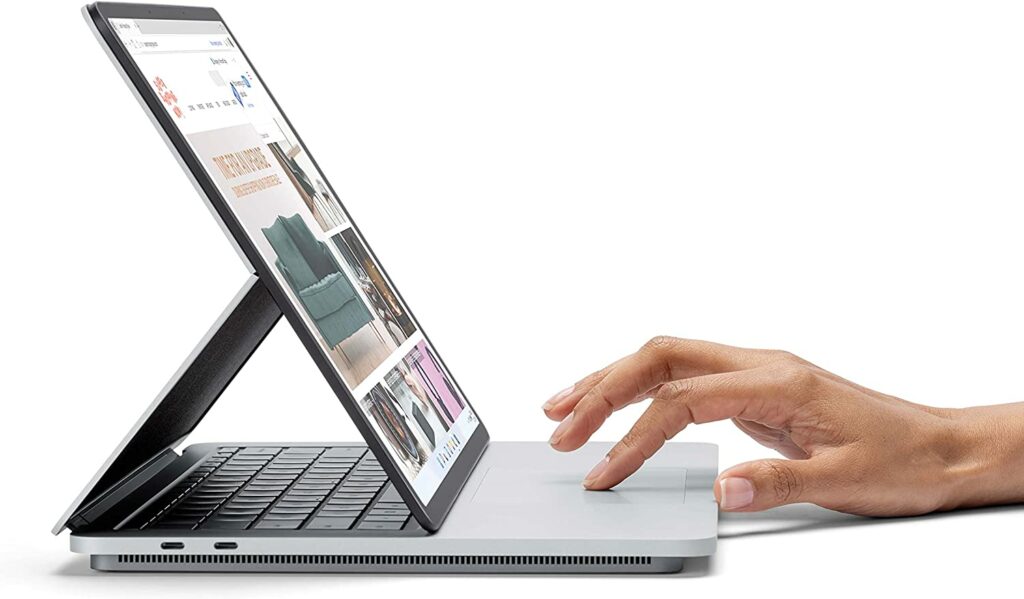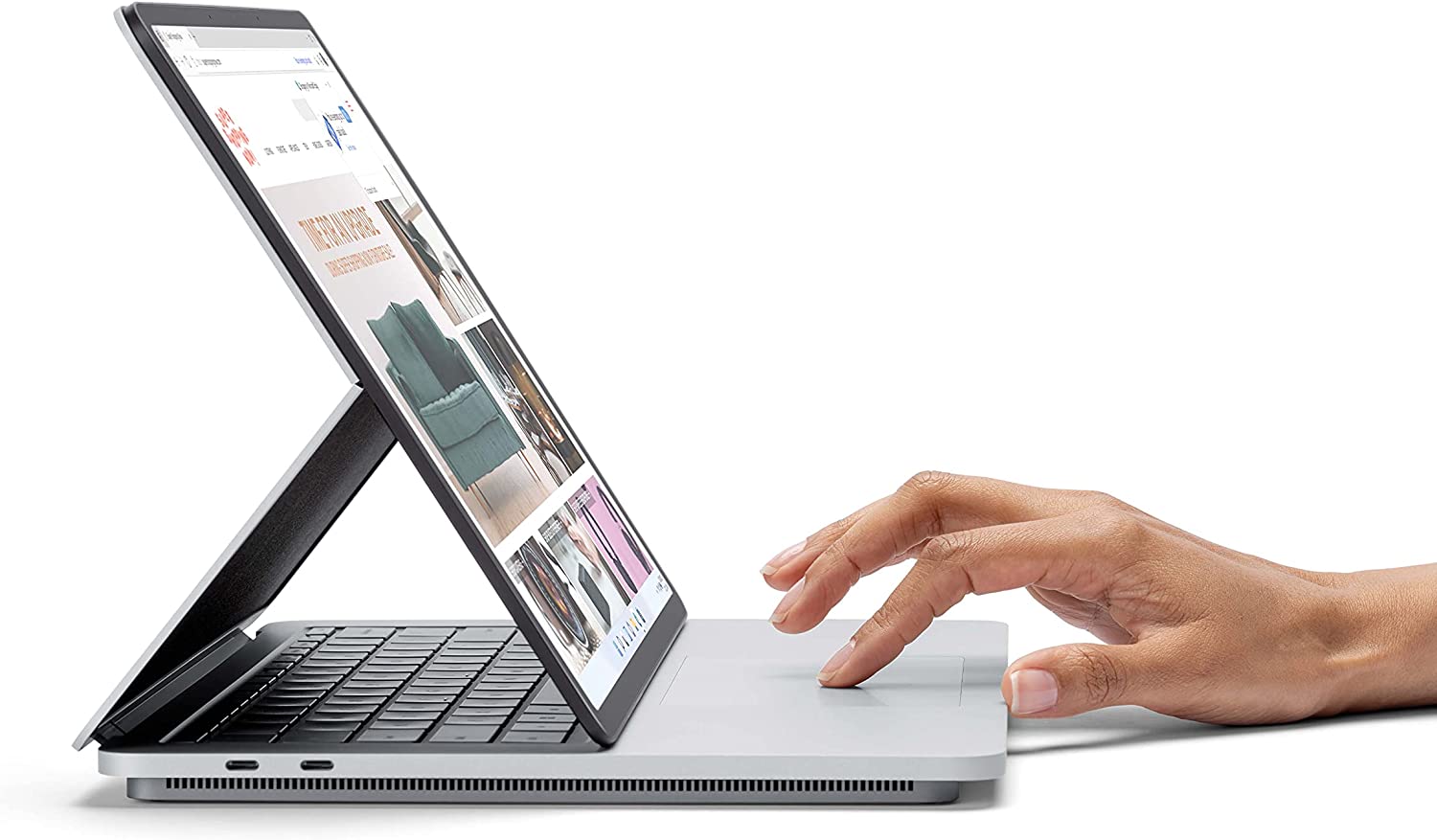 Other features
There are so many other features to take note of with the Microsoft Surface Laptop Studio. Firstly, the laptop comes with a 1080p webcam, which is much clearer and looks better than a 720p webcam.
Secondly, not only does the keyboard offer a great typing experience, but it's also backlit as well. Perfect for night typing and looks awesome too. It's a pity that the functional Fn keys at the top are rather small.
Thirdly, the laptop has four speakers: two speakers venting out of the sides, and the other two are under the keyboard. It sound output is rather good. It's crisp and sounds better than average.   
And lastly, the front bottom panel is a place where you can place the Surface Slim Pen 2 (which is a stylus pen), for storage and to charge it. Sadly, it's not included upon purchase of the Surface Laptop Studio.   
What's Not to Like


Expensive price
The price tag of the entry model Microsoft Surface Laptop Studio starts at US$1400, and the top-range model comes with a price tag of US$3800. If you ask me, those prices are pretty high. 
But you're looking at a laptop that starts with an Intel i5 processor and 16GB of RAM. Those are pretty impressive for an entry model. If this laptop is on your radar, I recommend saving up for it and buying it. If it's too expensive for you, then consider these budget laptop alternatives. 
Few input ports
The port selection strikes me as the most disappointing part of the Microsoft Surface Laptop Studio. Microsoft has continued to use the Surface Connect as the primary charging method, then there are two USB-C ports (compatible with Thunderbolt 4) and a 3.5mm headphone jack. That's all sadly. If you want more, you'll have to get a USB hub that offers more input ports. 
Quite thick & heavy
If you take a ruler and measure the height of the Microsoft Surface Laptop Studio, you'll notice that it's 18.9 mm which is thicker than other 14-inch laptops. As for the weight, it depends on which model to go for. If you get the Intel i5 model it will weigh 1.7 kg. If you get the Intel i7 model it will weigh 1.8 kg. That's close to 2kg which is heavier than most other laptops in its range. So if you're the type who likes to travel, freelance, or work on the go, just know that you'll feel the weight of this laptop.   
Verdict
The Surface Laptop Studio from Microsoft is a great new addition to the Surface laptop series. It's an impressive laptop that has a lot to offer, whether you're an executive in the corporate world that needs a reliable workstation, or a digital artist who needs a device to spice up their creativity.  It has the performance, battery life, display, and other great features to meet your needs.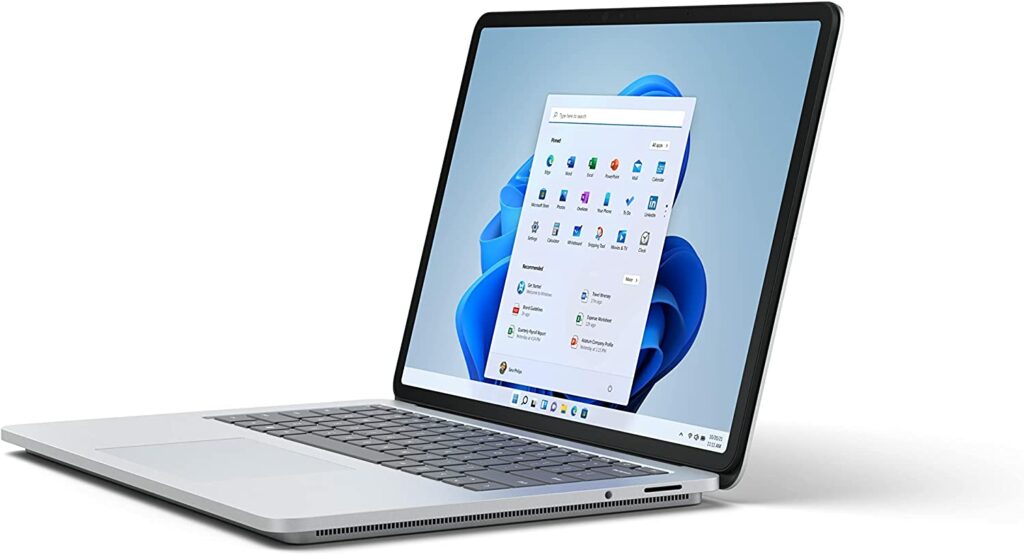 It may not be cheap. It may not be as portable as other common laptops out there now or it may not come with many input ports, but it can handle everything you throw at it. If you're one that wants a laptop for daily tasks, then take the Intel i5 entry model. If you're on the creative side and can dig deeper into your pocket, then the Intel i7 model is more for you. 
So what are your thoughts on the Microsoft Surface Laptop Studio? Is it the laptop you're looking for? What other laptops are you looking forward to? Please leave comments below and let's talk about this amazing laptop. If you're still not convinced that this laptop is for you, then click here to find out more, and purchase options should you desire to buy.    
Microsoft Surface Laptop Studio
The Good Stuff
Innovative convertible 120Hz display
Impressive battery life
Solid performance
Comfortable keyboard and typing
Multiple storage, RAM, CPU & GPU options
The Bad Stuff
Expensive
Too few input ports
Quite thick & heavy