Last year, Samsung released the Galaxy Note 10 and the Galaxy Note 10 Plus. This year, it's the new Galaxy Note 20 and the awesome Galaxy Note 20 Ultra. For now, let's focus on the new Samsung Galaxy Note 20 Ultra smartphone. 
Samsung Galaxy Note 20 Ultra Review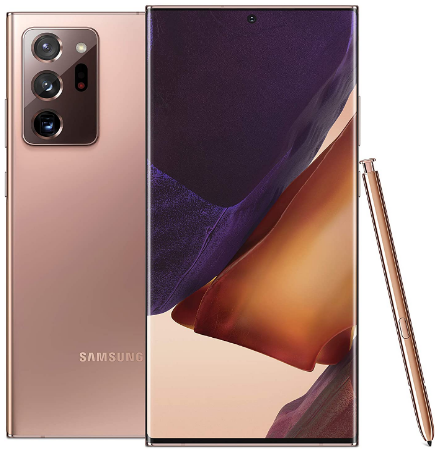 Screen: 6.9-inch Dynamic AMOLED, 1440×3088, 120Hz (FHD), 60Hz (QHD) | Processor: Exynos 990 (Global)/Snapdragon 865+ (USA) | Memory: 12GB RAM | Storage: 128GB/256GB/512GB | OS: Android 10 | Main camera: Triple lens, 108MP (wide) | Selfie: 10MP (wide) | Battery: 4500mAh
Display & Design
The Note20 Ultra comes with all the best technology. First is the massive 6.9-inch screen with an adaptive refresh rate capable of 60Hz and 120Hz support. The second is the 1440p screen resolution. That's 4K.
Next, is the gorgeous color accuracy, and good brightness management, for clarity and details. And lastly, the refined pressure detection for the stylus pen is called the S-Pen'.
Not only is navigation much smoother, but you can also pretty much use the S Pen to literally write your messages onscreen instead of typing.
It's really impressive the number of technology is put into an impressive display. It really is an impressive and the most impressive of all top-range smartphones.  
With the design, the Note20 Ultra is available in three colors: Mystic Bronze, Mystic Black, and Mystic White. It's built using glass and a stainless steel frame. It's durable with water/dust resistance, weighs 208 g, and comes with curved round edges.
The phone includes a stylus pen called an S Pen, that fits comfortably in its own slot. 
Performance
The Note 20 Ultra is packed with the best hardware to optimize performance. Why do I say so? Inside includes a Snapdragon 865+ processor for US release and the Exynos 990 for release to the rest of the world.
In terms of memory, it's set at 12GB of RAM and choice of internal storage starting from 128GB up to 512GB. That also includes a micro SD slot to expand storage.
Performance is solid here thanks to the processor and the high memory installed. The Android 10 OS moves with ease, feels pretty smooth and is quite responsive.
The US release comes with a little more performance as the Snapdragon processor is highly rated and used in other top smartphone brands such as the ASUS ROG Gaming Phone 3. 
Speaking of gaming, this is no gaming smartphone yet it packs the power to be. It's not the best but gaming graphics look good, well-textured with smooth gameplay.
To sum up, Note 20 Ultra is fast, fluid, and smooth, but it's not the best.
There is a difference in performance between the US and global releases but the phone works just as well. If you can, get the US release. 
Battery
The Note 20 Ultra is powered by a 4500 mAh battery that supports fast charging, wireless charging, and reverse wireless charging.
At full charge, the battery packs a good 23 hours of battery life. With fast charging, it charges from 0 to full charge in less than 90 minutes.
Compared to other top-range phones, the Note 20 Ultra falls behind in terms of charging speed yet it's a factor that's easily undermined.
So in a nutshell, great battery life, premium battery features, but the fast charge is not competitive enough to beat other top-range phone models. 
Camera
The Note 20 Ultra comes with a triple-lens main camera with a single teardrop-lens selfie camera.
The main camera features the following:
108MP, f/1.8 (wide) 
12MP, f/3.0 (telephoto) with 50x zoom 
12MP, f/2.2 (ultra-wide)
10MP, f/2.2 (wide) selfie camera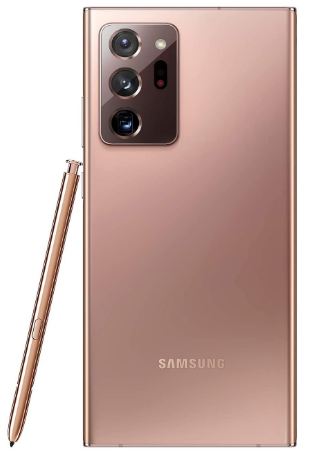 With a top-range smartphone like the Samsung Galaxy Note 20 Ultra, you can expect premium technology that delivers superb detailed pictures and videos. From an amateur to a pro photographer, the Note20 has the right tools for both day and night.   
Impressions
The Samsung Galaxy Note 20 Ultra is an impressive smartphone. It comes with the best display, good battery life, premium features, and design. You can say it's the most outstanding smartphone of 2020. Yes, it has its flaws, but it's easily overlooked. 
If you're planning to get this smartphone, I highly recommend it. If you can, get the US version. It has slightly better hardware that will offer a better experience. If it's not within your budget then the Note20, or other top-range Samsung smartphones.
Closing off
So what's your comment? Are you convinced that this is the smartphone for you? Do you have one already? What experience have you had with the Note20 Ultra? If you have come this far, you have my thanks and my gratitude. If you have any comments please leave them below.
Samsung Galaxy Note 20 Ultra
Battery Life, Audio & Other Features
4.3/5
The Good Stuff
Market leading quality display
Good battery life
Includes S Pen
Best photo, zoom and video quality
Water & dust resistant
Superior curved edge design
5G network connectivity
Great gaming performance
The Bad Stuff
Difference in performance with US & Global
Very pricey
Least fastest charging speed