The release of the new Samsung Galaxy A21s arrives into a market so saturated with other brands, that it becomes a challenge for us to choose the best affordable smartphone money can buy. But what makes this one so different? Is it just another ordinary budget smartphone or does it have features that can land it at the top? Let's find out from the review of the Samsung Galaxy A21s. 
Samsung Galaxy A21s
SAMSUNG GALAXY A21s 4G LTE  DISPLAY: 6.5 inches, PLS IPS, 720 x 1600 pixels | CPU: Exynos 850 (8nm) | STORAGE/MEMORY: 32GB 3GB RAM, 64GB 4GB RAM, 64GB 6GB RAM | OS: Android 10, OneUI 3.1 | CAMERA: Quad camera, 48MP (wide), 8MP (ultrawide), 2MP (macro), 2MP (depth) | SELFIE: 13MP (wide) | VIDEO: 1080p at 30fps | BATTERY: 5000mAh, supports fast charging (15W) | WEIGHT: 192 g
REASONS TO BUY
Great battery life
Attractive colors & design 
Takes great quality pictures & full HD videos
Includes headphone jack & MicroSD slot  
REASONS TO AVOID
Plastic build makes it less durable
Below than standard performance
Poor quality display & sound quality
Slow 15W fast-charger
Overview
The new Samsung Galaxy A21s is a budget smartphone catered for those of us looking for one that's functional, does standard features, and is affordable. It comes with a 6.5-inch display, a 48MP quad-sensor camera at the back with a 13MP selfie camera in the display. It also includes a 5000mAh battery that comes with great battery life, and inputs such as a headphone jack, and a MicroSD slot to expand storage. Let's explore the A21s in more detail. 
What's to like
There are lots of things to like here from the Samsung Galaxy A21s. 
Firstly, the phone comes with a large 6.5-inch display with a 1600 x 720p resolution. It's not the sharpest display but acceptable within budget smartphones. The brightness and colour accuracy looks average but it works well. Overall, the A21s comes with a standard, functional but large display.
Next is the great battery life. On moderate use, the A21s can last you a good 5 days of usage on a single charge, and up to 25 hours of battery life on normal usage. In short, if you minimize the use of apps and other features that consume more battery life, you can experience one of the best budget phones with long battery life.
Thirdly, the phone comes with a 48MP quad-camera, that includes an 8MP ultrawide, 2MP macro, and 2MP depth camera sensors. The selfie camera comes with a 13MP selfie camera. Overall, the A21s produces good-quality pictures and good-quality full HD videos. Not as smooth but still looks good.
Next is the design. Nothing special except for the three innovative design colors available and that glossy look that makes it look really attractive. The fingerprint scanner is at the back. Otherwise, the phone looks good with an attractive design.    
Lastly, the A21s has a MicroSD card to expand storage and a headphone jack to plug in earphones. those are scarce nowadays with even in the top range phone market.
In short, the A21s come with some good features. The attractive design, the large display, the long battery life, the quad-camera, and other features to expand storage, and the inclusion of a headphone jack. But before you decide to click to purchase the amazing Samsung Galaxy A21s, there are a few things to note.      
What's not to like
To start off, the phone comes with an underpowered CPU. It's been tested and has performed lower than the average below the average bu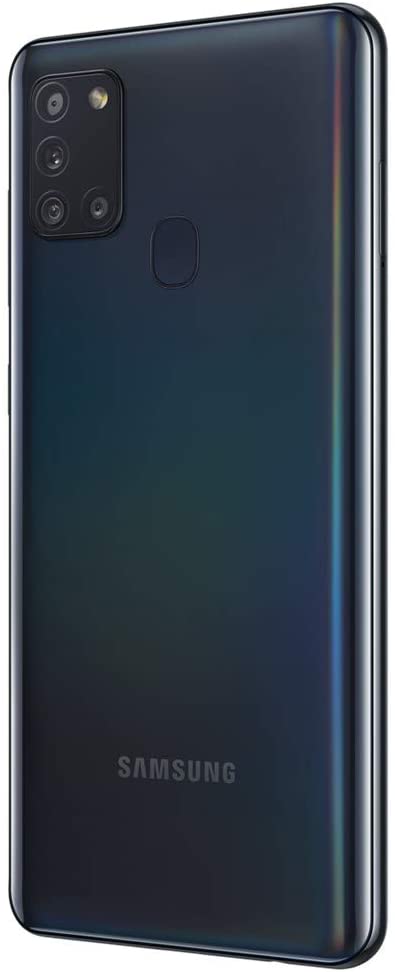 Next, the build is made of plastic, encased with aluminum frame. It's not the best in durability. So, no water or dust resistance. 
Thirdly, the A21s comes with a single speaker at the bottom of the phone that performs poorly. And the display quality is viewable but not top-grade stuff.
Next, the largest internal storage model available for the A21s is 64GB. That's not really much storage in this day in age but at least you can add an SD card. So if you want to get bigger storage, get an SD card because the internal phone storage is low.
Lastly, the charger in the box is a 15W quick charger, but sadly it's not that fast. For a full charge, you are looking at less than two hours. 
Overall, the A21s smartphone lacks performance, durability, sound and display quality, and storage. Luckily, you can expand storage thanks to MicroSD, and you can also use earphones to listen to calls and music thanks to the headphone jack. Yet it's a budget phone so compromises are expected.
Verdict
If you're looking for a budget smartphone with a great battery life, an attractive design, takes good pictures and videos, comes with a MicroSD slot, and a headphone jack, then the Samsung Galaxy A21s is definitely for you. For those reasons I highly recommend it. It's really affordable at a price range of about US$200.  
If you're looking for a budget smartphone with good overall performance, large internal storage, and more durability options such as water resistance, you won't it here. There are other budget smartphones to recommend such as the Redmi Note 9S, the Huawei P40, the 2019 Huawei P30 Lite, to name a few.  
Overall, the Samsung Galaxy A21s smartphone is not a bad phone. If you are happy with the pros and can tolerate to cons, then the Samsung Galaxy A21s is the phone for you. Click here to find out more. 
Close-off
So I've given you an overview, what to like, what to look out for, and my overall opinions of the A21s. What's left is for you to decide if this is the best budget smartphone for you. Click the links provided to find out more and to purchase if you so desire.
Thanks for checking out my review of the new Samsung Galaxy A21s. If you have any questions, comments, or compliments, then add them here below. All that's left of you is to decide if this smartphone is the best for you. Otherwise, keep well, stay safe, see you on the next review.