Have you wasted hundreds of dollars, or even euros on top flagship smartphones only to use not even half of their features? Do you want an affordable one that's simple to use and costs you less? If so, welcome. You've come to the right place. Let me introduce to you the Samsung Galaxy A53 5G smartphone. It's affordable, fast, and lasts days on a single charge. But is it worth your money? Let's find out more about this smartphone from this review.
Samsung Galaxy A53 5G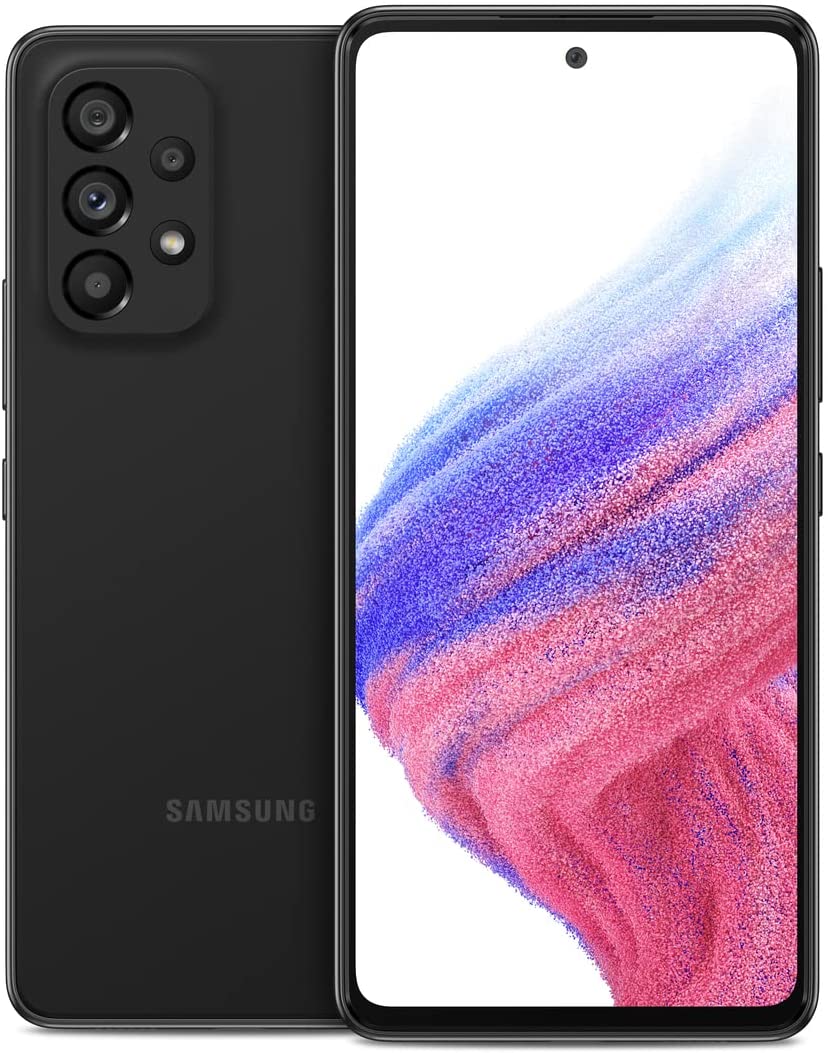 Phone Specs
| | |
| --- | --- |
| Display | 6.5″ Super AMOLED, 120Hz, 1080 x 2400 pixels |
| Processor | Exynos 1280 (5nm), Mali-G68 GPU |
| Storage, RAM | 128GB 4GB, 128GB 6GB, 128GB 8GB, 256GB 6GB, 256GB 8GB |
| Operating System | Android 12, One UI 4.1 |
| Main Camera, Video | Quad sensor | 64MP, f/1.8 (wide) | 12MP, f/2.2 (ultrawide) | 5MP, f/2.4 (macro) | 5MP, f/2.4 (depth) | up to 4K video at 30fps and 1080p at 60fps |
| Selfie Camera, Video | 32MP, f/2.2 (wide) | 4K@30fps, 1080p@30fps | HDR |
| Battery | Li-Po 5000 mAh, non-removable, fast charging at 25W |
| Other Specs | Black, White, Blue, Peach Colors | Wi-Fi 802.11 a/b/g/n/ac, dual-band, Wi-Fi Direct, hotspot and Bluetooth 5.1, A2DP, LE | weighs 189 g / 6.67 oz / 0.42 pounds | Corning Gorilla Glass 5 protection  |
| Released | 17 March 2022 |
| Retail Price | Click here! |
Reason to Buy
Large 5000mAh battery
Fast & snappy performance
Good design with great choice of colors
Delivers decent gaming graphics
Water & dust resistance
Good quality display
Expandable storage available
Takes good pictures & videos
Reason Not to Buy
Slow charging speed
No charger in the box
No headphone jack
Price quite high
Overview
So what is this so-called Samsung Galaxy A53 5G smartphone? Well, It's a mid-range smartphone that comes with a gorgeous 6.5-inch touchscreen with a teardrop front-facing camera on top. On the back, it includes a quad-camera lens with a flash and a hard plastic back cover. All are encased in a hard plastic frame.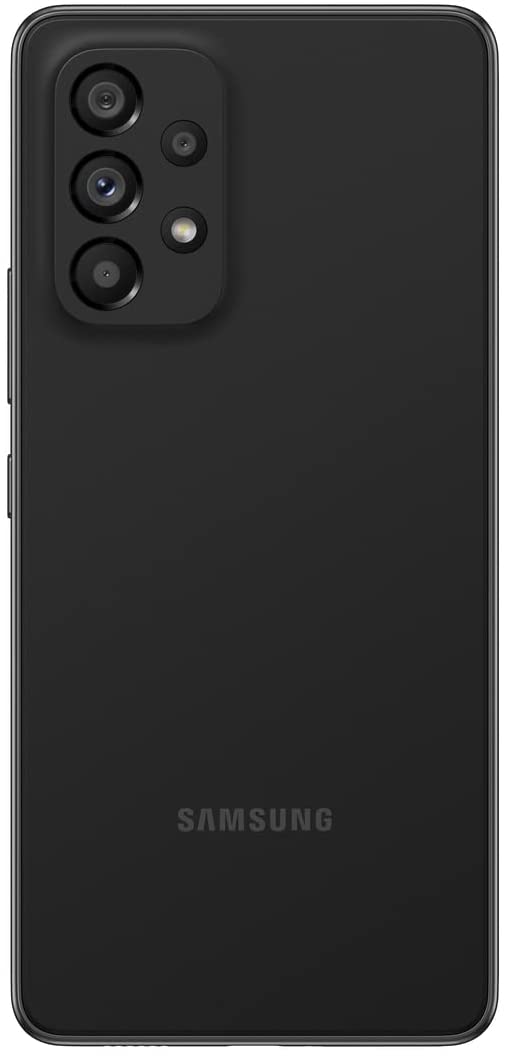 Inside, the Galaxy A53 is the 8-core Exynos processor powered by a large 5000mAh battery. You can choose from the 128GB storage 4GB RAM model, up to the 256GB storage 8GB model. Did I mention you can expand storage using microSD? I guess not. Well, the A53 includes an optional microSD slot to increase your storage. So what do you inside the box? Well, you get the Galaxy A53 smartphone, the quick user guide, the ejector pin, and the USB-Type C charger cable. No charger.
What we like
Good Battery Setup
So the Galaxy A53 comes with a large 5000mAh battery that gives you a battery life of up to 4 days and 17 hours on moderate use on a single charge. That's pretty good if you think about it.
Good Performance
The Galaxy A53 performs great overall. As you navigate and move between menus with your finger, it feels smooth and really snappy. Overall, the A53 performs well and is a good device for daily use. If you like to play mobile games then the A53 is also for you. The overall graphics and gameplay on 3D games look and feel decent for a quick gaming session.     
Display and Design
The Galaxy A53 comes with a 6.5-inch Super AMOLED touchscreen with a 120Hz refresh rate and a 1080 x 2400 pixels screen resolution. Overall, the display looks stunning. The screen delivers good quality HD images and videos in stunning detail, with vibrant colors, and good accuracy. In terms of the phone design, it looks good overall with a good choice of colors for you to choose from. The build material used is plastic but it's very durable with the tough Gorilla glass in front, and the water/dust resistance.     
Other Features
The Galaxy A53 has other great features worth mentioning. Firstly, the smartphone has an IP67 rating meaning that its water and dust-resistant. And the last feature is the smartphone includes a MicroSD slot which means that you can expand your storage by inserting a nano SD card.    
Good camera 
The Samsung Galaxy A53 5G smartphone comes with a 4-sensor main camera that includes:
64MP (f/1.8) wide camera

12MP (f/2.2) ultrawide camera

5MP (f/2.4) macro camera

5MP (f/2.4) depth camera
Overall, the photos from the main camera look decent. The detail is good, colors look bright, and vibrant, especially from taking day photos. Switch to the 64MP camera, and the photos look much finer and sharper.
For video recording, the Galaxy A53 delivers 1080p videos at 30 to 60 fps (frames per second), and 4K quality videos at 30 fps. The overall quality is good. The videos are in good detail, especially from 1080p videos at 60 fps. 
Do you like taking selfies? Good cos this phone comes with a 32MP (f/2.2) wide camera and videos up to 4K quality videos at 30 fps. As for the photos and videos, they look decent overall with good detail.
Although the camera produces great photos and videos, the zoom function is there but loses detail after 2x. And nighttime photos are lacking in detail. But I guess there are compromises if you decide to get a mid-range smartphone.
What we don't like
Slower Battery Charge
The Galaxy A53 may have a large battery, a good battery life, and supports fast charging, but the charging speed isn't that great. Charging the A53 smartphone, you are looking at a full charge, from zero to 100%, taking roughly 1h 30 minutes using a 25W charger. It's not bad but compared to other charging speeds on other phones like let's say a Galaxy S22 smartphone, on a 25W charger, it takes roughly 1 hour to fully charge. Maybe because it's a mid-range smartphone. 
High Price
The Galaxy A53 comes with a price range between US$330 (R5000) and US$450 (R6999). That's starting from the 4GB 128GB base model, which is still a good performer. But I recommend getting the 6GB 128GB model as it has good memory and there is always the option to increase storage with a microSD. If you want to consider alternatives because of the price, then try the Galaxy S20 FE or the Redmi Note 9S. They are much cheaper, have decent performance, and have great battery life as well.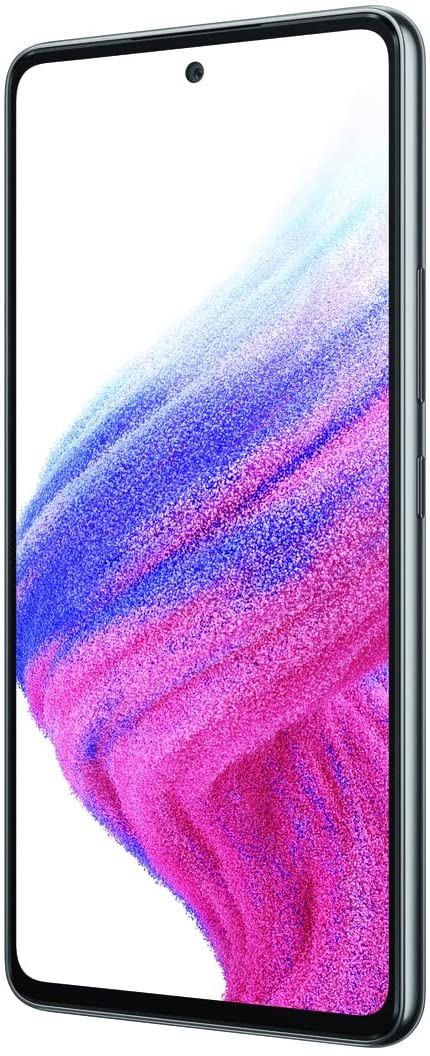 No Phone Charger 
Nowadays it's normal for Samsung to not offer a charger and headphones when you buy any Galaxy smartphone. Even iPhone does not as well, but you can use your older charge or purchase a new one. 
Verdict
So what can I say about the Samsung Galaxy A53 5G? Well, it's a great mid-range smartphone overall. The design is flashy and stylish. The display produces great views. The camera takes great daytime photos and videos. The performance is solid and it has great battery life.I like that it comes with an expandable storage slot too. With these great features, it's definitely a smartphone worth recommending.
But let's not forget. It's a mid-range smartphone, so the phone will come with compromises. To me, the price may be high but it's a fair price for what you are getting. If it's expensive or above your budget, then consider looking at alternatives.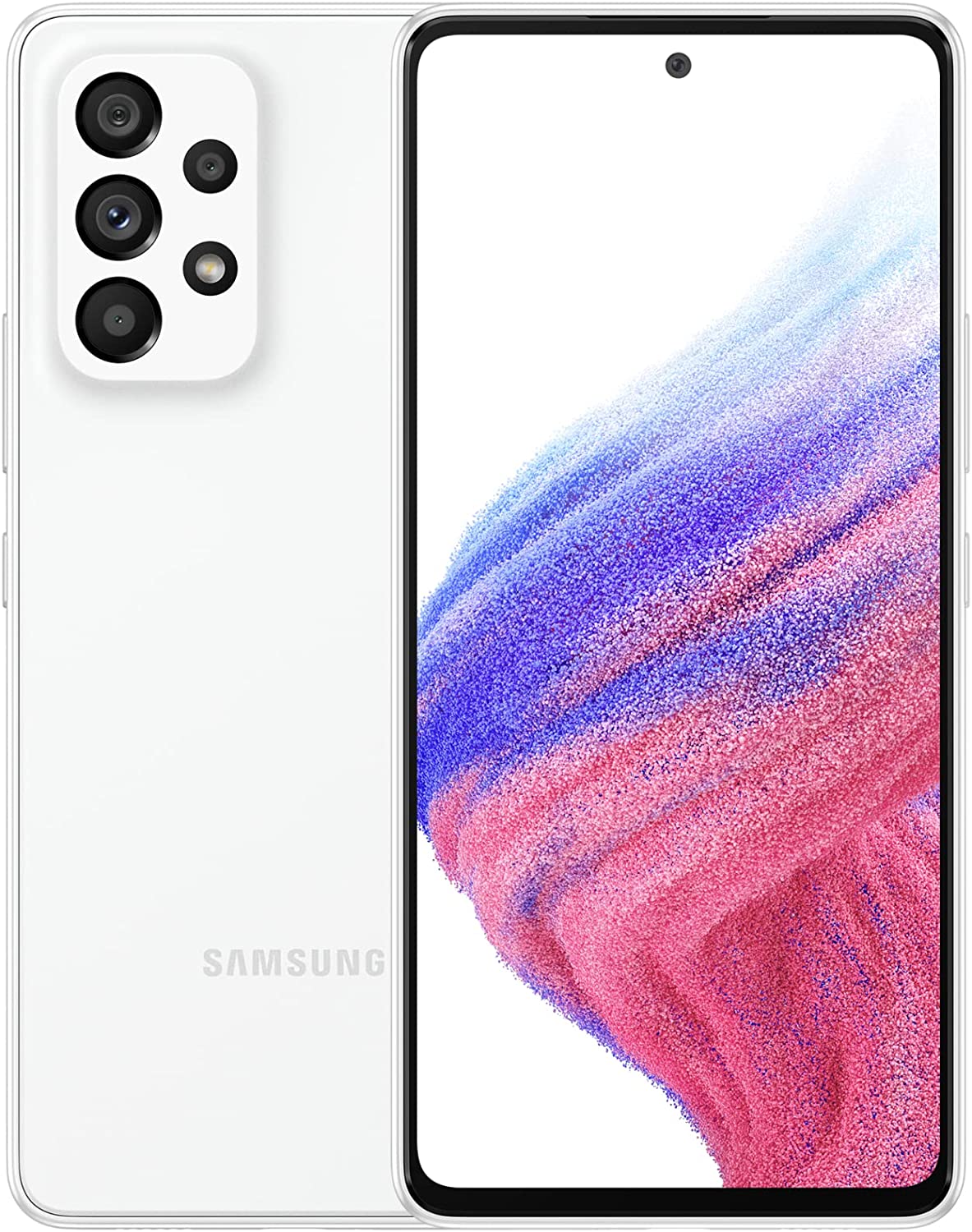 Is it worth your money? I most definitely think so. Is it the best mid-range smartphone ever? Nope. Not really. It does have good specs but not enough to be the best. If you want a simple yet trendy smartphone that can do most of what other top-range smartphones can do, then the Galaxy A53 is for you.       
Lastly
Wow. That was a lot, I know. But I hope by now you have a pretty good idea of the good and the not-so-good features, and things you can do with the Samsung Galaxy A53 5G smartphone. If you've decided to give this mid-range smartphone a try, why not click here or the button above to find out more such as the price, and purchase options. But before you do that, I would like to know your thoughts on the Galaxy A53, after reading the review. Is it worth your money? Do you like the features on offer? If you have any questions or views, please comment on the post below and I will get back to you as soon as I can.
Samsung Galaxy A53 5G
The Good Stuff
Large 5000mAh battery
Fast & snappy performance
Good design with great choice of colors
Delivers decent gaming graphics
Water & dust resistance
Good quality display
Expandable storage available
Takes good pictures & videos
The Bad Stuff
Slow charging speed
No charger in the box
No headphone jack
Price quite high